Goss International supplies presses, press ancillaries and finishing systems – including the most automated and productive web offset presses in the world – for magazine, newspaper, packaging, catalogue, direct mail and other printing applications.
Part of the Shanghai Electric (Group) Corporation, an international group with annual revenues of more than $8bn, Goss is headquartered in Durham, New Hampshire (US) and has major manufacturing centers in North America, Asia and Europe, as well as a global sales and support network.
A longstanding web offset market and technology leader, Goss believes that changing requirements are now creating the right conditions for a wider adoption of web offset for folding cartons, as well as flexible packaging and labels.
Why web offset for packaging?
Infinite variable sleeve repeat range
High quality, with a true commercial inker / dampener with four form rolls
50-200% higher productivity than sheetfed
Lower plate and substrate costs and a wider substrate range
Short and long-run agility
Advanced makeready and presetting ability
UV, EB or heatset drying
In-line converting or roll-to-roll
No complex, high-cost cylinder imaging
While high-quality run lengths and turn-around times continue to decrease in the pursuit of ever more dynamic, targeted and personalised packaging, profit margins have never been tighter. In this climate, web offset is a process that offers distinct advantages for an increasing range of packaging jobs.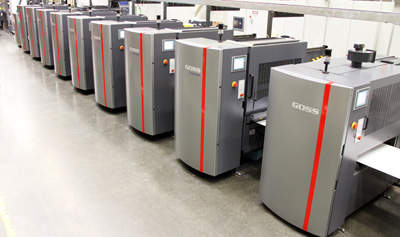 The Goss Sunday Vpak packaging press is available in web-widths of up to 1,905mm.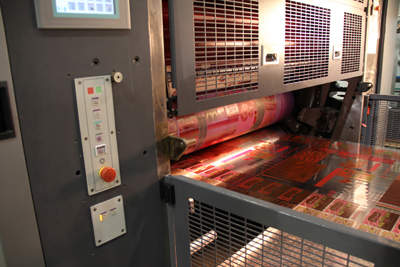 For flexible packaging, Goss Vpak benefits include finer line screens and fast, easy color adjustments.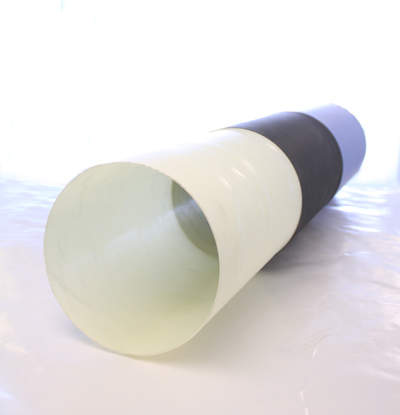 The Goss "white light" layer reduces the number of blanket bridging sleeve adapters a Vpak press user needs.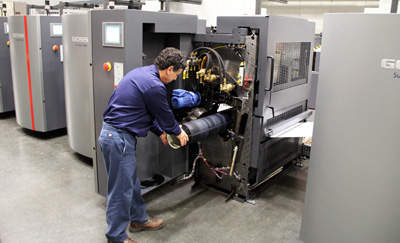 20 years of sleeve press experience allowed Goss engineers to quickly perfect the air pressure and cylinder registration mechanisms for fast, simple size changes.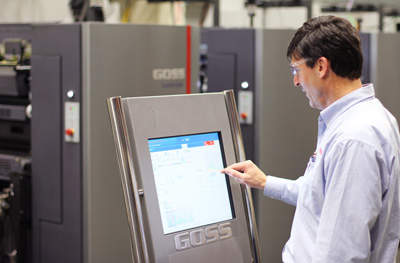 Sunday Vpak presses are equipped with automated Goss Omnicon controls.
Web offset lithography is an inherently stable process ideally suited to addressing the challenges of high-quality applications, including precise color tones, intricate reverses and screens in excess of 200 lines per inch. Sophisticated screening techniques, such as FM or stochastic screening, can further improve print quality while avoiding screen clashes, moirés and other defects.
In contrast to the flexographic process, web offset has the ability to print solids and screens for a particular color from one plate on the same unit, which boosts simplicity and cost-effectiveness. It also offers a major advantage over flexo through its much quicker platemaking process and significantly lower plate and consumables costs, which become compelling factors as run lengths are reduced.
Web presses run fast – up to 15m/s (49ft/s) – and automated makeready processes not only result in speedy start-ups for new or repeat jobs, but also quicker and easier adjustments during production. These advances in presetting, process integration and closed-loop control have given web offset competitive advantages on a full range of run lengths, including shorter runs on a wide variety of substrates.
With the option of integrating flexo or gravure stations into an offset line to form a hybrid production line, packaging printers can also benefit from the inherent advantages of offset with the flexibility of a wide range of coating and finishing options.
Why Goss International?
150-year record supporting the world's leading printers
More than 13,000 web offset printing units installed during the past decade
Proven specialist in customised configurations and auxiliary integration, including complex in-line finishing
Unmatched leader in transformative web offset innovations
High quality at high speeds
Wide webs up to 112in / 2.8m – precision tension control for lightweight substrates
Sunday Vpak web offset technology
Goss Sunday Vpak presses are designed from the ground up to allow flexible packaging, folding carton and label producers to fully exploit the productivity, print quality, process automation and short-run advantages made possible by web offset technology.
Sunday Vpak presses provide the productivity and print quality advantages of web offset, along with high-tech inking and exacting control over presetting, register, color and tension. Quick-change sleeve technology allows infinitely variable repeat settings within the design range of each press model, making it fast and simple to match the cylinder circumference to each specific job.
In adapting its sleeve technology for packaging applications, Goss developed a system that involves affixing a layer of lightweight material known as the "white light" layer under blanket and plate sleeves.
Varying the thickness of this "white light" layer means that fewer blanket bridging sleeve adapters are required, providing a less expensive and complex alternative to buying and organising separate sets of bridging sleeves for every single size requirement.
In parallel with the sleeve change and "white light" concepts, the Goss team designed the Sunday Vpak press cylinder stack so that rollers and cylinders maintain a correct contact profile regardless of the repeat size.
The end result is a press design that merges the proven quality and productivity traits of the world's most advanced commercial presses with a size-change capability that is easy, reliable and cost-effective, providing a much more sustainable production solution.
Sunday Vpak press models
Both models of the Sunday Vpak press feature quick-change blankets and printing cylinder sleeves, which make 'infinitely' variable repeat lengths easy and affordable.
The Sunday Vpak 3000 press is available in web widths of up to 1,905mm (75in) and exploits the signature print stability of the established gapless Sunday technology to address the growing trend towards wider web packaging printing for greater economy and flexibility of production.
The narrower web width of the Sunday Vpak 500 press (from 521mm/20.5in) delivers a new level of packaging printing productivity with high web offset print quality and web economic advantages for folding carton, flexible packaging, preprint and label applications.
Sunday Vpak features and benefits
Up to 75in web widths
Premium offset print quality
Affordable, fast variable-sleeve size changes
Fast makereadies
Lower-cost offset plates
Higher productivity than sheetfed
Unique image nesting on plates to optimise layout
Gapless cylindrical Sunday press blankets
Advanced tension control
Bearerless, force loaded cylinders
High-quality ink and dampening system with four form rolls
Automated Goss Omnicon controls