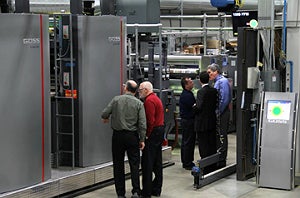 Packaging producers from Europe and North America saw a Goss Sunday Vpak press system print with high quality at high speeds on wide webs during a series of demonstrations at the Goss International headquarters in the United States from February 25 to March 1. Goss International customised demonstrations on the Sunday Vpak press throughout the week, printing on a variety of film substrates ranging from nine micron PET to 28 micron BOPP at web widths in excess of one metre.
The demonstration week, which focused on flexible packaging applications, followed a similar programme held at the Goss International facility in New Hampshire in late 2012, to demonstrate the capabilities of Sunday Vpak presses for folding carton and pre-printed liner applications.
Goss Sunday Vpak 500 and Vpak 3000 web offset press models for folding carton, flexible packaging, pre-print and label applications are available in web widths from 520 mm to 1,905 mm (20.5 inches to 75 inches) and print at speeds of up to 457 metres (1,500 feet) per minute. Key features include quick-change sleeve adapter technology for efficient, cost-effective size changes, and advanced offset inking, tension and control systems. (March 13th, 2013)
New Goss® Sunday™ Vpak™ variable sleeve presses introduce an entirely new way to exploit the inherent print quality, cost and agility advantages of web offset.
Specialized Goss® Sunday® Vpak™ presses were designed from the ground up to allow flexible packaging, folding carton, pre-print and label producers to fully exploit the...