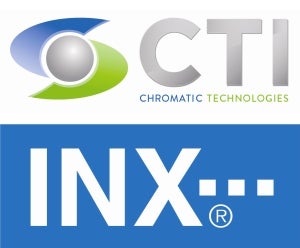 A joint-operation agreement has been announced, which combines the impressive reach of INX and the brand innovation capabilities of Chromatic Technologies (CTI). The global agreement is designed to offer the can manufacturing and packaging industries world-class customer service and specialty ink innovation.
INX is the global leader in inks for beer and beverage cans, while CTI produces a variety of specialty inks, such as thermochromic, photochromic, 'Reveal' and security inks. CTI invented both how to apply thermochromic ink at high speeds to cans and the chemistry behind Coors Light's cold refreshment guarantee: 'When the mountains turn blue, it's as cold as the Rockies!™'
INX president and CEO Rick Clendenning said: "The new agreement between our two companies will help the packaging world see the most exciting ideas in specialty ink technologies.
"Bringing together two companies with strong technical and service teams will create an atmosphere where we deliver new, innovative ideas and technologies to our customers in a timely and efficient manner."
INX international operations vice-president Jonathan Ellaby said: "As a leader in the two-piece ink market, INX looks to align itself with other market leaders.
"This agreement with CTI, which has long been the pre-eminent provider of colour-change technology to the can industry, gives INX access to leading edge colour-change technology and CTI faster access to new markets."
CTI president and founder Lyle Small said: "Thanks to CTI's aggressive R&D efforts to invent a range of new technologies, we're now in an excellent position to partner with a company of INX's calibre, global reach and technical support.
"INX and CTI seek to offer brands a new source of innovation supported on the international stage with world-class service and technical support."
"The new agreement between our two companies will help the packaging world see the most exciting ideas in specialty ink technologies."
The announcement comes as CTI launches its 'high-velocity inks,' following a three-year R&D process. These inks are a new invention in thermochromic chemistry, delivering more durable and powerful colour in a smaller particle size. High-velocity inks run at higher speeds, resulting in less waste while producing better yields (wherein one pound of ink prints more cans with the same artwork). By mid-2015, all of CTI's thermochromic inks will have the advantages of high-velocity technology.
Mr Small added: "High-velocity inks offer customers improved operational efficiency, better colour and can be stretched across various packaging formats.
"We anticipate this will render obsolete all existing, first generation thermochromic inks."
INX and CTI will collaborate to bring new ideas to customers across diverse industries, such as beverages, dairy, security, children's products, food safety and a range of consumer package goods. In addition to thermochromic technology, INX and their customers will benefit from CTI's expertise in photochromic (light-sensitive inks) and other chemistry advancements that will allow packaging to help differentiate brands.
The innovation and services between the two companies will extend across multiple industries within the packaging and converting fields, such as cans, labels, film, folding cartons, tabs, crowns, closures and plastics, printing in a variety of ways including offset, gravure, with conventional and ultraviolet printing ink technologies.
CTI and INX will also provide 'innovation incubator' services for select customers that offer access to proprietary consumer research, design services and ideation for pipeline development. The two companies will continue to be owned and operated independently and negotiate separate long-term supply agreements.