MPS provides highly automated flexo, hybrid and offset printing presses with intelligent connectivity for the label converting and flexible packaging industry worldwide.
The company looks beyond the machine through intensive cooperation with customers to help them achieve the best performance and maximum return from their printing press.
Print quality with MPS flexo printing for the packaging industry
Over the years, MPS has developed numerous innovations to enhance flexo printing for label and packaging printers.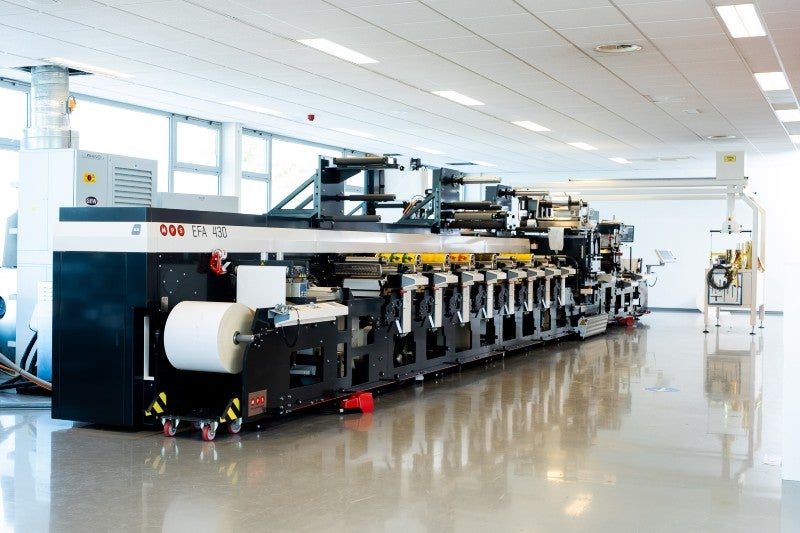 MPS fully automated multi-substrate Flexo Press EFA430.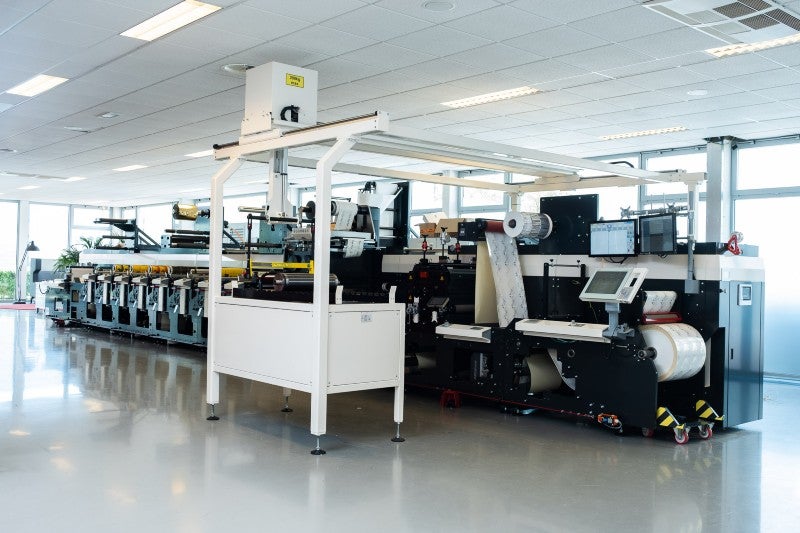 MPS Technology and Expertise Centre in Arnhem, the Netherlands.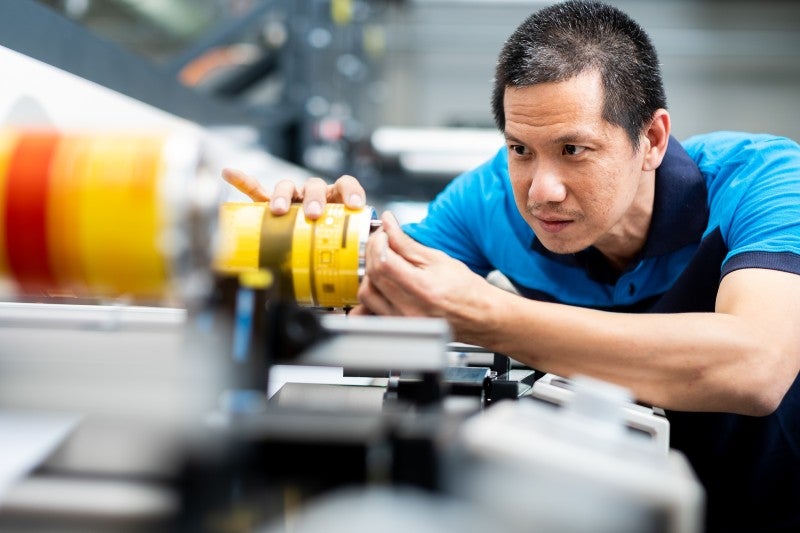 MPS provides top print quality, productivity, flexibility and reliability of label printing press.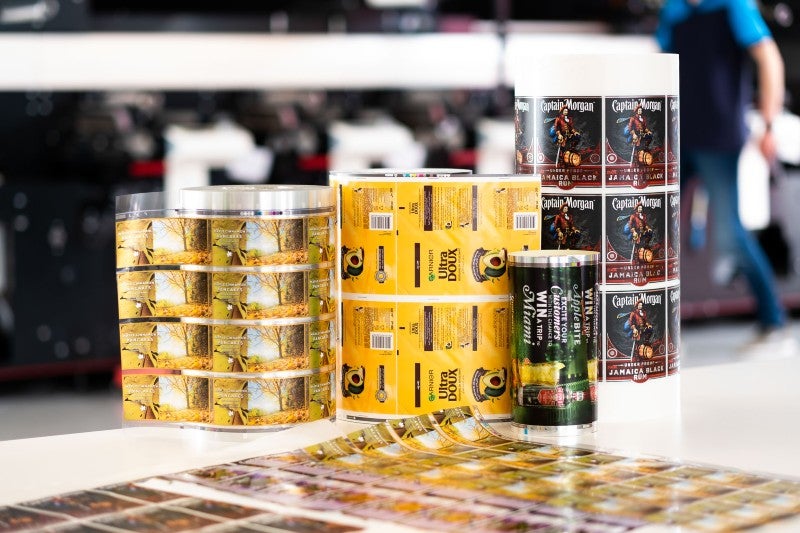 MPS label samples with different applications.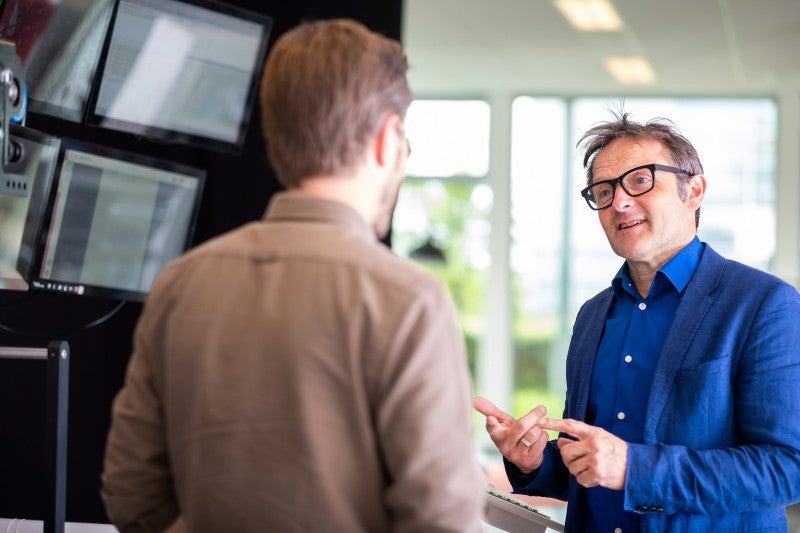 MPS Connect to Grow with MPSConnect.
Flexo printing technology provides the optimal combination in quality, productivity and flexibility when printing self-adhesive, in-mould, shrink sleeve, wrap-around, multi-layer and 3D labels, as well as flexible packaging, lami tube, blisters and lidding.
MPS flexo printing presses include:
EFA, which is a high-quality, fully automated multi-substrate flexo printing press that prints on various substrates. Each print station provides servo-controlled pressure settings. It's a top-notch press choice for a connected future.
EFS, a highly automated flexo printing press for high-quality printing on various substrates. It provides the ultimate flexibility, enabling operators to maximise press performance thanks to its ease of operation and reliability.
EXL-Packaging, which is a wider flexo printing for narrow-to-mid-web printers and converters. The EXL-Packaging press provides inline capabilities that support short-to-mid-size printing runs on a large variety of substrates.
The best of both worlds with MPS hybrid printing for packaging
Benefits of hybrid printing include the ability to combine several printing technologies and converting techniques in a single-pass process. It merges the capabilities of conventional and digital printing methods, for example integrating the reliability, efficiency and in-line features of flexo printing with the creative possibilities of digital printing.
EF SYMJET
Our 22'' (558mm), 20''( 508mm), 17" (430mm) or 13" (330mm) hybrid printing press provides a range of new print potential with the symbiotic combination of conventional and digital printing technologies.
The EF SYMJET is built with the standard MPS EF platform and an integrated Domino digital N610i inkjet printer that can be combined and used integrated in-line or separately to work offline.
For a wide range of embellishments, different printing and converting units can be integrated on all MPS presses such as screen, gravure, laminating, hot foil and cold foil units.
MPS low-cost variable sleeve technology with offset printing for packaging
The offset printing process has been standardised over many years and is incredibly accurate for repeat jobs.
An important advantage of offset technology is the relatively low cost of producing plates. The combination of very fine tones in application with solids, texts and fine lines also enhances the quality of result in offset printing. An additional benefit of using offset technology is that screen-count can become much narrower.
These technology characteristics can become decisive in the highly competitive packaging print market.
EXL-Offset
With offset sleeve combination printing, the EXL-Offset provides variable sleeves for different repeat lengths for both plates and blankets. Therefore, this solution significantly reduces waste.
Offering versatility in converting and drying options, a diverse range of packaging applications can be implemented, including flexible packaging, shrink sleeves, wrap-around labels, blisters and lidding.
Connect to Grow with MPS
MPS enables customers to achieve the best performance and maximum return from their MPS machine. By connecting with MPS, the best in printing press reliability and productivity long into the future is ensured. With the MPS performance programmes, customers will increase competitive advantages and maximise profits.
24-7 valuable insights with MPSConnect
With MPSConnect, our team dives into the MPS printing press and see exactly what's happening. Hundreds of sensors built into these intelligent presses collect and store data from hundreds of events per second.
Real-time data collection is made possible with our sensor technology combined with the Internet of Things (IoT). Processed information includes Web speed, Web tension, power usage, register and pressure settings, alarm messaging, humidity and environmental temperature.
The data factory creates clear press performance insights by running a series of algorithms. The data is converted by software and presented in an array of meaningful reports and charts.
These valuable insights are available 24/7 in the Performance Dashboard on the mobile, computer, press and wherever the client is. Based on these online, fact-based insights clients can optimise their present press performance and decrease waste.
MPS printing press performance boost
MPS experts work closely with the client's operators to improve machine performance through gained insights, TCO checks and/or video analysis. We benchmark the productivity of your machine with that of other printing companies and best practices.
MPS also provides continuous technical support to enhance and maximise operations. Error messages and alerts are proactively checked, and the company shares tips to resolve them. MPS evaluates and checks the overall technical condition of customer machines on an annual basis.
Online support 24 hours a day, seven days a week is provided, along with warranty programmes for up to four years after the initial purchase.
To bring knowledge and skills to the necessary level and receive the maximum return from the machine, the company offers customised training programmes for operators, engineers and production managers. Lean training courses for production managers are also available.
Our executed performance programmes have brought improvements of change over time, increased production speeds and waste reduction, resulting in recurring annual savings of €50.000 to €100.000.
About MPS
The founders of MPS were pioneers who developed the first servo-driven flexo press in the 90s and early 2000s, which was revolutionary at that time. MPS grew to be known as a top builder of high-quality printing presses.
Customers around the world choose MPS for ease of operation, exceptional printing quality and extremely high return on investment.
By partnering with MPS, customers can be assured of the best in reliability and productivity from their printing press. This can be achieved by connecting with MPS machines to create productivity insights, as well as with MPS service for maximum uptime and support. Also, connecting with MPS specialists to access knowledge and expertise further benefits performance.