Grabher Indosa Maschinenbau AG (Indosa), a world leader in can machinery, is known for its can reliable filling, seaming, dosing and applying machines and production lines, and appreciated for its neat 'INDOSA' and high-quality Swiss workmanship.
From 1936, the very beginning, Indosa has been manufacturing and supplying can seaming machines for over 70 countries. The present range of products is the result of development and improvement over this time.
The excellently organised company structure guarantees perfect quality and constant development through research and experience. Even for machines delivered decades ago, service and spare parts are still guaranteed, without problems, over the world.
Indosa can machinery product range includes: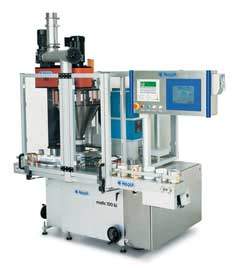 Indosa-matic 100 bi one can machine for all needs: filling, check-weighing and closing of composite cans with tin lids, paper cans with paper bottoms and tin cans with tin lids.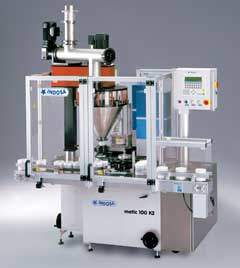 Machine for heat sealing cardboard bottoms onto composite cans with filling machine for powders and granulates.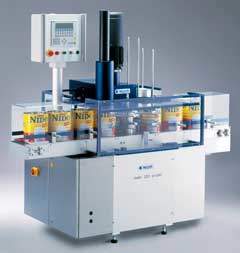 The perfect system to evacuate, gasify and seam cans. Residual dissolved oxygen value: possibility of less than 0.5 per cent.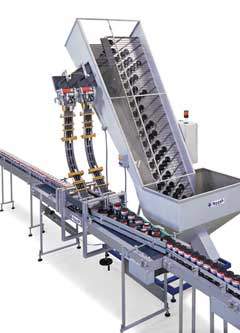 Slope conveyor INDOSA SF 184/3 and INDOSA TWIN C100 (Capper) with a capacity of 250 to 300 cans per minute.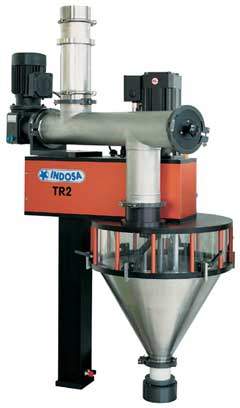 Modular, flexible dosing- and filling system for powders and granulates.
Can filling and seaming/sealing lines
Can seaming machines
Vacuum can seaming machines
Can sealing machines
Filling and dosing machines
Machines for can manufacturers
Cap applying, sorting and feeding systems
INDOSAS MODULAR CONSTRUCTION SYSTEM FOR PRODUCTION LINES
Each Indosa production line is in tune with, and designed according to, the specific requirements of the customer. This provides its clients with an invaluable advantage can is recognised economically over the subsequent decades with constant application and further development. This process forms the Indosa modular construction system. The modular construction system is used throughout the complete product range.
Every system produced by Indosa is compatible. For example, all filling systems can be integrated into a seaming machine and vice versa. Indosa's production programme includes over 20 different types of automatic revolving machines and more than 60 work stations. The automatic revolving machines are equipped with the work stations required for the process in issue.
The transportation systems, which include conveyors and air cushion canals or chutes, are all exchangeable according to client requirements. In addition, accumulation tables, sorting systems, parts and product feeding devices can be modularly integrated, in many variations, into all Indosa lines, even old product lines can be complemented by new modules with new technologies.
VACUUM CAN AND CAN SEAMING MACHINES AND LINES
Indosa produces semi- and fully-automatic can seaming machines for round preserve cans, aluminium cans, tin cans and composite cans. The can seaming machine range includes machines for evacuating, gasifying and can seaming.
FILLING MACHINES AND PRODUCT FEEDING DEVICES
The Indosa range of filling machines and product feeding devices includes machines adapted for:
Lumpy products, granulates, powders and hardly flowing products
Volumetric dosing machines (cup fillers)
Filling balances, vibrator channels
Auger dosing machines with integrated net weigher and check weigher
Filling and compression device for tobacco in cans
SEAMING MACHINES
Gluing-in or sealing-in cardboard bottoms into composite cans
Closing glass jars with screw caps
Fixing snap-on lids on cans
Inserting round and non-round plastic closures for aluminium, plastic and paperboard cartridges
SORTING AND FEEDING SYSTEMS FOR INSERT AND SNAP-ON LIDS, CAPS, SHAKERS, CANS
Indosa's range includes slope conveyors, feeding canals, sorting devices, destackers, air cushion transportation, transference stations and conveying systems.
FEEDING AND ACCUMULATION SYSTEMS FOR CANS
The Indosa range includes conveyors, accumulation tables, turning stations, rotation devices, lane distributors, palletising and depalletising of cans and glasses.
MACHINES AND PRODUCTION LINES FOR CAN MANUFACTURERS
Machines for manufacturing aluminium tear-off membranes on cans
Machines for paper membranes, cardboard bottoms and cardboard insert lids
Machines for fixing various closures by seaming, sealing, using a cold glue or hot melt adhesive and inserting
Inline connection from spiral winding and/or labelling machines