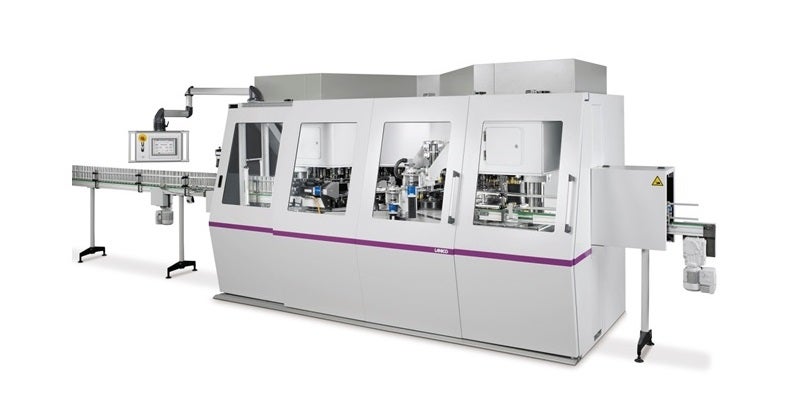 LANICO is presenting a high-performance machine for the production of three-piece aerosol cans at METPACK in Essen, Germany.
The newly developed Can Former CF 589 achieves productions speeds of 500 cans per minute and processes super thin body material down to only 0.13mm thickness. In doing so, the machine enables material savings of up to 30% compared with conventional machinery. (Hall 3/ Stand A42).
The new Can Former CF 589 offers supreme machine availability. During format changes, height adjustments can be performed in only 20 seconds without the need for additional tools. In accordance with LANICO's 'Lego-style' construction system, the machine uses modular tools, allowing a complete format change (diameter) in only 120 minutes.
Fine adjustment of spindle speed
With the Can Former CF 589, the welded can pieces are fed and separated vertically. During further processing the spindle speed can be adjusted individually for each carousel with rotating tools. This way, the machine is fine-tuned to meet the specific demands of the tinplate material used.
The Can Former CF 589 features the handy Recipe Management System (RMS), which integrates all the major production parameters, such as height, machine velocity and spindle speed. By accessing previous settings, parameter changes can be performed in only a few seconds.
LANICO will present additional product innovations at METPACK. Among the highlights is the product line 'LANICO transport systems', featuring high-speed end destackers, capable of handling over 1,000 ends a minute.
Lanico Maschinenbau Otto Niemsch GmbH, based in Braunschweig, has been manufacturing machines for the can making and canning industry for nearly 100 years. Today, the company is one of the world's leading manufacturers of equipment for the production of technical packaging.
Lanico is one of the top suppliers of necking, flanging and sealing machines and complete production lines, especially in the field of aerosol and rectangular can manufacturing.