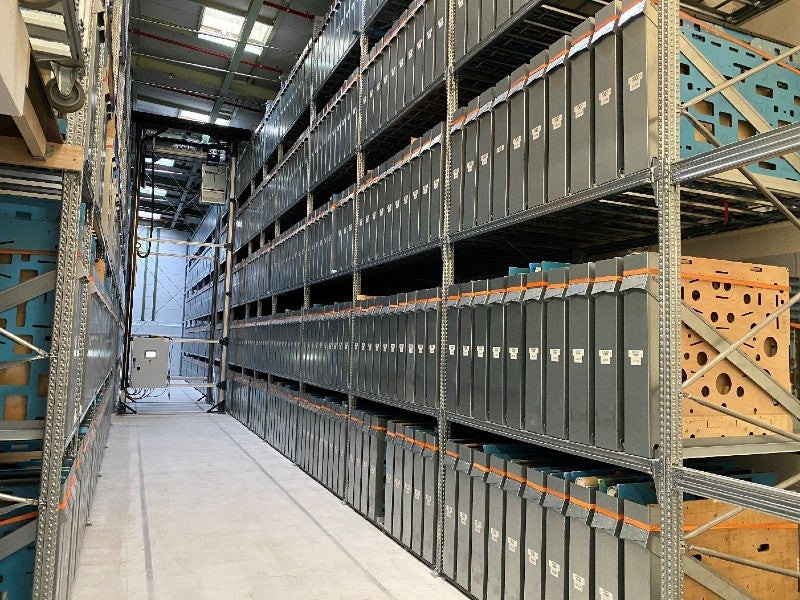 The above title refers to many aspects in this article.
The family Klingele – a visionary family owned group of production companies within the corrugated packaging industry in Germany and in Europe.
Their full-automatic bcm storage for their flat bed dies being the first and only of its kind in Germany in the corrugated industry.
The 5 level flat bed die bcm storage which is more than 7 meters high, is the highest full-automatic bcm flat bed die storage system in Europe.
This full-automatic robot storage by bcm serves several die cutting machines in several shifts of dies for the entire production, which secures high productivity and very low level of operator intervention.
bcm transtech a/s (bcm) from Denmark is a small company of 30 employees. During the last 5 years in particular, bcm has developed several very smart and full-automatic die storage systems, mainly for the corrugated industry, but also for other industries in the packaging segment such as the solid board packaging industry and the flexible packaging industry. We would like to promote one particular installation as something very special and unique.
The customer is Klingele Hilpoltstein in South Germany near Nürnberg. A private and visionary company, owned and run by the Klingele family, celebrating their 100 year anniversary in 2020, and a company that is extremely focused on smartness, effectivity and quality in all processes. And it shows in the results. For this customer bcm has installed a full-automatic storage system for the storage of flat bed dies.
bcm full-automatic flat bed die storage facts:
1,152 cassettes in the storage.
50/50 shared between Mastercut 2.1 dies and Bobst 1600.
Approximately 7m in height.
35m in length.
bcm cassettes in five levels.
Installation in a basement customised within a millimetre of accuracy and tolerance.
Specific uniqueness of this installation is:
The installation is in the basement of the factory in a quite dark room, which is no problem, as the bcm storage robot works easily in complete darkness due to a large range of intelligence, sensors, lasers etc. All connected in bcm's own software platform.
As the entire storage area is completely closed for human access due to safety reasons, bcm had to find a special way to get the trolleys in and out of the storage area, as they had to arrive at the storage behind a wall. A very smart device for letting the trolleys enter into the garage was developed. The trolleys are 'slid' into the garage and moved forward and are actually 'hanging' with the front wheels out in free air. A unique and new solution that only fits this installation and never done before elsewhere.
Though the storage is in the basement, it is connected to the production area via a gate in the upper right corner of the storage area. In this area bcm has installed a unique garage where the trolleys can collect and return the dies.
All commands for the storage can be done easily by any operator without certain skills after just a few hours training. All commands are given on a touch panel pc in the operator room, which is situated just at the garage for the trolleys
When the bcm storage robot is working inside the storage and driving its long distances in quite high speed, the operator can follow both the position of the bcm storage robot and see everything through live video camera on the touch display.
And naturally bcm has any kind of online access devices for immediate and smart support in place. This ensures Klingele that whenever there should be a problem, questions or maybe even new ideas, bcm can act fast and effectively and help out the operator.
Klingele and bcm believes that this installation is a very fine example of how a visionary customer and their technological highly advanced supplier can work together in order to carry out a very ambitious and future oriented project with a great benefit as the final result.