Thanks to its universal solutions and innovative products Cyklop Teknik is one of the leading suppliers of stretch wrappers. With development and production based in Burseryd, located in the south-west of Sweden, we provide Swedish quality machines at the right time to the right price.
Stretch wrappers with pre-stretch system
The packing machine is rarely the most expensive element in the production process, but in a way it is perhaps the most important one. Dependability is the basis of our product development. We know the value of availability. We are even prepared to sign an agreement with this as a starting point.
But availability is of course not enough. We also focus on each part of the lifecycle cost that we can influence:
By a complete adaptation to your demands for performance, built-in measurements and quality assurance in the production and distribution
By a material consumption which can be reduced up to 80% thanks to our patented pre-stretch system Ecostretch®
By local support
Vertical and horizontal stretch wrapping machines
Cyklop Teknik offers a complete range of stretch wrapping machines, both horizontal and vertical, semi or fully automatic, 'low-end' or 'high-end'.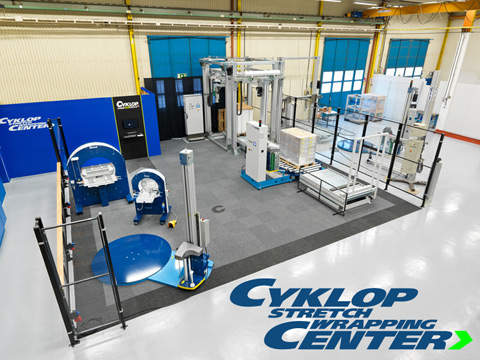 In our stretch wrapping centre we perform demonstrations, educations, calculations, tilting and crash tests.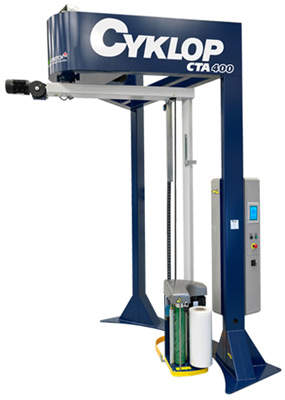 CTA 400 arm wrapper with Power Ecostretch Plus. Pre-stretch up to 400%.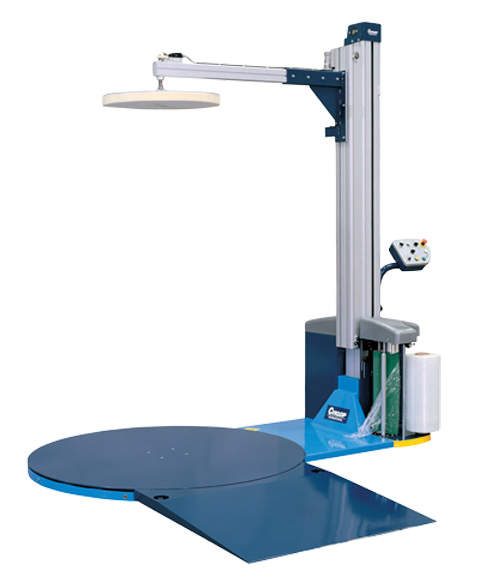 GL 215 turntable machine with Power Ecostretch. Pre-stretch up to 300% (equipped with ramp and top plate options).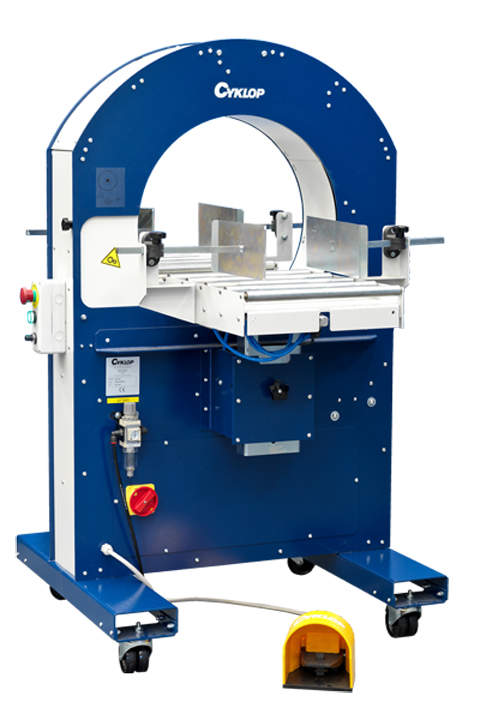 Model 'BOX' from our series of horizontal stretch wrappers.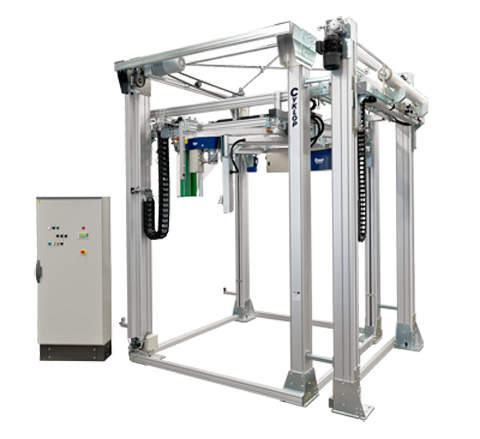 GL 2000 high-speed fully automatic ring wrapper with Power Ecostretch Plus.
Versatility, usability, robustness, reliability, the use of material which reduces wear and spare parts, and what caps the maintenance costs, brings the products to the top of their class.
Pre-stretch system for wrapping machines
Most machines incorporate highly advanced pre-stretching systems with the ability to pre-stretch the film up to 400% (Power Ecostretch Plus). Our machines can be optimised to wrap all kinds of goods, from very heavy and robust (bricks, stones, sacks, etc.) to very light and delicate (empty PET bottles, cans, toilet paper, etc.)
Economic stretch wrapping machines
Pre-stretch is the process that allows stretch film to be stretched before being applied to a load. The film threads past two rollers in which the second roller's rotational speed is faster than the first, thus stretching the stretch film between the two. This is achieved by an adjustable gearbox (patented system) which keeps the ratio the same, i.e. you can trust that the set value is stable, since we are not depending on any magnetic clutches.
Together with automatic film type detection (AFD) we have created a system that is unique in the field of stretch wrapping. We guarantee that the film consumption always stays the same for the same pallet. You pay for the film cost per pallet in the long run, not for the machine.
Stretch wrapping centre
At the Cyklop stretch wrapping centre we are able to conduct all kinds of wrapping tests (tilting, crashing, etc.) and also issue film calculations. We can easily establish the packing quality and cost on customer pallets. In the centre you will always find the latest versions of semi and fully automatic machines as well as machines for horizontal wrapping.
Semi / fully automatic stretch wrapping machines
We offer semi or fully automatic machines, standard or customised, for conveyor systems or as standalone. We provide solutions for everything and anything that needs to be packaged – big and small, on pallet or not.