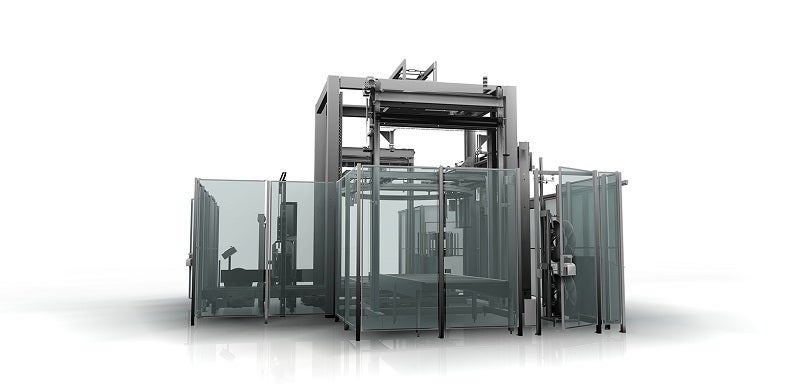 An automatic packaging line, a joint effort by Haloila, Signode and Strapex – all part of the global Signode Industrial Group – is introduced at the interpack 2017 exhibition in Dusseldorf, Germany.
"By introducing a packaging line with fully automatic Octopus stretch wrapping machine and three different strapping machines for the needs of various industries from our sister companies Haloila wants to show a complete packaging solution for its customers. As a part of the global Signode Industrial Group we are able to offer more complex solutions, available from a one supplier," explains Haloila general manager Jari Paavola.
The Octopus 1845S stretch wrapping machine is equipped with a new Easy Load Top Sheet Device and an Automatic Reel Change System (RCS). The Easy Load Top Sheet Device enables the operator to complete the top sheet loading by standing on a platform integrated to the sheet reel lifter. The reel change is quick and safe to do as there is no need to go inside the machine.
Safety is one of the key aspects of the Automatic Reel Change System by improving the overall safety of the packaging line. In case the stretch film breaks or ends, the system automatically changes a new stretch film reel and the wrapping of the load continues after the film reel has been changed. There is no need to stop the line for an operator to enter in the wrapping area, as the system itself handles the reel change without any help from the operator. When the automatic reel change has been done, the operator can change the stretch film reel outside the safety fencing quickly and easily. By using the Automatic Reel Change System, it is possible to reach a one shift function for eight hours operation.
The three strapping machines of the line are provided by Signode and Strapex, which are Haloila's sister companies. The VSM MHC model is ideal for the logistics industry. The TSM 3000 model is a strapping solution for the construction industry. And the Endra model is suited especially for the needs of the beverage industry.