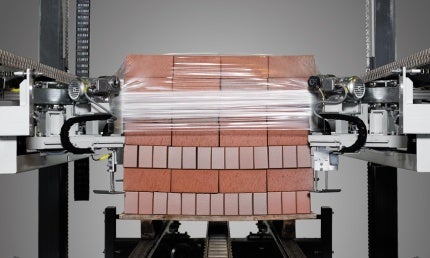 A key player on the global market since 1969, Lachenmeier is an industry leader in pallet wrapping solutions. Our core business is pallet safety. We concentrate on providing state-of-the-art pallet wrap solutions with the best balance between function and cost. We focus on machine performance in combination with the right packaging film, while looking for saving possibilities, methods to reduce your film usage and ways to improve the quality of the wraps.
Does your packaging match your application?
Lachenmeier is committed to offering you the best possible wrapping solution to suit your individual packaging requirements. To meet your needs effectively, we analyse your existing processes and set-ups in order to find out whether you are using too much film, too thick a film, if the load stability is sufficient, if the load is wrapped correctly according to norms and standards, and where we see possibilities for saving money. Basically, we need to find out if your packaging matches your application.
Does your pallet wrap provide maximum performance at minimum costs?
Request an experienced Lachenmeier packaging specialist with industry knowledge of best practices to provide you with a free audit. The pallet wrap audit will allow us to get to know your business and to understand your specific requirements and needs, enabling us to advise you on where and how to save money and improve efficiency on your packaging line.
Whether you are looking for increased load stability, reduced packaging material, minimised waste or improved packaging process, we can take a close look at your existing solutions and make appropriate suggestions and recommendations regarding possible cost savings and efficiencies.
To find out more, please contact us using the form below.
The Multi FleX1 is capable of wrapping at a very high speed of up to 250 loads per hour.
This white paper looks at the problems of the wood pellet industry, in relation to packing wood pellet bags on pallets and protecting and securing them for indoor/outdoor storage and transportation.
Lachenmeier AS
Fynsgade 6-10
Sonderborg
DK-6400
Denmark