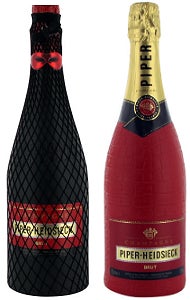 Packaging is integrating the sense of touch into its design. Sleeves are hype and dress packages with extravagant textures.
The product becomes a 'special edition' and calls for celebration. Bring up a sleeving idea and PDC Europe's machine can do it for you. The company's 'Star Opening' patent, combined with a highly malleable elastomer sleeve, packages your product with a unique touch of sensuality.
This exclusive technique, branded Skin Evolution, is developed in partnership with Eos Innovation. Skin Evolution can adapt to any container, format, glass or plastic. It stretches evenly to cover its top and base. It is monochrome and is available in the entire pantone range.
The sleeve can support the product's brand identity, barcode and detailed consumer information. Printing directly on the skin is also possible.
Laser engraving for a stunning effect
Sensual outfits and elaborate finery; will you be tempted by the panther, croc or snake skin looks?
The Skin Evolution sleeve revisits the product's silhouette, making it either charming or provocative. Ambassadors of style and celebration, the champagne brands were among the first to adopt it: Philippe Brugnon and its 'Paris Loveday' bottles, Piper-Heidsieck (pictured) with the Bodyguard and the red crocodile skin sleeve, followed by a sleeve in the style of French Cancan, designed by Jean-Paul Gaultier.
"For Bodyguard, we took a 3D photo of a genuine crocodile skin, then used a laser engraving machine," explains Jérôme Collard from Eos Innovation.
The sleeves' thickness can reach 1/16th of an inch (1.5 mm). They are transferred on a smart conveyor that facilitates the filling process. The sleeve can feel rough or fine, depending on the engraving's level of detail: either smooth, marbled, scaled or dimpled.
"Skin enhances any product: spirits, cosmetics, perfume, everyday and decorative items, limited editions… It adds value and distinction to the brand by appealing to the consumers' senses of touch and sight," explains Derek Vandevoorde, president of PDC Europe.
With their elegant shapes and elaborate graphics, up-market items have always seduced us. Now their texture adds a new dimension to their personality. Packages that don't appeal to the consumers' sense of touch are out.