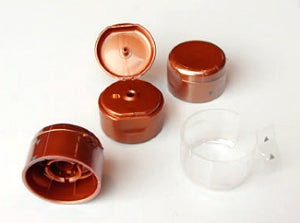 Flip-top cap suppliers add value to their offer by integrating PDC's tamper evident sleeve applicators in their production lines. Flip-top caps, which consist of a flip-top, a hinge at the back for convenient opening and an aperture for precise product dispensing, are increasingly popular.
The recent introduction of 'tottles', squeezable containers that stand on their caps, on the cosmetic market is yet another application. PDC, expert in sleeving for close to 30 years, designs and manufactures specific tamper evident sleeving machines.
Adding a tamper evident sleeve to a cap adds considerable value to the cap manufacturer's offer: his customer, in our example a cosmetics supplier, will reduce materials cost by eliminating the cardboard boxes or cellophane packaging previously used to protect the products.
Not only does he save money, but he also reduces his carbon footprint. The consumer also benefits from the tamper evident cap: he purchases the product with complete peace of mind, as the secured sleeve guarantees the product's integrity.
Value-added and sustainable innovation PDC gives performance and sustainable development top priority. They provide cap manufacturers with operator-friendly and compact machines: the tunnel and the machine are assembled on a single stainless steel frame.
The process also provides fast sleeve format changeover. The machine's design optimises productivity: it operates automatically, sleeving between 20 and 120 caps per minute.
It features camera inspection for container closure and imprint, a sorting area, a keyed run / jog switch and precise container handling. "At PDC Europe, we design our machines to increase our customers' competitiveness by integrating sustainable innovation and providing unbeatable service," concludes Derek Vandevoorde, PDC Europe's President.