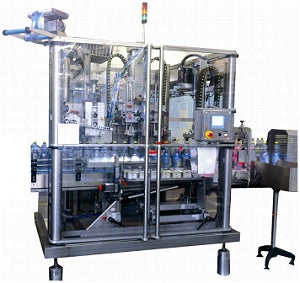 Through the glass panels, our eyes are observing the machine running at a speed of 400ppm on 300mm (length) shrink sleeve: a production speed of 24,000 pph.
A world of excellence which PDC Europe unveils for the first time – 'for your sleevings only'. To obtain such an outstanding result, the R 400 is equipped with our unique, patented cutting system, along with an exceptional operational mechanism.
This allows us to generate high speed runs; flowing freely, without any reel breakage, even when working with long cut lengths and / or thin gauge sleeves. A compact and linear solution, the R-400 is able to run up to 600cpm on small bottles using a single head.
A secret weapon at your service: flying solo, but extremely smart, that easily fits in most lines due to its compact footprint.
ROI on an R-400 is extremely short due to its low maintenance requirements and ability to use low gauge material.
A master card, an accomplishment in complete harmony with sustainability, PDC Europe received, in April 2013 in Warsaw, the 'Best Energy Efficiency' Award.
Intelligent and unique
Three words to describe the R 400's mission: efficiency, simplicity and reliability. PDC Europe's field engineers travel around the world to train operators on the machine, its operating mode, simple maintenance and its fast size change-over.
Moreover, PDC can communicate with the machine from distance thanks to its 'Motion' technology on Siemens PLC (PDC Europe is one of the few companies chosen by Siemens to build a partnership in this field).
Perfectly adapted to industries looking for high speed solutions, such as soft drinks, brewery or dairy, Danone Group was seduced by the R 400 and recently purchased one unit for one of their European operations.
They have five other PDC sleevers in the US as well. Born in January, 2013, the R 400 is the work of the entire PDC family, from the engineering office, to the sales division, through to our customers' experience feedback.
The R 400 is the perfect balance between sharp technology and exquisite aesthetics. Indeed, the R 400 is sexy: nice curves represented by a tube shaped posts – that may recall the shape of the sleeve soon to be applied by itself – and see-through panels for a clear interior view.
"Among shrink sleeve applicators, the R 400 is today, 'The' machine of reference," states Derek Vandevoorde, president of PDC Europe. Intelligent and unique, the R 400 has become the new ambassador of PDC's vision and will continue to innovate.