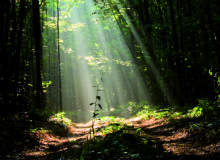 Responsible sourcing, supplier certification, sustainability – the prevalence of such 'buzz words' within the paper and packaging industry clearly indicates the commitment and strides big corporates, suppliers and manufacturers have made in recent years to remain abreast of public concerns and expectations about the environment and corporate social responsibility.
As Duncan Pollard, sustainability adviser at Nestlé, explains: "The traditional route for responsible sourcing has been certification, which has been very successful and produced a paradigm change; it has encouraged the industry to look at the way it works."
Yet for Pollard – who came to Nestlé from WWF International and has therefore, in some respects, 'crossed over' when it comes to leading the environmental agenda – ticking boxes to prove the provenance of your fibre, while laudable, is not enough.
"Nestlé's responsible sourcing guidelines incorporate a key supplier code and form the basis of a company-wide commitment to tackle deforestation and improve forest stewardship."
"The big difference with Nestlé is that we have not stopped at the level of fibre. Most companies when developing a responsible sourcing policy or programme concentrate on fibre, but fibre is really just one element in the production of paper," he points out.
What Pollard is highlighting are innovative new responsible sourcing guidelines (RSG) unveiled by Nestlé in May last year that have, to an extent, set a new marker for the industry on responsible sourcing and sustainable supply chain management.
Nestlé's responsible sourcing guidelines
Nestlé's responsible sourcing guidelines incorporate a key supplier code and form the basis of a company-wide commitment to tackle deforestation and improve forest stewardship. The guidelines enshrine the fact that Nestlé will ensure:
its raw material sources have not led to deforestation, ensuring products are sourced from land that has not been converted from natural forest to a plantation or other land use
its raw material sources have not led to the loss of high conservation values, ensuring products are sourced in a manner that maintains or enhances these values in the surrounding landscape
it is following the guidance on high conservation values provided by the High Conservation Value Resource Network
it will include high forest carbon stocks (including above-ground carbon values and peatlands that provide important carbon and water storage functions) as a high conservation value and develop appropriate criteria
it will pay particular attention to the high conservation values needed to preserve water stewardship livelihoods, and species that require large contiguous habitats
it will not source products from International Union for Conservation of Nature (IUCN) protected areas, UNESCO World Heritage Sites and wetlands on the Ramsar List
its raw material sources have been produced in compliance with Nestlé corporate business principles and the Nestlé Supplier Code.
The supplier code, meanwhile, outlines that raw material sources:
should be from a known and licensed source, traceable back to their origin, and from a supplier that has the legal right to harvest the produce
are legally harvested and traded in compliance with relevant national and international laws and treaties
do not include 'conflict wood/forest-based commodities'
come from suppliers that adhere to UN Declaration on Human Rights and International Labor Organization core conventions on working practices
respect the rights and title of indigenous peoples; the free prior and informed consent of indigenous and local communities must be obtained when sourced through activities in forests, plantations and farms on their customary land
have led to the creation of shared value for society and local communities.
Nestlé will also ensure its products are sourced such that:
plantation companies in water-stressed areas have carried out water resource assessments and are implementing water stewardship plans that take into account the human right to water as well as environmental flows
smallholders do not face barriers to becoming a Nestlé supplier based upon these requirements
there are demonstrable rural development benefits accruing to local communities as a consequence of Nestlé procurement activities, including that smallholder farmers and communities are assisted to improve their tenure and stewardship of their trees and forests.
Sourcing evolution
As Pollard explains: "In some respects, what we are doing is simply an evolution. This whole agenda started with forestry products – around a decade ago – then moved on to sea food and palm oil.
"There is now an expectation that companies have to take packaging sustainability into account on behalf of consumers."
"Issues such as forest management – deforestation and poor management practices – are a major topic of concern to the public at large, to civil society, just as they are to manufacturers. The public takes very close interest in these issues and the values of an organisation such as Nestlé, and if there are things we can be doing that will make a difference," he adds.
In response to these growing expectations Nestlé decided to look closely at all its different commodity lines, the way they were managed and where there were going to be environmental and social impacts.
"We went outside the organisation and talked to civil society organisations plus, of course, a few of our major suppliers. It is all about driving transparency through the supply chain. It is not just about where you got your paper and packaging from, but where you got your fibre from – from which forest.
"It is about engendering a whole different relationship with suppliers, and encouraging them to up their game. This has, inevitably, involved some trimming of our supplier base, too, but it has been much more about doing the responsible thing and ensuring there is ongoing collaboration with suppliers," Pollard explains.
The intention of these new RSGs has been to engender a comprehensive, holistic approach, one that takes account not just of forest and timber supply but also issues such as energy usage – both water and carbon – waste and landfill.
"We've looked at fibre, but also energy and water; moreover, this approach has been picked up very positively by our suppliers. What it means in practice is that with some of our suppliers we're talking more about fibre and with others it may be, say, water usage. But it is all about sustainability.
"What is important is to have a very clear message. Traditionally most companies have said to their suppliers, 'this is what we want, when can you be compliant?' What we are doing is different, in that, by mapping out the supply chain we are able to go back on to the ground, do field tests and look at performance. There is a far more detailed checklist behind the guidelines, from which we are able to compare and contrast against the actual performance. It is, in a way, sitting down and holding their hand."
A holistic approach
"The public's focus, quite rightly, has been on how well we are managing our forests, and the company has responded. But it is also about things such as pulp and energy use. It is very much about taking a holistic approach," says Pollard.
"The paper and packaging industry in principle has a good story to tell here. What we have done is gone further in the interpretation, the ethos and the ambition, and embedded sustainability information within the business.
"What is on the mind of the consumer is that they are looking for communications around performance, but packaging is very much up there as an issue. It is not something that has been very well communicated with consumers in the past; the rationale for packaging, the benefits that packaging bring. But there is now an expectation that companies do have to take account of sustainability issues on their behalf."
Pollard concludes: "It is a journey, and one that we are on for the long term. In many respects I do not think that we will ever stop rolling it out. The main activity may be over the next five to ten years, but it will, of course, be an evolution. What I would urge everyone to do is to join us on the journey. Some of these companies are so big and so difficult that it needs a critical mass of organisations all pulling in the same direction. So there is a need for us all to be working together but, in terms of the competitiveness of our marketplace, for us all to be able to differentiate ourselves from our competitors."