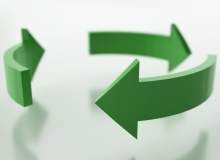 Richard Laverick, director of corporate responsibility at environmental consultancy ADAS, is seeing an encouragingly high level of sustainability activity being driven, it has to be said, mostly by the larger corporations.
In its supplier workshops, ADAS helps find ways to evaluate the sustainability of its activity and that of its suppliers. Boots UK, of Nottingham, put some of its personal care products under the spotlight.
"However, 93% of the product lifecycle carbon footprint comes from the user phase, so the overall effect of the 20% reduction is actually 20% of 7%."
Alex Gourlay, chief executive of the health and beauty division of Alliance Boots, says consumers: "Simply expect trusted brands like Boots to behave in a sustainable way. That is exactly what we are doing".
The journey to sustainability is approached through the assessment of complete product, lifecycles, covering materials, production, distribution, retail, consumer use and the post-consumer 'end of life' phase.
Twenty-three sustainability indicators across the lifecycle of an individual product create a sustainability profile 'footprint' of a product, to compare relative performance and identify hotspots in order to make so-called 'sustainability decisions'.
In some cases, the largest part of a product's carbon footprint can be in the use stage, to be addressed through product design and consumer education. Take shampoo and washing powder for example. If people can be persuaded to wash their clothes or hair in cooler water, the lifecycle carbon footprint of these products is reduced considerably.
Recent work with the Carbon Trust, for instance, looking at the product life cycles of a Botanics shampoo and hair conditioner, confirmed a 20% reduction in the carbon footprint of that part of the product lifecycle over which Boots has control.
However, 93% of the product lifecycle carbon footprint comes from the user phase, so the overall effect of the 20% reduction is actually 20% of 7%, which is just 1.4%.
To obtain the lowest possible emissions in warehousing and distribution systems, Boots optimises packaging design, by using square packages and reusable crates, a variety of double-deck trailers and the latest picking and consolidating technologies in the warehouse.
Vehicle return journeys either pick up more products or return materials for recycling and by sharing space with other businesses in delivery vehicles for the more remote areas in the UK.
A complex issue
According to Richard Johnstone, head of certification at the Carbon Trust Footprinting Certification Company, when establishing the relative role of a product's packaging in the carbon reduction process, businesses need to distance themselves from preconceptions and take a fresh look at the materials they use, and the purposes they serve.
"For instance, it is often assumed that reduced packaging is a fail-safe way to reduce carbon emissions. However, this is not always the case, particularly where the packaging serves the purpose of preserving goods. Around 30 million tons of household waste is generated in the UK every year.
"This wastage significantly increases the carbon footprint of a product, not only from landfill emissions but also from the wasted production phases that went towards creating the goods. For this reason, it can sometimes be the case that the packaging needs to be slightly more carbon intensive for the product to last longer.
"This may seem counter-intuitive but any product thrown away instead of consumed will increase its impact on the environment far more than the disposal of the packaging."
Nor should it be presumed that a certain biomaterial is more or less carbon intensive than a synthetic one, Johnstone said. "The process of making bio-plastics, for instance, which are created from natural materials such as starch in food sources, can be more carbon intensive than the production of synthetic petroleum-based plastics, as it tends to involve energy-intensive farming and manufacturing practices.
"While biodegradable bags avoid landfill, they release CO2 and harmful methane back into the atmosphere as they degrade. Synthetic plastics and certain types of bio-plastics that do not degrade to carbon for a long period of time and therefore do not give off the same gases, but do contribute to landfill."
The importance of recycling
Recyclable packaging can be an important factor in reducing carbon emissions for low carbon-intensive products. However, Johnstone warned that recycling should not be the default option for making a product less carbon intensive.
"Recyclable packaging can be an important factor in reducing carbon emissions for low carbon-intensive products."
"There are many factors to be considered and in some cases switching materials – such as from glass to plastics bottles – may provide better opportunities to reduce the carbon footprint of packaging compared to switching from virgin to recycled materials.
"Glass, for example, can have a higher or lower carbon footprint than plastics, depending on where products are packaged and how far they travel."
Faced with these complexities, companies should take comfort in the fact they are not alone, Johnstone concluded.
"The industry needs to work with others in the supply chain to ensure everyone involved is well-informed of the complexities of the stages involved in determining a product's carbon footprint."
Informed decision making
What started out as a marketing-led sustainability initiative has been used by Innovia Films to transform both the product and its manufacturing process. 'Cradle to gate' life cycle approaches are driving informed choices about future investments in process improvements, said the company, which manufactures speciality, high performance polypropylene and cellulose films, used widely in the packaging of food products and consumer goods.
With a turnover of more than €400 million, the business has an annual film capacity of more than 120,000 tons across production sites in the UK, USA, Belgium and Australia.
Although standard industry data already existed for polypropylene film production, very little was available in regards to cellulose film.
Innovia understood the significance to the sales process of having a well-defined set of figures relating to the environmental impact of its NatureFlex product, a renewable and compostable film made from wood pulp.
Andy Sweetman, business development and sustainability manager at Innovia, explained: "As we are marketing NatureFlex on its environmental credentials – the raw materials are renewable and the product, at end of life, is biodegradable and compostable – it was important that we had the data and a full understanding of all the process stages."
The initial 'Cradle to Gate' LCA in 2007 by environmental consultancy PE International assessed coated and uncoated films, covering from acidification potential to primary energy usage.
It aimed to find the hotspots in order to develop a strategy for improving both product and process. In 2008 a 'Cradle to Gate' assessment looked at the company's oriented polypropylene film product.
An updated LCA study of NatureFlex assessed the impact of developments since the earlier LCA of 2007. There had been raw material changes, the closing of two old lines and the installation of a new, more efficient cellulose film production line at the company's Wigton site in the UK.
The €10 million investment has resulted in the recovery and recycling of process gases, reduced steam consumption due to the increased efficiency of the casting line and a fully-enclosed dryer and exhaust heat recovery system to reduce energy usage.
"By the time we came to re-do the LCA in 2010 we were looking at a 17% improvement in our product carbon footprint since 2007," said Dr Lucy Cowton, market manager at Innovia Films.
Producing 'what if' scenarios for alternative technologies highlighted the potential benefits that would come from making such process changes, and the scenarios were used to feed into the decision-making process for possible capital investment using PE International's GaBi software as a tool for process improvement.
Sweetman underlined yet again the importance of getting beneath the skin of all relevant production line issues: "If you are selling a product on environmental credentials, you need to be able to prove that you are looking at and understanding every aspect of your supply chain."
Eclipse warrants a close look
The latest tray-seal technology can help food and drink manufacturers enjoy cost and environmental benefits, said Packaging Automation (PA).
"Twenty-three sustainability indicators across the lifecycle of individual products create a sustainability profile 'footprint' of a product."
The Eclipse SL4 high speed tray heatsealer, for example, is a fully electrical machine that is said to require zero air for full operation to achieve high standards of reliability, versatility and performance.
PA's E-Seal technology drives all machine operations through small servomechanisms, giving running costs as low as 8% of an equivalent pneumatic system. Significant annual savings and a sizeable reduction in carbon footprint are promised.
Sealing up to five packs at once, the SL4 and the smaller SL3 join the SL6 single-lane and TL6 twin-lane with seal speeds of up to 200 packs/min.
The Eco-Cut option runs sealing film as thin as 17 micron, so film usage is reduced by 20%, while the instant response and accurate synchronisation of the servo-driven film feed system can lead to fewer film breakages caused by air pressure variations.
"Food manufacturers are desperate to reduce carbon footprints and their reliance on inefficient compressed air systems is a big stumbling block," said PA's sales manager Neil Ashton, adding that compressed air can account for more than 10% of a site's electricity consumption.
The Eclipse range was designed from scratch to give greater speed, flexibility and cost savings.