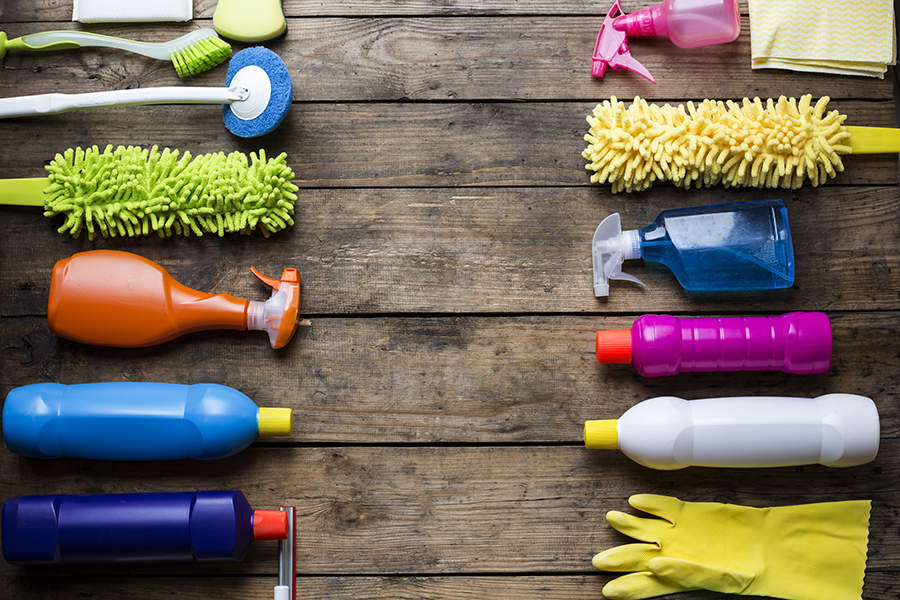 Multipurpose packaging makes cleaning easier for consumers. Image courtesy of Chutima Chaochaiya
---
While a spotless house may be aesthetically pleasing, the time-consuming household chores required to keep it clean are often seen as a tiresome but necessary evil in the eyes of consumers. However, in many developed countries, a perceived or real lack of time caused by busy lifestyles has led consumers to spend less time on cleaning and laundry.
In a crowded marketplace, appealing to time-constricted consumers is a challenge. Over the past few years, manufacturers have been exploring how packaging can be used to improve shelf appeal, encourage consumers to engage with a pack at retail, and ultimately take it home to experiment with.
In the Canadean report 'Adding Value Through Packaging: Household and Laundry Care' Canadean explores how brands are using eye-catching designs, creative multipurpose formats and eco-friendly materials to enhance the value of household and laundry care and boost sales.
Easy application increases product efficiency
"Striking pack shapes and surface decoration can enhance the sensory appeal of a product."
Restricted by increasingly busy schedules, many consumers struggle to find the time or energy to spend on household chores and, as a result, they are seeking out products and processes that make cleaning simpler. In order to appeal to the changing demands and needs of modern consumers, household care and laundry product manufacturers are looking beyond basic functionality, using new packaging formats and delivery methods to enhance the efficiency and effectiveness of household products.
Drawing on the consumer desire for products that make life easier, manufacturers are combining additional cleaning elements into the main pack design to create complex multifunctional devices. Instead of simply housing or measuring the product, today's packs feature applications and dosing methods that address problematic areas of cleaning that are regarded as time-consuming.
A prime example of how packaging has evolved to accommodate a variety of functions can be seen in laundry detergent products. Nowadays, the majority of gel or liquid detergents are sold with a cup or dosing ball with integrated cleaning tools that can be used to speed up common fabric cleaning problems, such as stain removal. Creative applicators and dousing balls that come with built-in nodules, filaments or ridges made from soft elastomers have gained popularity with both consumers and manufacturers over recent years. The flexible material creates a convenient scrubbing tool that consumers can use to treat stubborn stains. The Vanish PowerGel stain remover, for example, features an applicator head with tiny rubberised scrubbing noodles that help to work the gel into the fabric. Additionally, adding a spout gives directional control for pouring a small amount of detergent directly onto specific areas of fabric.
By integrating scrubbing technology, economic measuring systems and detergent into a single pack, manufacturers remove the need for additional tools, which enhances the consumer perception of product effectiveness and reduces the time spent on cleaning tasks and chores.
Stylish pack designs bring a new aesthetic appeal to cleaning products
"Refillable packs save vital resources, which results in lower prices for consumers."
Traditionally, packaging designs for the household care sector have focused more on function than appearance. The same shapes and functions often appear across a variety of leading brand products, with copycat versions being produced by private label brands.
While visual appeal may not have been a focus in the past, in recent years manufacturers have been exploring how visually appealing packaging can add value to household products and, as a result, the sector has developed a more stylish appearance. Appearance is an important factor for many modern consumers and striking pack shapes and surface decoration can enhance the sensory appeal of a product, helping brands to stand out from copycat designs.
Visually appealing pack designs can also help brands create a bond with consumers. According to Canadean, consumers may be less inclined to hide away aesthetically appealing products with packs that fit in with their lifestyle, home décor, or personal values.
While the trend is helping brands to differentiate their products from copycats, creative aesthetic designs are not limited to leading brands and private labels are also using packaging to enhance the visual appeal of household products. For example, the curvaceous shape of the Lidl dishwashing liquid bottle stands out against traditional pack designs and may appeal to image-conscious consumers looking for a product that reflects their personality or home décor.
Sustainable solutions reflect 'green' consumer values
Consumers are becoming more aware of the individual components that make up the products that they buy and often opt for brands that appear to reflect their values. As packaging is often the first contact consumers have with household cleaning products, brands have to be aware of how trends affect consumer buying habits, and must adapt products and packaging to reflect social and cultural values.
Growing concern about climate change and the environmental impact of packaging has fuelled demand for more sustainable solutions. In response, manufacturers are looking at 'greener' alternatives that could reduce the sector's reliance on petroleum-based plastics. Brands have also been experimenting with durable refill packaging, such as rigid plastics bottles that can be refilled using small concentrate pods. Additionally, refillable packs save vital resources, which results in lower prices for consumers.
Sustainability-conscious consumers want to feel good by choosing products and packs that are better for the environment. Using eco-friendly packaging materials can help brands to promote a positive image and position products as socially aware and responsible offerings, which can drive brand loyalty.
Read the full report: Adding Value Through Packaging: Household and Laundry Care.