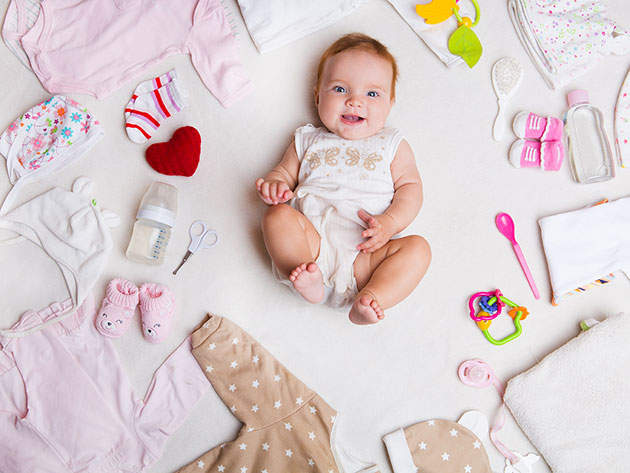 Hassle-free dispensing, aseptic closures, and packaging that is visually attractive for toddlers can help brands stand out to busy consumers. Image courtesy of Ulza
---
Having a baby is a life-changing experience for any parent. But adjusting to the challenging reality of raising a child is a complicated task for both first timers and seasoned parents. To help make the process easier, packaging manufacturers are constantly exploring innovative ways to enhance baby care products with formats and features that suit the needs of modern parents.
In the report, 'Adding Value Through Packaging: Baby Products' GlobalData analysts examine noteworthy developments that make baby products worth paying for. These innovations target both parents and babies with solutions that are both functional and fun to use, including fuss-free delivery systems, clear and transparent labelling and interactive pack designs that support early child development.
According to GlobalData's 2016 Q3 global consumer survey, 70% of consumers say they often or sometimes choose new or different varieties of baby toiletries or food and drink products for their loved ones. This suggests that there is significant space for manufacturers to develop new packaging formats and solutions in baby products.
Answering demand for out-of-home and on-the-go formats
"32% of global consumers prioritise portability when choosing food or drink products to consume."
Modern consumers are leading increasingly demanding lives. With more time being spent away from the home, many consumers are becoming increasingly dependent on products that suit the needs of their new lifestyle patterns. According to results from the GlobalData 2016 Q3 global consumer survey, 32% of global consumers prioritise portability when choosing food or drink products to consume. As many parents need to travel with their babies, portability is an increasingly important factor in modern childcare.
Parents face a variety of challenges when travelling with children. Caring for babies on the go requires products that can easily be prepared and transported in unconventional occasions and environments. Consequently, packaging features that shorten preparation time or offer hassle-free dosing are in high demand among those parents who like, or need, to be mobile.
To reduce the stress of travelling, manufacturers are developing packaging solutions that make parents' lives easier while on the go. Developments such as convenient dispensing solutions and easy-to-carry formats have become vital features in out-of-home baby care products as they minimise the attention and time required to use products, as well as preventing unnecessary spillages.
The refillable "clutch bag" pouch design used by Huggies Natural Care wet wipes in Canada and the US is a notable example of how innovative packaging features can be used to address on-the-go needs. The pouch comes with a carry strap that consumers can easily hang up on a pushchair or in the car for convenient access to wipes when travelling.
Added functionality to enhance the user experience
"Introducing creative and colourful designs, packaging can help to create a better brand identity."
While innovations in delivery and dosing systems can help to make baby products easier for parents to use, some manufacturers have begun to explore ways that packaging can benefit babies. These innovative packs push baby products beyond their primary function, with formats and features designed to help support child development and enhance the overall product experience.
Children learn quickly as they interact with the world around them. Visually attractive or interactive "use and play" solutions can be an appealing way for parents to support toddlers as they gain knowledge. Interesting and functional designs elevate packaging beyond its primary use, transforming into toys that children can play with and keep well after the contents have been used.
Introducing creative and colourful designs, packaging can help to create a better brand identity as well as making life a little easier for parents. By introducing specialised and adaptable products that cater for different age, gender and ethnic groups, manufacturers can target a wider range of consumers with products that benefit both children and parents.
Attracting time-scarce consumers with portion-control features
According to GlobalData's 2016 Q4 global consumer survey, more than 33% of consumers see convenience as the most appealing feature when consuming food or drinks outside of the home. This is a particularly important trend for busy parents, which makes packaging innovations that help to speed up the preparation process of food and beverages a welcome addition to baby products.
Modern consumers require pack designs that suit the demands of new lifestyle patterns. Consequently, hassle-free dispensing solutions and single-serve portions that are ready to use or just have to be mixed with water are becoming popular options for busy parents. Unlike larger pack sizes designed for at-home use, single-serve doses can be easily transported and fit a variety of consumption occasions, which can be an appealing option for parents who spend large amounts of time away from the home.
Growing concern surrounding the hygiene and cleanliness of baby products is also driving demand for portion control packaging. Developing solutions with aseptic closures or neat measuring tools that protect against germs can help manufacturers to target health-attentive parents as they eliminate the need for additional equipment. Incorporating dosing features into the pack can reduce the risk of contamination and help to reassure consumers that they are providing the best possible care for their child.
Crafting an authentic and trustworthy appeal using transparent panels
"Transparency has become an important issue for many consumers."
For parents, ensuring the health and safety of their children is a paramount concern. This extends to the products they choose. When shopping for baby care products, parents often take time to carefully read through product labels, using the information displayed on the pack to select the offerings they believe will provide the best care for their babies.
Transparency has become an important issue for many consumers, who wish to see what the product looks like before making a purchase. This can be a significant benefit for parents when buying baby products. Using transparent materials, manufacturers can make the contents of their products visible to consumers, effectively communicating a trustworthy image by showing they have nothing to hide.
In the US, this concept can be seen in the pack design for Yummy Spoonfuls organic baby food. The packaging features a window at the front of the pouch, revealing packaging contents at a glance, which allows shoppers to visibly examine the contents before making a purchase.
While transparent packaging can offer a glimpse of the product inside, sceptical consumers require clear and authentic reassurance about the ingredients and production process used to manufacture products. Many health-conscious parents are keen to avoid products they perceive to be heavily processed and will actively seek out natural and unprocessed products for their children.
Developing packaging solutions that openly communicate natural and pure messages can help brands to appeal to health-driven parents. Moreover, clearly listed ingredients and hygienic wrapping can help manufacturers to give consumers confidence in the products they choose.
Addressing health and efficiency concerns with pack designs
In order to successfully add value to baby products, manufacturers have to focus their attention on ways to benefit both babies and parents. As childcare packaging evolves, fun and functional designs are standing out and helping to building a stronger brand identity.
When shopping for baby products, parents ultimately want to provide the best possible care for their child. Transparent pack designs can help brands to stand out to these browsing consumers. By showcasing the contents within, manufacturers can openly communicate an honest and trustworthy image that consumers can view at a glance.
Combined with clean and simple ingredient labelling this transparent packaging can help brands persuade health-attentive parents to purchase their products. Additionally, functional benefits that can be easily used out-of-home, such as pre-dosed portions and features that offer shorten preparation times are in high-demand among busy consumers.