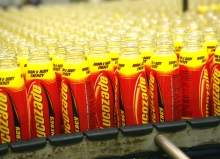 Over the last few years, the presence of sleeve-labels on store shelves around the world has been noticeably growing. This labelling technique, which eschews traditional pressure-sensitive and adhesive methods in favour of applying film sleeves to products, offers a number of inherent advantages in brand awareness, marketing, product protection and more.
"By far the most prominent technique is heat shrink labelling, which represents 76% of the sleeve-label market."
A new report from AWA Alexander Watson Associates confirms sleeve-labels are making headway in the labelling market. The study, called the Global Sleeve Label Market and Technology Review, notes that while sleeve-labels currently make up only 12% of the world labelling market, it also estimates an impressive 5% compound annual growth rate [CAGR] for sleeve-labelling's growth up to 2015, making it the fastest-growing labelling category.
Sleeve-labels come in several forms. By far the most prominent technique is heat shrink labelling, which represents 76% of the sleeve-label market.
This technology involves applying heat to film in order to shrink it to conform to the contours of a container. Stretch sleeves and roll-on, shrink-on [ROSO] technologies are also used to manufacture sleeve-labels, although both come well behind heat shrink techniques in market penetration.
Sleeve-labels: marketing and brand advantages
A major explanation for the rapid growth of sleeve-labels is the technique's undeniable advantages when it comes to making a product stand out to consumers. A shrunk-on film layer can be applied to a product in a variety of different ways, from covering just the shoulders or cap of a container all the way up to 100%, 360-degree coverage.
The extra space provided by full body shrink sleeves allows for some colourful and eye-catching designs, as well as providing a larger canvas for brands to communicate with prospective customers.
With tight labelling regulations for food and pharmaceutical products in place or on the way, having this extra space to conform to regulatory standards while also maintaining a product's ability to reach out to consumers will only become more important over time.
Many of the designs that marketers have been able to devise with the help of sleeve labels have been imaginative and attractive. One particular stand-out example is the marketing campaign for the Pabst Brewing Company's Old Style Beer, in partnership with Chicago-based marketing firm Scott & Victor in spring 2011.
The beer brand, which was established in Chicago in 1902, leveraged its position at the Chicago Cubs baseball team's official beer with a full-sleeve bottle design to give bottles the appearance of mini baseball bats.
Increasing on-shelf impact
The flexibility of shrink labels also facilitates the effective labelling of products with unconventional packaging shapes. By shrinking film labels on to a product, heat shrink labels can smoothly cover the kinds of contours that would leave standard adhesive labels bunched and ugly.
"A major disadvantage of sleeve-labels is the complexity of the manufacturing process."
With the current popularity of sleek, curvaceous beverage bottles, for example, this is an advantage that shouldn't be underestimated.
Indeed, in a study of 800 consumers carried out on behalf of Eastman Chemical Company, it was discovered that the attention of shoppers was naturally drawn to unusually shaped products with shrink-sleeve labelling.
"The study also demonstrated that shrink-sleeve labels create stronger consumer emotional connections than traditional labels," wrote Eastman's global market development manager Matt A Dudas in an article for Packaging Design.
New developments in sleeve-label manufacturing are also improving the quality and definition of shrink-label graphics on a continual basis. McDowell Label's new High Definition UV 4.0 shrink sleeve-label, for instance, recently launched in the US. HDUV 4.0 is a modern sleeve design process that uses digital technology to ensure high definition printing and reproduction of sleeve-label graphics.
The first product in the US to benefit from HDUV 4.0 is Lemi Shine dishwasher additive, the new packaging of which is now in production.
"The result of this partnership delivers a significantly extended tonal range, smooth vignettes and exceptional highlights with eye-catching detail," said Lemi Shine manufacturer Envirocon's creative director Chris Merriam in a statement.
Practical considerations
As well as giving brands and packaging companies the tools and expanded canvas to realise their aesthetic visions, sleeve-labels also offer considerable advantages when it comes to more the more practical aspects of packaging design.
For example, pre-formed shrink film bands, which are manufactured to fit particular container shapes without the need for custom design, can be attached to container caps to provide a protective, tamper-evident seal. Whether for food and beverage products or for the more safety-critical world of pharmaceuticals, pre-form bands are a simple way of informing customers if a product has been tampered with. These bands can be perforated for easy access, as well as allowing printed safety text.
One facet of sleeve-labels that has often been seen as a major disadvantage is the complexity of the manufacturing process when compared to traditional labelling options.
"New developments in sleeve-label manufacturing are improving the quality of shrink-label graphics."
The potential distortion of colours or graphics as the film is shrunk or stretched to fit the container has to be calculated, leading to a longer cycle of testing and production.
But as the sleeve-label market continues to mature and expand, new software options which automate these calculations are becoming available.
EskoArtwork has developed a software package specifically for sleeve-label design, called Studio Toolkit for Shrink Sleeves. This toolkit won a Printing Industries of America 2011 Intertech Technology Award for its automation of calculations for shrinking, asymmetrical containers and different substrates, as well as the ability to create 3D mock-ups of how the label will look after printing.
Texas-based packaging company Total Quality Labels (TQL) installed the Studio Toolkit in 2010, and the company's production manager Greg Swindle noticed an immediate difference.
"We can see exactly how graphics are positioned on the label ahead of time, before we make a plate," he said.
"We can manipulate the art to make sure it looks good, and then show it to the customer. Shrink sleeve jobs now take us two to three hours, instead of 20-24 hours."
It seems there are a host of reasons for the rapid rise of sleeve-labels in the last few years. The myriad benefits of sleeve-labels, whether from an aesthetic or practical standpoint, leave little doubt that its growth in the labelling market will continue for the foreseeable future.