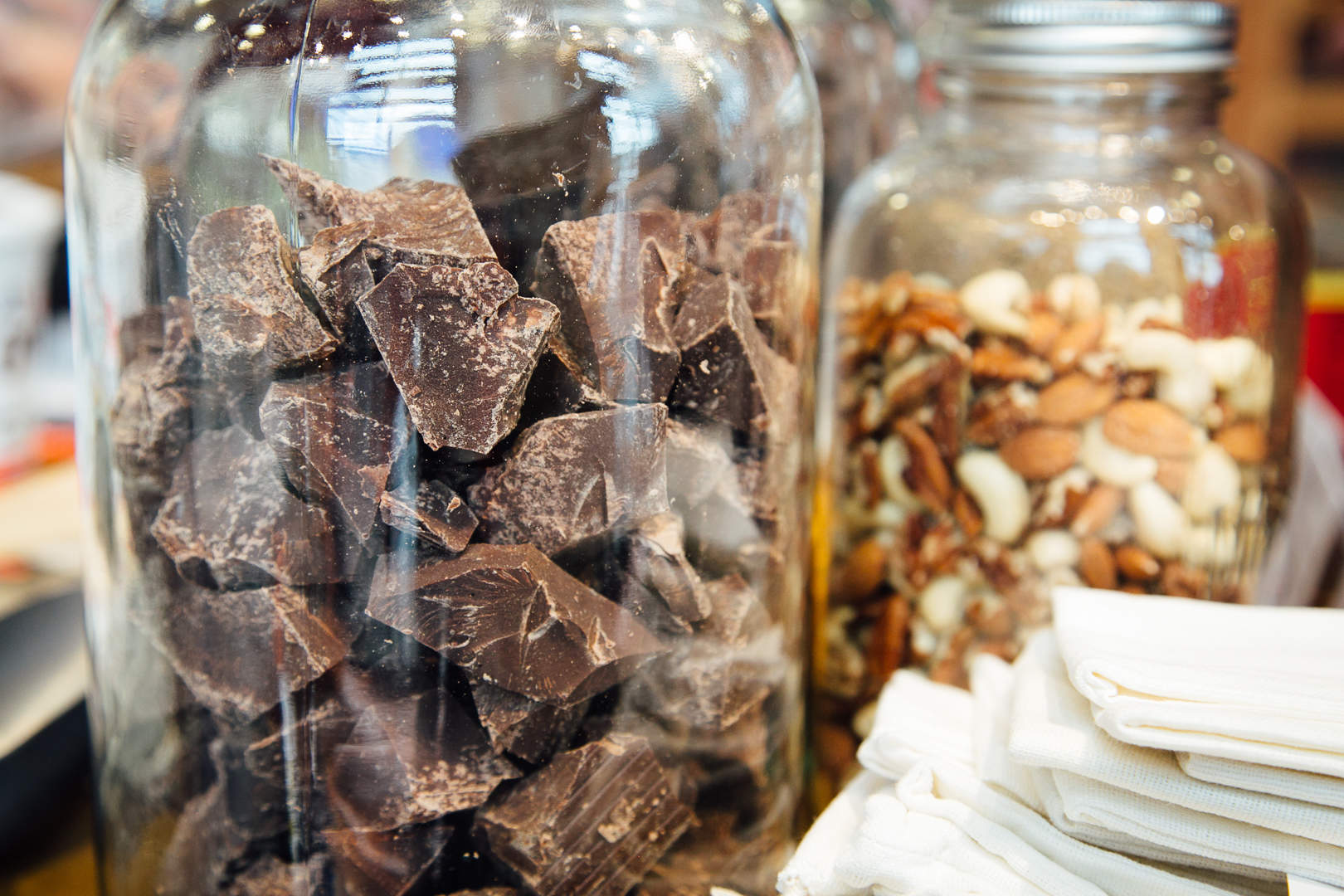 Image: How can manufacturers work to reduce packaging waste? Photo: courtesy of Amanda Palmer
---
Consumer relationships with packaging are slowly changing. Although packaging has the vital job to protect and preserve, people are aware that, after the few moments spent unwrapping and consuming the contents, the 'waste' could be left behind for many years. And as the majority of non-recyclable packaging is wholly or partly plastic, ie made from fossil fuels, it represents a rapidly depleting and unsustainable resource.
Canadean's global survey shows that 51% of consumers pay attention to environmentally friendly packaging. Of these, 70% want to reduce unnecessary packaging and 64% look for biodegradables. The impetus for change is in place; but are people ready to incorporate new shopping ways into their lives?
A significant strand of development supporting and accelerating this movement is zero waste stores.
In 2007 Catherine Conway had the idea for a reuse and refill grocery store. "Fed up" of accumulating large amounts of household waste, Conway created Unpackaged to halt sales of avoidable packaging and encourage people to consider refuse before buying.
Putting packaging responsibility in shoppers' hands
"There is a general awareness that we have become a wasteful society."
At Unpackaged customers bring their own containers to be weighed then fill them with as much as they need from the hundreds of loose products. The stripped down store offers unprocessed, loose fruits and vegetables, grains and pulses, and vats of liquids to siphon. 
"I focused on creating a really strong brand to communicate the idea to customers as I knew how important it would be to explain what we were trying to do, as well as sell the products," says Conway.
A vulnerable independent, Unpackaged closed after eight years but re-opened as a concession in a London Planet Organic store. "I knew that if we want to achieve any environmental change at scale, we needed to work with larger grocery chains to promote our vision but that was always impossible whilst trying to run our own shop," Conway explains.
Planet Organic buyer Al Overton believes this is a great match as Unpackaged's mission strikes a chord with existing customers. "There is a general awareness that we have become a wasteful society" adding that "Bemoaning the amount of packaging that comes with the new TV we buy after three years is very different from looking at the waste produced from just a few days' worth of groceries."
Overton is realistic about asking people to change their shopping routines: "We are all familiar with the feeling of forgetting to take a reusable bag shopping – remembering to take the washing up liquid bottle to refill or the empty chickpea jar is a whole other level". While Overton agrees that zero packaging will not suit everyone's lifestyle, it is only a small difference for Planet Organic customers: "We still have convenience offers, but I think exposing people to the concept of zero waste shopping is the best way to get them to start using it. I think our customers appreciate the fact the fact that we are giving them options, and I have no doubt that schemes like this will become more common."
Unpackaged is firmly positive with Conway saying, "The advantage to not having our own shop was that I could really look at how to work within the mainstream", referring to work supporting retailers and "testing new reuse ideas, refining them and getting them to market in a variety of arenas", as part of a pre-cycling trend that is catching the attention of the eco-conscious.
Sowing the seeds of change
"The refill model is a great business model – refills are all repeat business and engender fierce customer loyalty."
"The refill model is a great business model – refills are all repeat business and engender fierce customer loyalty," says Conway, and this claim is supported by the number of zero packaging stores opening across France, Italy, Germany and Denmark. Outside of Europe is Zero Waste Market (ZWM); a pop-up business preparing to launch in Vancouver, Canada. According to ZWM, "Zero waste shopping is something that can easily be incorporated into everyone's grocery shopping routine…It can be an adjustment but quickly becomes second nature with a few small adjustments to their daily routine."
Eliminating grocery packaging brings cost savings through both buying in bulk or as little as you need (thereby lowering food waste), and also encourages using local suppliers, so cutting carbon emissions of goods distribution. "The benefit of working with local suppliers is that many of them share our values, and are willing to go out of their way to offer zero waste alternatives without the additional cost (often in time)," explains ZWM, saying that buying bulk stocks of packaging-free chocolate local producer Denman Island Chocolate means it can sell bars at 50% below the standard retail price.
But it isn't all about cost. ZWM leads by example, sending its own containers back to suppliers for refills or returns where possible, selling "older and perfectly imperfect fruits and veggies at a discount, and donate any edible but unsold food to local food banks and non-profits before it goes bad". For items with complicated packaging/hygiene regulations, such as meat or fish, it recommends visiting local butchers and fishmongers. ZWM says that, where prices are higher than in supermarkets, it is important to remember the quality of goods, "due to the inherent cost of products that are grown organically and support fair trade practices".
The majority of shoppers interested in zero waste are driven by sustainability and environmental issues, but also high on the list is quality and sourcing of ingredients, with a view to buying minimally processed and fairly produced goods. "We think this is another great way to connect people with their food, to educate them about where their food comes from and how it's grown, and to make purchase decisions based on supplier values that align with their personal values," says ZWM.
And displaying loose products doesn't mean losing brand visibility, as ZWM is "Working with many local businesses and promoting their individual companies through our digital channels and at the point of sale." This is the same approach as Unpackaged, actually championing the select few brands to reassure customers they're getting the best goods instead of endless choice.
A tasty solution to problem of non-biodegradables
"The packets degrade at the same rate as the goods, and are 100% natural and biodegradable."
Edible packaging hardly sounds appetising but there are many research groups committed to changing that perception. WikiFoods has been on the scene for some time developing its grape-like bites using the principle of fruit skins. Any foodstuff or liquid is able to be enclosed in a soft shell that can be flavoured, coloured, textured or infused with added nutrients. The outer layer is designed to protect the product while complimenting the flavour and can also be washed before eating.  
Along similar lines is Ooho! a research project that uses seaweed agar as a membrane to seal water into a ball and help reduce reliance on plastic bottles. The skin isn't flavoursome but it is safe to eat and 100% biodegradable.
And it isn't only health fanatics, fast foods are notorious for packaging waste – millions served means billions of wrappers in landfills for years. Some companies are trying to win over customers with more sustainable packaging. KFC trialled edible tortilla rice bowls in India and biscuit coffee cups in the UK; Brazilian chain Bob's wrapped its burgers in rice paper so you can neatly eat through the pack; and in the US, Vinnie's Pizzeria served up pizza inside a pizza-made 'box' as a quirky promotion.
Whether viewed as gimmicks or a genuine movement, these innovations are making a lot of noise yet most are still at the concept and development stage, or only sold in so small an area as to be technically unavailable. However, there is a clear indication that consumers are keen to support these green initiatives.
Finding solutions across the supply chain
This Too Shall Pass has taken the idea in a different direction, instead of focusing on being edible, it is matching packaging materials to the characteristics of the contents; using seaweed agar for smoothie boxes, natural beeswax for rice, and sugar-coated beeswax to hold oils. The packets degrade at the same rate as the goods, and are 100% natural and biodegradable.
Also, MonoSol's Vivos® Films brand consists of food-grade, dissolvable pouches hold dry or wet goods and entirely disappear when added to liquid. This enables them to be used in single-serving or bulk size for anything from food and drink to toiletries, detergents, medicines and more. This approach may be the way forward, as it combines desirable environmental properties with convenience and the ability to employ branding and labelling.
Manufacturers and retailers have a high responsibility in the grocery exchange, as it cannot all sit with consumers; however, if this is what they truly want, consumers will need to use their spending power. "The key to accelerate this transition is to have customers demand this model and to show that it can work at a small-scale before becoming more widely implemented," says ZWM.
Although not every product can be sold with zero packaging today, this is a strong step forward but perhaps it is in the interests of producers, distributors, retailers and consumers to look to more creative, pioneering ways to package goods.
As ZWM says, "A commitment to reducing waste is necessary, but living without waste does not need to be a huge sacrifice."