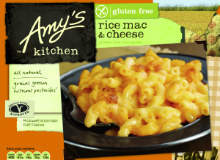 More than a century ago, UK politician Benjamin Disraeli reputedly remarked that "England and America are two countries separated by a common language"; the truth in this is still seen today.
The 'language' of retail packaging design differs between the two cultures and meaning can be lost in translation on the journey across seas or borders. Brands expanding into new markets with the hope of matching their success at home must take this into account; consumers of different cultural backgrounds may not 'read' the design semantics as originally intended.
US organic food brand Amy's Kitchen was founded by Californian couple Andy and Rachel Berliner with the aim of making delicious, healthy foods 'convenient and affordable'. Starting out with a single product line, a vegetable pot pie, the business has since averaged an annual growth rate of 30%, and in 2012 will be selling nearly 200 products across its frozen and canned soup segments with a turnover of $350m.
Getting the UK look
A year into its UK expansion, production is in full swing: Amy's Kitchen is listed by four top supermarket chains and independent health trade distribution has increased exponentially. Having recently established a local supply chain for printed packaging, the company is now working its way into mainland Europe.
Amy Berliner, the founders' daughter and the inspiration for the brand name, has taken on the UK and European strategy management and implementation with relish. She is also a keeper of the family 'jewels' – the core brand values that will underpin future success.
"We came to the UK with a homey, unique, natural and organic product perfected by the family," she says, and the packaging is the primary tool for conveying what the brand is all about.
"Product marketers and exporters taking advantage of open-border trading should be mindful that packaging design may not travel with the same ease."
Achieving brand recognition among a totally new audience of shoppers and adapting to a very different freezer aisle environment were major design issues.
"Design is incredibly important to us, and there are differences in design, look and feel between the US and UK versions. After 24 years in the US, our values are very well known and there's a large degree of brand familiarity, but in the UK a distinctive brand name had to feature on the packaging."
The ambition of Amy's Kitchen is to transform the UK's frozen foods category. The company wants to raise consumer perceptions of quality and improve the status of frozen goods.
Tradition travels
Consumers in the UK will see that design cues come from the chill area rather than frozen, says Berliner. "Compared with the chilled sector, quality expectations tend to be lower in frozen, and packaging design is less creative and homey."
She continues: "The UK interpretation of 'homey' is different from that of the US, and the same will be true in mainland European countries, where we are in an exploratory phase."
Mainland Europe, despite having a common currency, remains a colourful patchwork of native languages and national characteristics. Product marketers and exporters taking advantage of open-border trading should be mindful that packaging design may not travel with the same ease.
UK and European sales manager Damien Threadgold, who worked on the Amy's Kitchen UK transition with the Berliner family and design studio Honey, is focusing on France and Germany as his next challenge. Not only is there a "huge difference" in their consumers, but Germany has regional variations, which will also impact on marketing strategy, he says.
"Companies have to take account of differences in the overseas consumer palate, as initial pack impressions and first samples must be 'palatable'."
There is, however, one essential shared value that works to the brand's advantage: when it comes to food, people expect tradition. "Regardless of where you go, food that tastes home cooked has universal appeal. It is a cross-cultural value," says Berliner.
The hard part is getting this message across visually to consumers. "In the UK, when we initially sold ourselves as a US company, buyers loved the product, but they were hesitant to put it on the shelf," she recalls. "[However,] with the new packaging, buyers say we 'nailed' it. It's crucial to have the 'feeling' right. Buyers are appreciative of our sympathy to the UK sentiment."
This 'sympatico' extends to introducing subtle differences in the taste of products. The mac and cheese is sharper in the UK, apparently because consumers prefer mature cheddar cheese over blander US cheeses.
Being respectful of other cultures is an important export issue for US companies. They mustn't fail to take account of differences in the consumer palate, Berliner remarks, as initial pack impressions and first samples have to be "palatable". She stresses emphatically that the brand is not moving away from well-loved US dishes, but "tailoring them to the British taste". Compliance with national labelling legislation is something else to consider and advice has been taken from Campden BRI food and beverage experts.
Changing perceptions
The UK's focus on 'healthy eating' also fits well with the brand; the US brand story began in the natural health category. So-called 'bio-stores' are a growing phenomenon across Germany and France, forcing companies to make a decision whether to go via the bio-store or mainstream supermarket route. In the UK, where the natural health segment is comparatively "very small", Threadgold explains, and not all shops have freezers, "we had to start in the big stores. In the US, a company can grow without ever going into major retailers."
Threadgold believes consumer education is needed to understand that, nutritionally speaking, "frozen can beat chilled and fresh", while in taste tests "small-scale sampling has shown that people don't realise it's frozen". Also, in sustainability terms, the focus on waste food reduction arguably plays into the hands of the frozen option.
Amy's Kitchen believes perceptions of the healthiness and tastiness of frozen foods are changing for the better. "The [US] freezer category has grown and now looks different – more like shopping in the chilled aisles in the UK," says Berliner. Over the years, the company has worked with US retailers on more colourful, better lit and better organised displays. This close relationship with retailers is one that Amy's Kitchen wants to replicate in its new markets.
The brand has to be noticeable to entice consumers, Berliner explains. "Our packaging is colourful and eye-catching. We had to consider how it looked in the UK frozen aisle. US packs are forward facing, but in the UK they are side stacked. We focused on the sidebar with a collage, photo and names. It is a different matter with only an inch of space available.
"We think the little personal touches bring the consumer closer to us," she says. "The packaging's family feel comes from mum and her artistic sense. The tenderness she put into the design was what she feared losing in the redesign for the UK market." Mum need not have worried, though. The new UK look is based on Rachel Berliner's many years as a collage artist and "encapsulates her passion for collage design", Berliner adds.
Principled packaging
Have mega-brands ever approached the family to buy the brand? "Of course," Berliner replies, "many times and for a lot of money. Almost every natural food brand in the US has been bought out by a giant corporation. But my family has an ideological passion that keeps us from selling out. We understand that the business must be profitable, but don't make 'bottom line' decisions that risk sacrificing quality."
For example, due to health concerns, Berliner aims to use BPA-free soup cans. "The changes we've made are small but identifiable," she says. "Mum and Dad were Californian 'hippies' who wanted to produce the kind of delicious food they cook and eat, but make it affordable and convenient. There are no hidden GMOs, and we fought our corner – and won – to keep this claim on the packaging." Winning over legislators was a big deal in the US, where the market discourages on-pack reference to GMOs for fear of encouraging negative perceptions of GMO practices.
In the UK, everything from preparation and cooking through to the final packaging of the product takes places at the company-owned factory in Corby, Northamptonshire, which opened in mid-2011 with 40 workers and a high labour cost. "Human hands sprinkle cheese on lasagne and drop last ingredients into the soup on the canning line – it looks just like a huge home kitchen," Berliner enthuses.
Amy's Kitchen employs 2,000 staff in the US and there is capacity to quadruple staff at Corby over the next ten years, with an even higher estimated output growth. But it is early days for Amy's Kitchen in the UK and Europe, as Berliner acknowledges: "We are still at the point of overcoming a new hurdle each day."