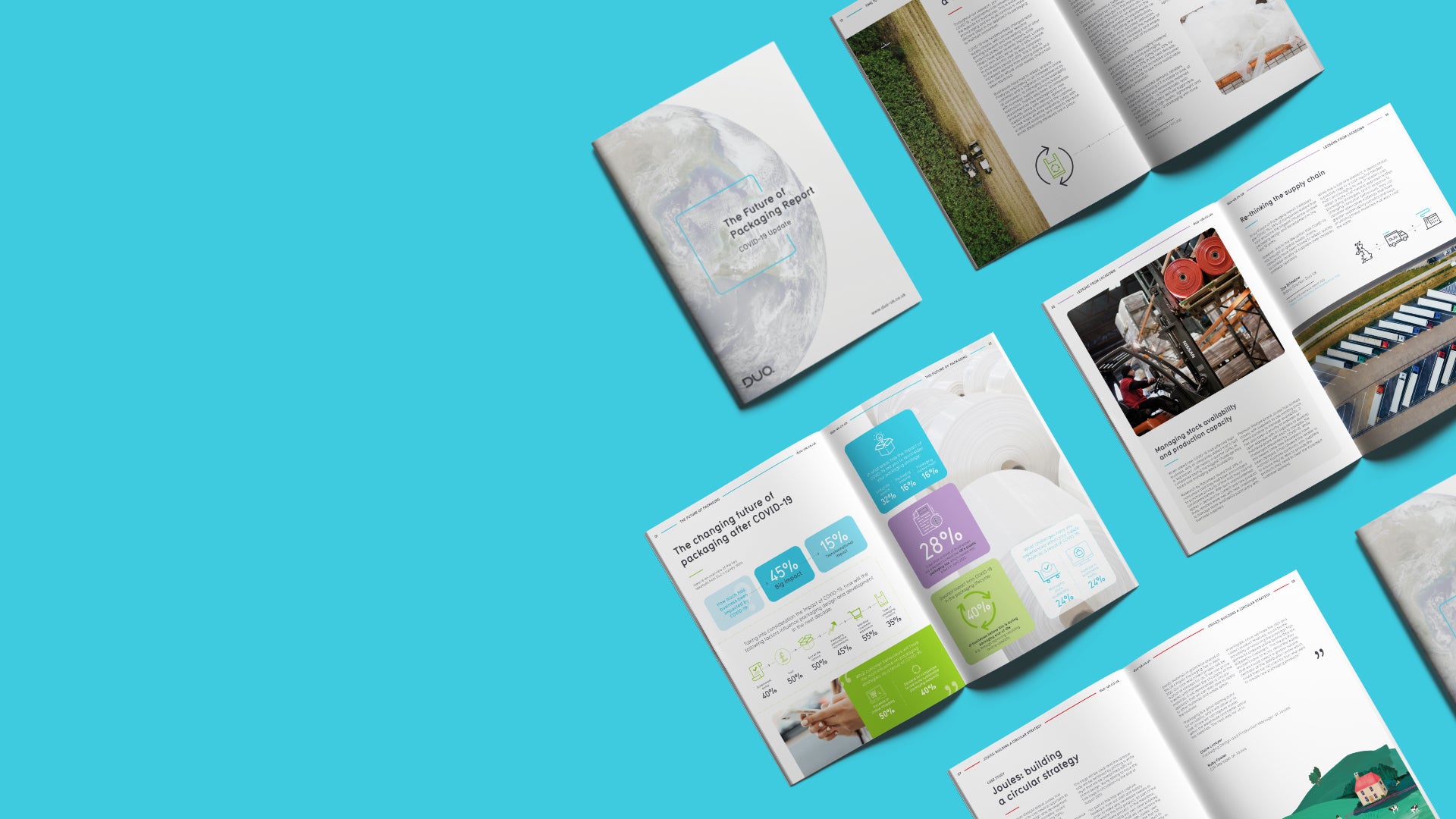 UK packaging specialist Duo launched research earlier in August that revealed the impact that the Covid-19 coronavirus pandemic has had on packaging strategies.
The research followed Duo's 'Future of Packaging' report from earlier in 2020, which investigated the impact of government policy on packaging. Talking with Inside Packaging magazine following the report, Duo UK brand director Zoe Brimelow argued for embracing plastic material and focusing on how bioplastic use can improve sustainability.
Duo's new research, 'The Future of Packaging Report: Covid-19 Update' looks into lessons the industry has learned from lockdown and what impact the pandemic has had on e-commerce packaging requirements among other factors.
The new report concluded that "50% of business' future packaging strategies will be influenced by the increase in online shopping", while 40% of companies believe that consumer demand for sustainability will have the most impact on packaging strategies.
Packaging Gateway talked with Duo's Zoe Brimelow to find out more about how packaging strategies have changed due to Covid-19 and what the future holds for the industry.
Jessie Paige: What, in your opinion, has been the most surprising change in the packaging industry caused by Covid-19?
Zoe Brimelow: One thing that's been a pleasant surprise has been the commitment from companies to continue their approach to sustainability in the wake of the pandemic. Businesses have been faced with monumental challenges and have had to adapt so quickly to implement new processes in their own workplaces, as well as responding to customer demand.
From what we've seen, the majority have not taken their focus away from commitments they've made to improve the sustainability of their packaging products. For some, it has even led to accelerating change and seeing that it is possible to implement new products in a relatively short time.
JP: With online shopping becoming the way forward, how will packaging strategies have to change?
ZB: Products purchased online have different requirements to that of in-store packaging and should be designed specifically for fulfilment, handling and distribution. For retailers that have shifted to e-commerce sales, this has meant developing and sourcing an entirely new product in a short space of time. While this quick implementation has allowed retailers to meet consumer demand and generate new revenue, it's important they now consider their product packaging requirements for the longer term to ensure the right material is being used for its application and to evaluate the credentials of each product.
For example, businesses are now handling and delivering more packaging to consumers' homes, meaning the volume of packaging material used – and at-home recyclability of material – has been brought to the fore. Developing a packaging strategy that supports a reverse logistics process, such as retailers requesting customers to return their unwanted packaging as part of the returns process, helps towards controlling the end of life destination of the packaging product. This also enables retailers to recycle valuable commodities and utilise the material for new products.
We believe the real opportunity for companies to truly improve sustainability in their packaging strategy lies at the beginning, starting at the R&D stage, and taking a lifecycle approach to the product. Considerations such as material type, percentage of recycled content, reducing the size of packaging and end of life options should all be interrogated at the design and development stage.
JP: Research shows that 40% of consumers now have more positive perceptions of plastic packaging. Other research has indicated, however, that Covid-19 has made consumers more mindful of the environment. What do you think is the way forward for packaging sustainability?
ZB: Improving packaging sustainability is a complex challenge. While there's no one-size-fits-all solution, we know our best chance of finding the right solutions will come from a holistic, systemic approach that will require the collaboration of stakeholders along both value and supply chains to become truly sustainable.
Increasing communication with customers should also be considered within the packaging lifecycle to improve sustainability. Using on-pack messaging or scannable QR codes to explain the choice of material, recycled content and end of life options, or provide detail on the company's wider sustainability strategy will engage customers to make them part of your commitment. With less footfall predicted in-store, on-pack messaging will also prove vital for brands to connect with customers and provide information quickly and effectively.
JP: How long do you think the effects of Covid-19 will last on the packaging industry?
ZP: I think the impact of Covid-19 has changed our industry, in some ways, forever. It has made everyone consider and improve hygiene protocols, which is where protective packaging has proven itself indispensable. Now, we must work collaboratively to ensure this packaging is manufactured and distributed in ways that minimise the impact on the environment.
Something we've seen evidence of in response to the impact of Covid-19 on supply chains, is the speed and ability to adapt and work cohesively, something we must harness to truly transform supply chains in the future. Companies have had to take a cost-neutral approach to their supply chain to become more agile and prioritise locality over cost. Developing more local supply chains as part of future packaging strategies will also bring environmental benefits with reducing distances for transportation.
I believe we need to think long-term. Businesses must have confidence in their operations and approach future development with an agile mindset, to be able to react and adapt quickly as we realise the full extent of the pandemic.