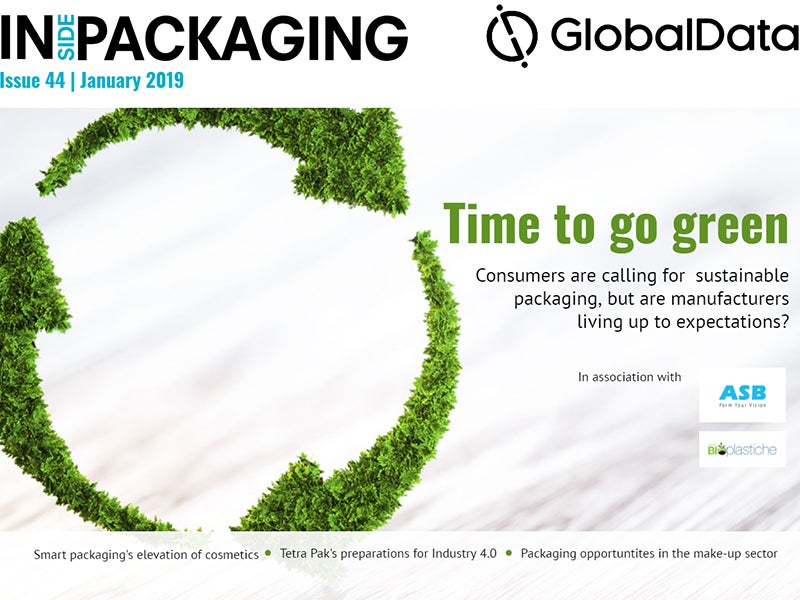 Inside Packaging is now available across all digital devices. You can also continue to read your free copy in our web viewer.
In this issue of Inside Packaging, we explore where the industry is doing best to live up to demands for more sustainability and what may be holding it back, find out how smart packaging is increasing the value of cosmetics offerings, and visit Tetra Pak to discover how the company is adapting to digital manufacturing.
We also examine opportunities for packaging in the make-up sector to improve convenience and functionality, and profile a range of dried fruit snack products making use of home compostable packaging.
Plus, we ask why UK supermarkets need to take the lead in the war on plastic, see how a new hair chalk's packaging format offers a modern twist on the user experience, and discover how consumer rejection of plastic is seeing the sales of reusable water bottle soar.
In this issue 
Striving for sustainability: is the industry living up to consumer demand?
With a survey finding that 89% of the UK believes that packaging should change to be more sustainable, it would seem that supply would follow demand. Callum Tyndall explores where the industry is doing best and what may be holding sustainability back.
Click here to read more.
Elevated appeal: smart packaging increases the value of cosmetic offerings 
Across the packaging sector, new technology and techniques are elevating the sensory appeal of products. Cosmetic packaging represents a particular opportunity for these techniques, from 3D designs to conductive ink.  Callum Tyndall finds out more.
Click here to read more. 
Industry 4.0: How Tetra Pak is adapting to digital manufacturing
Expected to deliver $500bn in value by 2022, smart factories are now an integral part of the manufacturing industry's fourth industrial revolution: Industry 4.0. Ellen Daniel finds out how Tetra Pak is preparing for this next stage of manufacturing.
Click here to read more.
Vision for the future: assessing the packaging industry's technological position
With the rapid pace of technological change, it can be hard to keep up with where the industry stands. Callum Tyndall speaks to Steve Matthews, regional manager for the UK, Ireland and Scandinavia at BALDWIN Vision Systems, about the state of the UK's packaging market and the place new technology has in it.
Click here to read more. 
Putting a pretty face on it: packaging opportunities in the make-up sector
With a huge selection of make-up products on the retail shelf, it can be difficult for brand owners to offer something unique. Packaging is a key element that can provide differentiation and added-value. Using research from GlobalData, Callum Tyndall explores opportunities in this sector.
Click here to read more.
A stroke of luck: a new on-the-go hair colour chalk innovates the user experience
Many consumers like to experiment with their appearance, especially when this does not involve permanent changes. GlobalData takes a look at a new packaging format applied by Schwarzkopf & Henkel for a temporary hair colour answers those needs and adds a modern twist to the user
Click here to read more.
Making snacks sustainable: is compostability the future of snack packaging?
Increasing urbanisation and changing lifestyles mean that more and more food is consumed on the go, much of it packaged in plastics which typically end up in landfill sites. In an effort to reduce the plastic mountain, Wallaroo Foods has launched a range of dried fruit snacks in home compostable packaging. GlobalData finds out more.
Click here to read more.
War on plastic: UK supermarkets need to take the lead
Grocers should consider introducing more widespread deposit and return schemes instead of waiting for government action, since 88.9% of UK consumers stated that they would be likely to use a scheme as environmental concerns move higher up their agendas. GlobalData explores why the supermarket war on plastic needs to be led by the industry.
Click here to read more.
Reusable water bottle sales soar as consumers reject plastic
Purchases of reusable water bottles and travel mugs are on the rise as consumers seek to reduce plastic waste, save money and stay hydrated. Benefitting most are Amazon and the grocers, as price and convenience attract kitchen-storage shoppers.  GlobalData finds out more.
Click here to read more. 
Next issue preview
In the next issue of Inside Packaging we find out how container films are innovating to provide sustainable alternatives, examine how robotics are helping to improve the safety of food and beverage packaging, and explore the increasing growth of the aseptic packaging sector.
We also discover how brands can use packaging to differenetiate their products in the crowded snack sector and profile a new 'green' yoghurt tub lid that can be detected by recycling equipment.
Plus, additional insight and analysis from GlobalData.