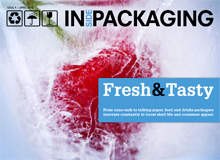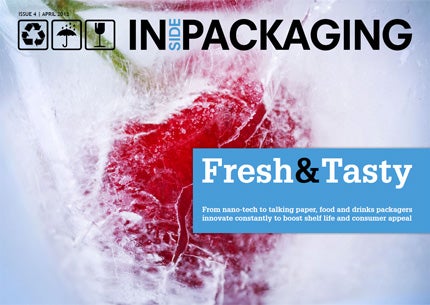 The packaging of food and beverages poses many challenges to the industry, but also offers huge opportunities for innovation. We explore the latest techniques and materials that are being developed to protect food and drinks, increase their shelf-life and make them more attractive to consumers.
We take a look into the R&D labs to find out if futuristic ideas such as 4D materials, talking papers, power-charging and self-cooling boxes could represent the next generation of packaging, and explore promising new packaging concepts that will keep food fresher and safer on the shelves. We also look at innovative drinks packaging, from sustainable soft pouches to Tetra Pak's world-first antiseptic milk carton bottle and exciting new components such as nano-bricks promising to boost the barrier properties of plastic bottles.
Click here to read your free copy.
In this issue
Pack to the Future
Are 4D materials, talking papers, power-charging and self-cooling boxes the next generation of packaging? Elisabeth Fischer takes a look into the R&D labs of leading companies and scientists to find out how we could wrap up the products of tomorrow.
Read the full article.
Fresher Pressure
As researchers work tirelessly on innovative ways to make food last longer and look better on shelves, Elisabeth Fischer and Chris Lo check out some of the industry's most impressive life-extending packaging concepts.
Read the full article.
From Outer Space
As scientists work to preserve foods for longer space expeditions, Sarah Blackman asks NASA's Michele Perchonok about the materials and technologies used to seal and protect an astronaut's meal.
Read the full article.
Thirsty for Innovation
Smart designs are improving shelf life and sustainability of drinks. Elisabeth Fischer and Chris Lo explore some of the most promising new technologies emerging in the drinks packaging industry.
Read the full article.
Stocking the White Stuff
Milk bottles have come a long way from the glass variety provided by the milkman. We profile the new Tetra Evero Aseptic bottle, a heat treated carton that keeps milk on the shelf at room temperature.
Read the full article.
Lighter Water
We explore Nestlé Waters' new UK bottling plant for the manufacture of an innovative water bottle which consumes 25% less PET plastic and will be the lightest-weight water bottle available in the country
Read the full article.
Next issue: June 2012
Printing has always been an integral part of packaging and branding, with the value of the digital printing market within the packaging industry set to grow to almost £12.5bn by 2015. Over the last few years technology, too, has accelerated, generating ever better, high-tech printers and inks.
In the next issue explore the most exciting packaging printing trends, such as printed electronics, 4D packaging and thermal inkjet printing. We also explore the latest developments in inks, looking at active and conductive inks as well as new components and processes used to make inks more eco-friendly.
Register today to get future issues of the magazine delivered to your inbox for free.
Digital magazine FAQ
Inside Packaging is a digital magazine for the packaging industry. Published bi-monthly, this innovative publication offers in-depth coverage of the packaging industry in an exciting interactive format with animation and video content.
The digital magazine is viewable on any computer with Flash Player installed. It is also viewable on mobile devices, iPhones and iPads, although some features and videos may be disabled.
View the archive of past issues.