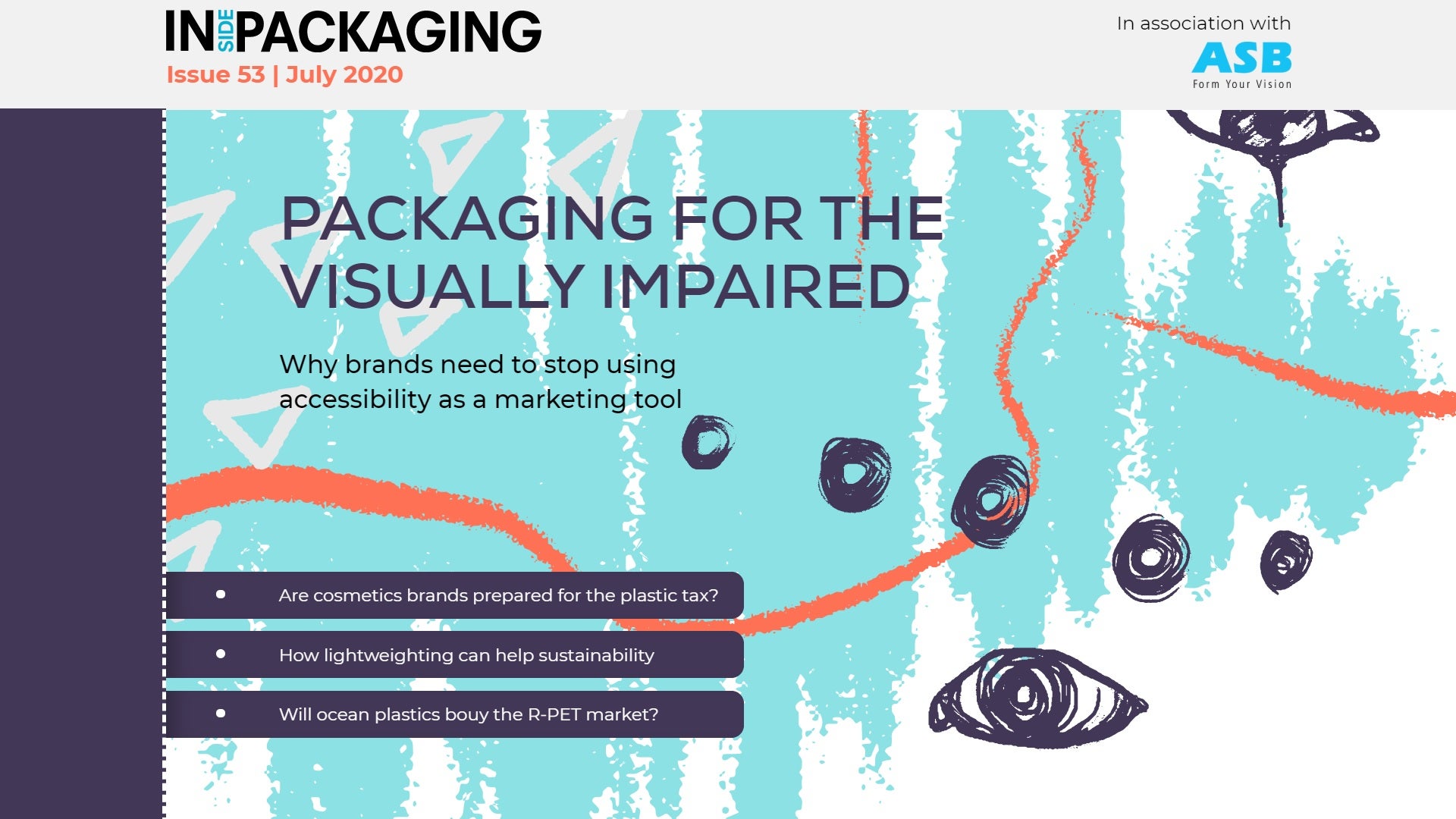 The coronavirus outbreak, and consequent lockdowns, has led to a shift in attitude towards packaging. Consumers seem to be less focused on what has been a long-term trend towards sustainability, and instead, we've witnessed an increasing demand for packaging that is perceived as safer, or more sterile. In short: the customer wants plastic.
Inside Packaging is available on all devices. Read it here for free on your computer, tablet or smartphone.
In this issue, we take a look at whether plastic packaging could meet both demands, being both safe and sustainable. Could bioplastics be an answer to the war on plastics? We also look at packaging design and how lightweighting could be another solution to the demonisation of plastic.
Increased recycling of plastic could lead to issues when it comes to branding, but what if, when it comes to plastic, grey is the new black? Where does that leave brand managers looking to maintain consistency? We look at how Ultraviolet labelling could be the solution.
With forecasts predicting a rising demand for R-PET, we find out how some businesses are looking to ocean plastic as part of the solution to offset the markets in Europe.
The upcoming plastic tax in the UK has forced many companies to assess their packaging, we take a look at the implications for cosmetic packaging and how some companies are already preparing.
We also speak to the CEO of The Recycling Association and learn how the coronavirus pandemic has impacted cardboard stocks in the UK.
Sustainability may well be a lower priority for consumers at the moment, but how important is it for companies to maintain their environmental commitments? We speak to Tetra Pak's sustainability director about the company's new fully renewable carton and the drive towards a circular economy.
Lastly, when it comes to branding and packaging design there are many examples of great initiatives to improve accessibility for visually impaired consumers.
Unfortunately, many of these campaigns have failed to remain in the long term and it doesn't require too much scepticism to see these efforts as tools for marketing, not a concerted effort to improve inclusivity. We find out how some brands are looking to change that.
In this issue
Plastic tax: are cosmetic brands prepared?
The cosmetic industry is known for using plastic in its packaging and is set to be an industry largely affected by the upcoming plastic tax in the UK. With the tax proposed for 2022, Jessie Paige talks to experts across cosmetic brands about their plans for when the tax finally comes into effect, and how they think the cosmetic industry will change as a whole.
"The key to change is collaboration": Tetra Pak sustainability director
Erik Lindroth, sustainability director at Tetra Pak Europe, talks to Peter Nilson about the packaging giant's newly launched plant-based carton packaging and where the responsibility lies in the drive towards a circular economy.
The importance of accessible packaging for the visually impaired
Jessie Paige looks into why inclusivity is important when it comes to packaging, and how consumer packaging could become more accessible to the visually impaired.
Grey is the new black for sustainable packaging
As companies struggle to strike the balance between using responsible materials and ensuring that their branding remains intact, Professor Edward Kosior, managing director at Nextek, argues that Ultraviolet markers in labelling could be the solution.
Ocean plastics may buoy European R-PET market
As Europe starts looking forwards towards upcoming regulations that restrict the plastic blend in packaging, Matt Tudball, senior recycling editor at ICIS looks at how this ocean-bound plastic could be part of the answer to meeting the R-PET demand.
Is there a cardboard shortage in the UK?
Jessie Paige talks to the TRA chief executive Simon Ellin to find out what the current situation is with cardboard availability in the UK, and whether the coronavirus pandemic has had any impact.
How a design-led packaging strategy can help businesses re-focus on sustainability
Zoe Brimelow, brand director at Duo UK, argues that rather than demonising plastic, we should embrace the material for its benefits, focusing on packaging design and how bioplastic use can improve sustainability.
A weight-loss programme for plastic packaging
Companies are under increasing pressure to reduce the amount of plastics used, leading to many working towards 'lightweighting' their packaging designs. Selig's Sales Director, Peter Tindale, highlights the results that can be achieved when this design approach is coupled with induction heat sealing.
Next issue preview
Prior to the coronavirus outbreak, many would have pointed to Brexit as the biggest unknown when it comes to regulations in the packaging sector. In the next issue of Inside Packaging, we'll be taking a look at what lies in store for the packaging regulations both in Europe and the US.
We'll also be looking at the role that colour plays when it comes to branding, and ask if hemp bioplastics have the potential to make an impact.
As businesses start to re-open following Covid-19 lockdown, there will no doubt be many interesting developments in the coming months. We'll be covering all of the newest developments in our next edition, but until then you can keep up to date by using our Covid-19 timeline.
Visit our archive to read past issues
Subscribe for free to be notified when a new issue of Inside Packaging is out.