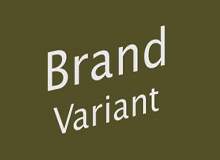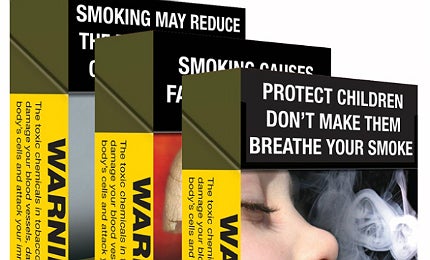 Nominated in the graphics category for the Museum's prestigious 'Design of the Year' award, the bland, muddy green cigarette packaging – with plain text bearing the brand name only – has become the poster child for anti-branding and anti-packaging. Featuring graphic images of ill babies, diseased feet and gums, and dying cancer sufferers, the designs aren't featureless and they still do pack a powerful message – smoking kills.
Curator of Designs of the Year 2013, Pete Collard, gave his reasons for including the cigarette packaging in the nominations: "It's a purposely bad piece of design, or 'anti-design'. Not everything displayed in a design museum should be beautiful or 'good', the point is to open a discussion about the way everyday objects are made, the messages they send out and how we react to them."
The anti-packaging movement
"The designs aren't featureless and they still do pack a powerful message – smoking kills."
In a ground-breaking move by the Australian Government, the Department for Health and Ageing first legislated for plain cigarette packaging in 2010. The aim – to remove the glamour and misinformation associated with smoking, increase consumer awareness of health warnings and to reduce the 15,000 plus smoking-related deaths each year.
"This is the last gasp of a dying industry," declared Australia's Health Minister Tanya Plibersek, while the country's Attorney General Mark Dreyfus made it clear the legislation was "anti-cancer, not anti-trade."
The Aussie Tobacco Plain Packaging Bill has also attracted global interest – New Zealand has just announced plans that it will follow suite and the British Government held a public consultation on plain packaging in August last year, with legislation to be announced in the Queen's speech this May.
Results of the UK consultation, published by the University of Sterling, discovered that "plain pack colours have negative connotations, weaken attachment to brands, project a less desirable smoker identity, and expose the reality of smoking."
The study also found that younger participants in the survey found the plain packaging less appealing than older respondents.
Breaking the grip of emotional attachment
The cigarette packet has become a mobile billboard and marketing tool – as well as point of sale and below-the-line marketing. Indeed, it is the power of traditional cigarette packaging to ensure brand loyalty – and arguably encourage smoking for first-timers – that is so integral to tobacco sales.
Colour, shape and size are massive subconscious triggers. Big Tobacco's main target consumer groups – young people and females – are more easily persuaded to buy when the packaging communicates image, novelty or value-for-money. Hence packet shapes designed to appeal specifically to the younger female market; Silk Cut Superslims in a perfume-shape tall, skinny pack are a good example.
A 2011 British Heart Foundation survey reveals the subliminal influence on packaging to young people, including the following:
One in six (16%) said they'd consider the pack design when deciding which cigarettes to buy, while one in eight (12%) said they'd choose a brand because it was considered 'cool'
The overwhelming majority (87%) thought plain packs were less attractive than branded packs
"Putting all cigarettes in plain standardised packs, of uniform size, shape and design will help silence the role that packaging plays in attracting children. It won't stop everyone from smoking, but it will give millions of children one less reason to start," agrees Sarah Woolnough, Cancer Research UK's executive director of policy and information.
The UK charity ASH (Action on Smoking and Health) has long lobbied for plain cigarette packaging. Spokesperson Anne Jones highlighted the strategy: "Plain packaging has taken the personality away from the pack. Once you take away all the colour coding and imagery and everything is standardised with massive health warnings, you really do de-glamorise the product."
Will it work?
Cigarette packaging is a massive brand differentiator providing free advertising for tobacco companies. Since their above-the-line revenues (TV, radio, billboards etc) have been severely curtailed, they look below the line (BTL) to sell their products – and are fighting back against plain packaging.
"The cigarette packet has become a mobile billboard and marketing tool – as well as point of sale and below-the-line marketing."
An alliance including Philip Morris, Imperial Tobacco and British American Tobacco (BAT) launched an extended media campaign highlighting just why plain packaging will not deter smokers. Lawsuits were filed against the Australian Government and the tobacco barons have said they will fight against moves from the NZ Government to introduce plain packaging.
BAT's spokesman, Scott McIntyre, said: "Plain packaging has always been misleading and won't stop smoking because branded cigarettes will be smuggled in and because tobacco companies will have to respond to that by cutting prices to stay competitive."
The tobacco barons are convinced that plain packaging will flood the market with illicit cigarettes. However, in a March report from Britain's All Party Parliamentary Group on Smoking and Health, it's claimed that less than one in ten cigarettes sold in the UK today are contraband.
"Contrary to tobacco industry propaganda there is no good reason to think that standardised packs will increase illicit trade," Labour MP Stephen Williams, the head of the group, said.
BAT has argued that there is no proof to suggest plain packaging will discourage children and teens from starting to smoke, or convince die-hard smokers to quit.
Lowered brand awareness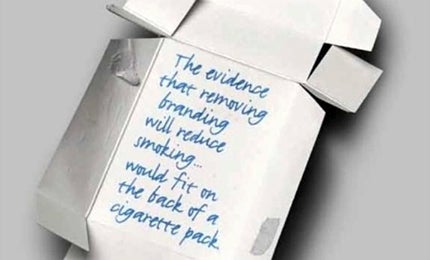 Loss of the cigarette packet as an advertising tool could hit the industry hard. Brand loyalty is deeply connected to packaging – not just taste and tar levels. So how will tobacco brands adapt to the anti-packaging movement?
"Obviously there is a certain character of the name of the product, which will carry on," says art director John Smith from John Smith Design, producer of cartons for Treasurer Luxury White.
"The tobacco barons are convinced that plain packaging will flood the market with illicit cigarettes."
"But if you're not being reminded of it when you're opening your packet of cigarettes, then it could very easily lose any kudos that is carried by the name."
The tobacco industry will be forced to think of new ways to ensure their brands stand out. "A lot of it will be down to making products truly distinctive because the graphic design of it and the marketing communications are not going to be easy now," explains Smith. "It's going to have to be down to truly distinctive flavours rather than packaging."
Japan Tobacco International (JTI) fought back with this smart ad campaign (above), suggesting that "the evidence that removing branding will reduce smoking…would fit on the back of a cigarette pack". The campaign was created by Big Al's Creative Emporium and the in-house team at JTI.
Jeremy Blackburn, head of communications at JTI, says: "It's commercial vandalism as far as we're concerned. It reduces choice and denies manufacturers the ability to compete. A real concern is the illicit trade – we believe it will make it easier for counterfeiters to make fake cigarettes, which will have an impact on smaller businesses."
JTI also argues that the plain packaging legislation could herald similar legislation of other products. "We're a competitive marketplace, so we have to have a range of brands just as any other FMCG brand would. There's no evidence to say packaging influences minors: peer pressure, rebellion, image and curiosity are the key factors."
Whether the anti-design wins an award in Tuesday's ceremony or not, it's clear that ad agencies and their creative teams will have to be far more imaginative in the way they use packaging to sell cigarettes in future. Perhaps the new ugly packs will also become collectors' items? Smokers may begin to customise their packs, creating works of art in themselves.
---
Related content
---
Packaging companies need to attract new talent to drive future innovation, but to many students packaging is an invisible industry.
UK trade body the Can Makers has joined forces with the British Film Institute to launch a nationwide student film-making competition, aimed at raising awareness about drinks can recycling among young people.
---