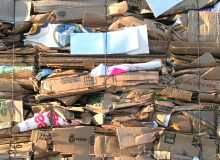 Paper-based packaging materials are behind some of the most ground-breaking developments in the industry today. Flexible packaging paper such as wraps, bags and pouches offer better barrier protection, higher tear and burst strength, exceptional print surfaces and are ideal for food and industrial packaging.
Also new packaging shapes and structures with paper as the main compound, such as moulded-fibre paper bottles and alternatives to plastic clamshells, are finding more and more users.
"RFID-enabled packaging is expected to gain significant consumer confidence regarding the safety of products."
High-performance packaging such as active and smart papers with embedded chemicals and sensors, along with other anti-counterfeiting traits, are also opening up new opportunities in medical, pharmaceutical and healthcare packaging.
Paper and paper-based packaging is the largest sector in the worldwide market for packaging, accounting for more than 40% of the worldwide market, valued at $429bn in 2009 according to figures from Pike Research.
With the sustainable and green movement also breaking through in packaging, paper-based materials have shown increasing popularity among processors, retailers and end-customers.
Here, Packaging Gateway rounds up some of the most innovative and sustainable alternatives to synthetic or petroleum-based packaging existing today.
Moulded paper
The US-based Sustainable Packaging Coalition (SPC) considers moulded paper, made from recycled paperboard and newsprint, as one of the most sustainable packaging materials available today. Used in the form of protective packaging or as food service trays, beverage carriers, end caps, plates, bowls and clamshell containers, moulded pulp is also much less expensive than expanded polystyrene (EPS), vacuumed formed PET and PET, corrugation and foams.
"Moulded paper containers are lighter and stronger than conventional pulp containers, have a smoother finish and are moisture resistant," said Enviro Pulp commercial director Fuad Khan at the Packaging Innovation fair in London in early October.
The company is one of the main producers of moulded paper packaging worldwide. "As they are produced from recycled paperboard and can be recycled again after their use they are one of the most sustainable products on the market today."
The newest form of moulded pulp available as thin-walled products is thermoformed fibre. The process uses 'cure-in-the-mould' technology that produces well-defined, smooth surfaced moulded pulp products.
After being formed, the materials are captured in heating forming mould, which presses and densifies the products before being dried in a heated oven.
The containers usually have the appearance of plastic material and are usually used for point-of-purchase packaging and applications where high definition and appearance are of prime importance.
Smart paper with RFID technology
Radio frequency identification (RFID) enabled packaging is expected to gain significant consumer confidence in coming years. Especially in the case of meat and pharmaceutical products it can improve traceability throughout the supply chain and improve the safety of products.
In 2009, international paper and packaging group and manufacturer of corrugating packaging Mondi presented its 'intelligent box', equipped with an RFID tag at case-level.
"Instead of taking 500 years to decompose, the paper casing can be recycled up to five times or disposed of on a compost heap."
According to the company, customers benefit from time and cost saving benefits, which include improved stock management, accurate and real-time tracking of deliveries and streamlined warehouse operations.
Global paper-based packaging manufacturer International Paper is also set to concentrate on RFID technology in the future. At the beginning of September it announced its collaboration with IT-solutions firm Globe Ranger to leverage the RFID technology iMotion Edgeware platform for their paper-based containers, in order to boost supply chain solutions development.
On a whole different level, paper packaging manufacturer Walki is producing antennas for passive RFID tags from paper. Using a new environmentally friendly method of manufacturing patterned laminates, the company hopes to have opened up a whole new market area for paper-based materials.
"Antennas were traditionally made in a wet, chemical-based process. We have a new method which does not involve liquids," explained Walki vice president of sales and marketing, technical products Tuomo Wall in the company's customer magazine Cover Stories in June 2011. "This means that we can use sustainable materials such as paper."
The green bottle
The UK start-up company Green Bottle has developed and introduced the paper milk bottle – one of the most innovate solutions made out of moulded paper. Plastic milk bottles are mostly made from high density polyethylene (HDPE) and require an estimated 500 years to decompose in landfill.
Also laminated cardboard cartons used as containers for milk and other non-carbonated drinks pose environmental problems because they are produced with plastic coatings, which are extremely slow to biodegrade, or aluminium elements that prevent disposal into general recycling schemes.
The bottle consists of a paper shell and a thin inner plastic liner that prevents the liquid from contaminating the outer paper. The price and production speed are comparable to plastic bottles. The paper casing can be recycled up to five times or disposed of on a compost heap where it takes five weeks to decompose. The inner liner takes up less than 0.5% of the space of a plastic bottle if dumped in a landfill and is therefore a greener alternative to the 15 million plastic bottles used in Britain every day.
The bottle is currently available in some 15 Asda stores but is set to roll out nation-wide with the supermarket chain later in 2011. According to the company, it can not only be used for milk, but also for juices, smoothies, yoghurt drinks, squashes and concentrates, water, shampoos, hand creams, liquid detergents and engine oils.
Barrier solutions against mineral oil migration
In the wake of a public turmoil about the detection of alarming levels of mineral oil residues from recycled cardboard packaging into food in March 2011, leading chemical company BASF introduced a variety of barrier solutions which prevent mineral residues from migrating from cardboard packaging into food.
A series of studies by the Zurich Food Safety Authority, which has also detected the toxic migration of mineral oils into dry food, confirmed the barrier functionality of the solutions.
The tested products include the polyamide Ultramid, used for applications such as oxygen-barrier, robust multilayer packaging systems that keep meat and cheese fresh. Applied to cardboard packaging, it can be used as a barrier coating as well as an inner packaging component for bag-in-bag systems.
The second solution is the specially developed water-based acrylate dispersion Epotal A 816 for paper and cardboard coatings, which have been shown to have very good barrier properties against mineral oils. They are also effective barriers against native fats, oils and flavourings.
Evico FS Paper is a biodegradable plastic and the third product tested in the studies. It can be used for manufacturing coatings for both cardboard and biodegradable film packaging systems and complies with the European standard EN 13432 for compostable packaging. It therefore not only offers an alternative to plastic packaging but also another way to dispose paper and cardboard packaging in addition to recycling.
Waterproof paper pallets
"Moulded paper, made from recycled paperboard and newsprint, is considered one of the most sustainable packaging materials."
Protective packaging manufacturer Pregis Hexacomb, currently in the process of being taken over by Boise, has recently introduced the latest generation of paper-based, honeycomb pallet solutions with a special feature: the feet of the pallets are moisture-resistant.
Made of 100% recycled kraft paper (linerboard) and water-based adhesives, laminated with a polyethylene film that does not impact the recycling process after usage, the pallets can be used in wet environments during shipping and in production plants.
Hexacomb president Jeff Kellar said at the launch in May that the paper-based pallets are a great alternative to wood or plastic pallets as they not only meet rigorous performance requirements but are also more cost-effective and do not require pesticide or fungicide treatments.
Moreover, the pallets provide the same level of performance as their wooden and plastic relatives: each pallet can handle static loads of up to 2,700kg and weigh at the same time around 360kg less than for instance wood pallets. Pregis Hexacomb also emphasises their smooth surface as no nails are required, the improved sanitation and cleanliness, the elimination of costly pallet exchange and the environmental advantage.