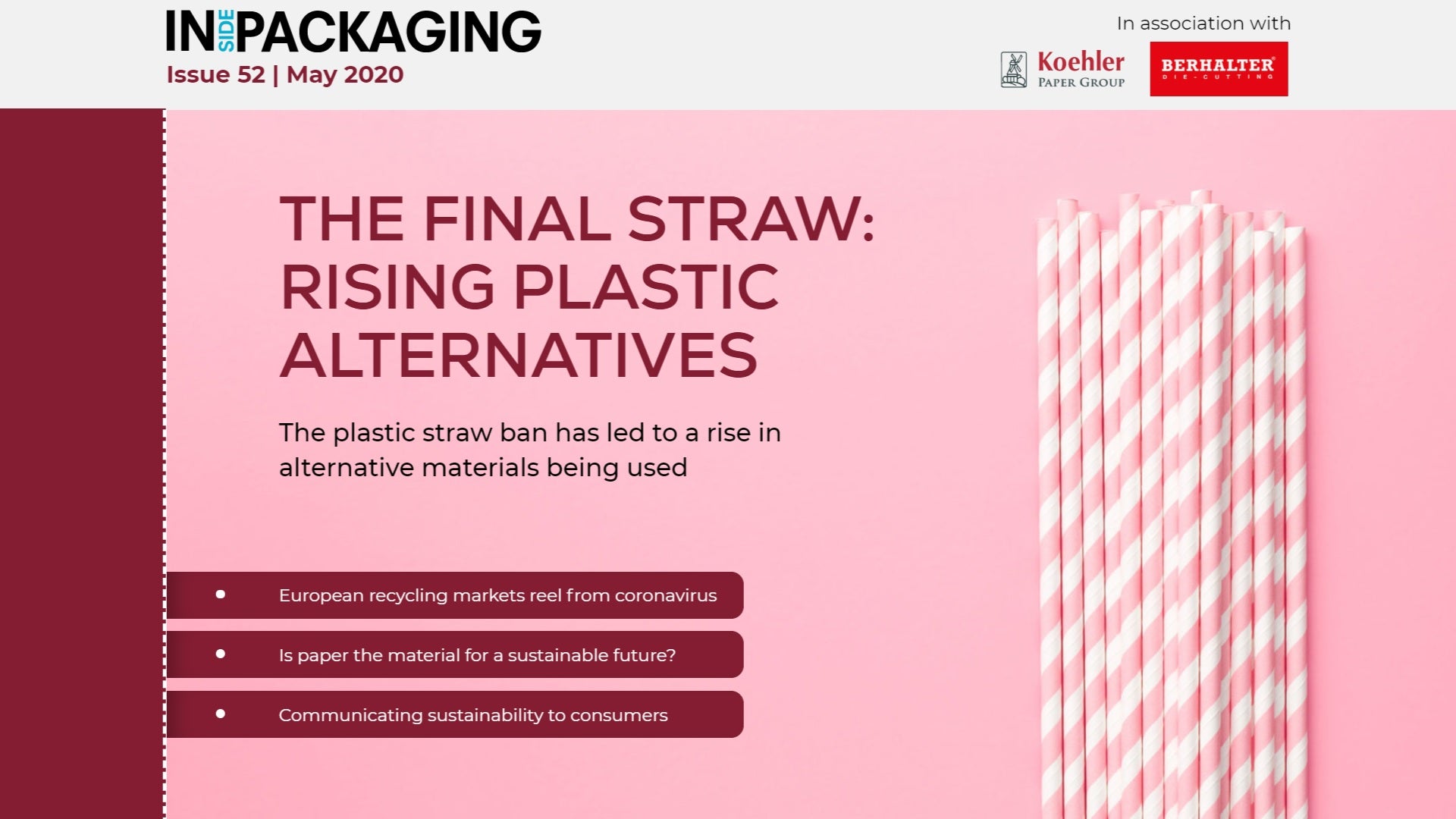 By now, many of us have become somewhat accustomed to life in lockdown, as the Covid-19 pandemic disrupts both our lives and our work. The impact across all industries cannot be understated and is sure to continue for quite some time.
Inside Packaging is available on all devices. Read it here for free on your computer, tablet or smartphone.
In this issue, we look at the effects of the coronavirus lockdown on the packaging sector in our Covid-19 briefing pages and case studies, as well as hearing from the ICIS about how the recycling markets are holding up.
The need for a cloud-based labelling system has steadily been rising over recent years in tandem with a growing e-commerce sector. We learn more from the NiceLabel marketing VP about how now more than ever, as housebound consumers are forced to shop online, these centralised systems are vital.
A knock-on effect of the pandemic many in the UK would not have predicted is the delay of the plastic straw ban. Now, with businesses having to source plastic alternatives as of October, we look at what offerings we can expect.
Whilst many in the UK may have already become accustomed to the paper straw, what are the other possible applications where paper could replace plastic? We delve into the possibilities and discover why paper might not always be as sustainable as many consumers would think.
This kind of misunderstanding by consumers around the sustainability of materials is a slight cause for concern as many of us actively try to improve our environmental footprint. We hear from the Amcor sustainability VP, who explains what companies should keep in mind when communicating different environmental benefits to consumers.
With so much emphasis on plastic alternatives, what are the benefits of the material? We speak to Garçon Wines, a company that is redefining the design of the wine bottle for the modern age by using recycled plastic and slim form factors.
Lastly, when it comes to design, many don't consider the impact that colour can have on a brand. Following a legal action last year by T-Mobile over infringement of their copyright on a certain ubiquitous magenta shade, we look at whether colour can truly be 'owned'.
In this issue
The final straw: rising plastic alternatives
The plastic straw ban in the UK, now delayed due to Covid-19, has been the cause of a rise in plastic alternatives. Jessie Paige gives an overview of the current situation, and how companies both small and large are gearing up for the inevitable implementation of the policy.
Communicating to consumers: materials and sustainability
There are a range of different aspects to a product's environmental impact to consider when purchasing, but how clearly do consumers understand these? David Clark, sustainability VP at Amcor, offers some clarification and reflects on what companies should keep in mind when communicating these benefits.
Coronavirus case studies: packaging companies helping the healthcare sector
The Covid-19 outbreak has seen the healthcare sector struggle with shortages, especially when it comes to pharmaceutical packaging and PPE for hospital staff. Jessie Paige looks at how three packaging companies have been supporting the healthcare sector.
European recycling markets reel from coronavirus
Concerns over the long-term impact of the coronavirus outbreak on key European recycling markets have recently escalated following the adoption of further containment measures across the continent. Mark Victory, recycling editor at ICIS, takes a look into the matter.
Is paper the material for a sustainable future?
With increasing consumer awareness of the environmental impact of plastic packaging, the demand for sustainable packaging materials has also grown. Jessie Paige investigates whether paper has the potential to contribute to a sustainable future.
Ecommerce in a challenging climate: how cloud-based labelling is changing the game
As the ease and one-click convenience of online shopping grows in popularity, the ecommerce industry faces enormous demand. However, in times of crisis, ecommerce goes beyond convenience, offering a critical lifeline for consumers who cannot access or purchase the items they need from physical shops. Ken Moir, VP of marketing at NiceLabel elaborates on the matter.
Trademarking colour gives brands the blues
A dispute between the parent company of T-Mobile, Deutsche Telekom, and an insurance company has started a debate over the trademarking of colour. Alison Rodwell, colour trend expert at James Cropper, asks if colour can be owned.
A new vintage: re-thinking the wine bottle
Compared to other drinks packaging, the wine bottle has arguably seen little evolution over the years. However, one company is looking to change that with a new design for a new age. Peter Nilson speaks to Garçon Wines CEO Santiago Navarro to find out more.
Next issue preview
In the next issue of Inside Packaging, we'll be taking a look at the emerging packaging alternatives that have come to prominence recently, as a result of consumers' shifting focus to sustainable materials.
We'll also cast an eye over some new developments in labelling, and how technology is presenting new possibilities to the FMCG sector.
Of course, the disruption caused by Covid-19 will be something all of us are constantly keeping a keen eye on. We'll be covering all of the newest developments in our next edition, but until then you can keep up to date by using our Covid-19 timeline.
Visit our archive to read past issues
Subscribe for free to be notified when a new issue of Inside Packaging is out.