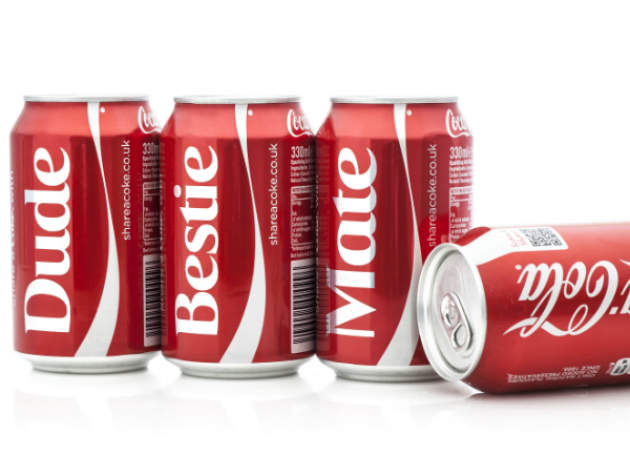 What role does packaging play in beverage products? For many years, bottles, cans and cartons have provided a safe housing to protect and preserve the contents inside, but thanks to advancements in printing and manufacturing, the functions of packaging are expanding. Nowadays, what can appear to the naked eye as a simple visual stimulus designed to catch the attention of passing consumers, may in fact contain multiple levels of information from ingredients lists to hidden interactive features.
In 2016, soft drink brand Oasis launched a special, limited edition bottle as part of its #RefreshingStuff campaign. But, while limited edition formats are not unusual marketing tools, this particular pack had a little extra trick to entice consumers – a label design that had been optimised for the social media 'face swapping' phenomenon. Using any face swap app, competition winners could replace their face with a smiling fruit design featured on the label.
Using packaging to involve and engage consumers has been a growing trend in the beverage industry as emerging technology expands the scope of what is possible. As smart and digitally enriched packaging becomes more widely adopted, some brands have begun to experiment with innovative ways to use the technology, by employing packaging as a vehicle for consumer engagement in promotional campaigns.
Innovative labelling
For limited edition packs aimed at younger consumers, exciting designs that harness the creative freedom offered by advancements in technology may be a profitable venture for drinks brands. The idea of enriching a beverage label with face swapping technology was an ambitious task for Oasis. Although advancements in mobile and online platforms are significantly altering the way that younger consumers engage and interact with products, for many brands, putting digital at the centre of promotional campaigns is still a relatively new phenomenon. With no set guidelines dictating how brands should behave online, the shift away from traditional media outlets presents a complicated challenge.
In contrast to previous, slower eras where the majority of consumers would encounter promotional material through posters, television and radio commercials, today's digital and social trends are evolving at a rapid rate. Hitting the right trend with the right tone at the right time is a finite science. Viral posts that were hot at breakfast can be forgotten by lunchtime, which can be a problem for brands looking to target younger consumers using hot-right-now trends.
Oasis's parent company, Coca-Cola, is no stranger to this challenge. Among the multitude of resources Coca-Cola has amassed over the years, one of the industry giant's most valuable strengths is marketing. Notably, how the company uses the packaging design of Coke products to engage and interact with its audience. One of Coca-Cola's most successful ventures was the 2013/14 'Share-a-Coke' campaign. Known internally as 'Project Connect' during development, the first-of-its-kind promotion was designed to strengthen the bond between the brand and young consumers in Australia. Advanced label printing capabilities allowed the brand to play with the pack design by swapping the iconic branding with popular names. As the campaign expanded across 32 countries, Coca-Cola partnered with software giant HP, combining conventional printing technology with the Indigo WS6000 series Digital Press to produce the personalised labels.
"The ability to personalise such a high volume of labels with HP Indigo Digital Presses, while achieving the quality and consistency that Coca-Cola requires, opens up new possibilities for creative campaigns moving forward," said Marit Kroon, marketing manager at Coca-Cola Europe.
Community causes
Although consumers who were born into a digitally literate world may be quick to accept a digital-first approach to packaging and marketing, there is still a large proportion of consumers who grew up in an analogue age, who may be slow to adopt new technologies, or unfamiliar with emerging social platforms. This consumer split presents a significant challenge for drinks brands. While digitally enriched packaging may indeed be the future of the medium, as the technology remains a relatively new part of the process, physical tactics can also be employed to help consumers of all ages engage with both packaging and the brand as a whole.
One notable example of this was the 'Big Knit' campaign from soft drink company, Innocent. The concept began back in 2008 when the brand asked consumers young and old to knit small, bottleneck-sized woolly hats to be featured as part of the packaging for Innocent smoothies. For each bottle sold the company pledged to donate 25p to Age Action, a charitable organisation dedicated to helping older people. Since the social campaign began the brand has raised more than £1m for the charity.
The brand's interesting approach to social engagement worked on a number of levels. On the surface, the 'Big Knit' campaign helped the brand to promote its fundraising efforts, but on a deeper lever, by providing a cause and an action that a wide range of people could rally around and contribute to, Innocent could make consumers feel personally involved and valued by the brand.
Experimenting with engagement
Exploring unusual and engaging ways to involve consumers can be a powerful asset for brands. In packaging this can be as simple as altering an established label design to personalise the drinking experience or as creative as inviting drinkers to help create a novel part of the pack.
By creating a social platform, brands can foster a dedicated and supportive community. This can be further encouraged by releasing eye-catching or novel limited edition packs that consumers can share with others online or in person. Allowing users to play a vital role in the promotion and distribution of the brand image can also fuel the perception of a genuine, consumer-oriented company that values the views and input of the shoppers who support it.
As digital printing technology develops, the variety of methods used to engage younger consumers are expanding to reflect the way that modern drinkers interact with both brands and products. For limited edition packs aimed at younger consumers, exciting designs that harness the creative freedom offered by advancements in technology may be a profitable venture for drinks brands. But, while social trends may offer a key source of inspiration for engaging pack designs, brands have to be careful when choosing which trend to target, as going too far in any direction can make the brand seem out-of-touch with the interests and needs of younger consumers.