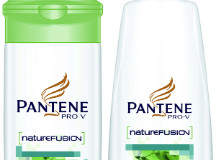 At Procter & Gamble (P&G), we've developed our portfolio of brands, which includes Ariel, Pantene Pro-V, Olay and Gillette, by focusing on deeply understanding our consumers, and creating innovation that meets their needs.
Like many others in the consumer goods industry, we've been increasingly hearing from consumers that they want greener products – and our sustainability and brand teams have been working on how we can do well as a business by doing good.
We started by digging deep to really understand what our consumers are asking for. Our research, run in countries around the world, revealed that about 70% of people say they're looking for more environmentally friendly solutions. This could include products that are recyclable, made from more environmentally friendly materials or contain specific ingredients, although there is still a lot of confusion among the public about what is, or isn't, green.
Whatever people consider green, however, there is an important caveat for this 70%: although they want to buy greener products, they are currently unwilling to compromise on performance or aesthetics, or to pay more. This is particularly important in the beauty industry, where much of the appeal of products is driven by packaging appearance, especially in categories such as cosmetics and fine fragrances. However, as long as a product still delivers great performance and costs the same price, the majority of people would love to buy a more environmentally friendly version if it were available.
As a result, we adopted a 'no trade-offs' mantra: our sustainability improvements must either be invisible to the consumer, or enhance their experience – and not cost any more at the shelf. This is a significant business opportunity, but also a major challenge. Many sustainable options available to manufacturers today come with cost up-charges, or compromises in appearance or quality, but our packaging design teams keep the consumer at the heart of all our innovation, because we know that we'll only be successful if we meet their needs.
The path to green packaging
To ensure that sustainability is deeply embedded into our work, we have set out a long-term vision that we believe will lead us along the path towards becoming a truly sustainable company. This vision includes using entirely renewable energy to power all of our manufacturing processes, with zero consumer or manufacturing waste going to landfill, as well has having 100% of our products and packaging made from recycled or renewable materials.
"P&G aims to reduce packaging by 20% per consumer use by 2020 (compared with 2010)."
Our internal teams are working with a range of partners to develop plans to meet these goals – and, in some cases, we have early centres of excellence where the goals have already been met.
For instance, 16 P&G manufacturing sites have already successfully achieved zero waste to landfill, including our beauty and grooming site in the UK.
These sites have scrupulously identified all the opportunities for material reduction and recycling, and worked with the P&G global asset recovery purchases (GARP) team, which is charged with finding external partners that can turn waste and non-performing inventory into something useful. The GARP team has diverted tens of thousands of tons of waste from landfill, while delivering tens of millions of dollars in cost recovery to the company.
While all our aims are critically important, packaging is a particular area of interest as it presents a great challenge and opportunity. We have committed to replacing 25% of our petroleum-based materials with renewable alternatives by 2020, as part of our plan to advance technologies that reduce the environmental footprint of our products and operations.
Goodbye, petroleum
One focus of this petroleum reduction initiative has been to find ways to 'design out' traditional plastic from our packages and find alternative materials. Packaging in the beauty industry is commonly made from petroleum-based plastics such as high-density polyethylene (HDPE) and polypropylene (PP). However, there are major sustainability challenges involved with these materials because they use fossil fuels such as petroleum, which are non-renewable, meaning they take millions of years to replenish and can't be produced at the rate at which they are used. As a result, they are ultimately not sustainable materials for packaging in the long term.
Given the importance of these plastics to beauty packaging, we set our teams the task of finding more sustainable alternatives.
First, we worked to reduce packaging material use – because it's usually better to use less of a resource than find a substitute. P&G has set a goal to reduce packaging by 20% per consumer use by 2020 (compared with 2010), and our design teams have already
made progress, with selected products in the Pantene Pro-V in Asia, Gillette Fusion and Olay Total Effects ranges having already reduced their packaging weight by at least 10%.
The teams use modelling techniques such as bottle optimal weight software to help eliminate unnecessary materials. These models help us to predict how bottles will perform throughout the supply chain, allowing the bottles to be optimised so they are as lightweight as possible. By using these tools during the design of packaging of brands such as Pantene Pro-V and Gillette, we are able to reduce our packaging significantly.
In addition, we use COMPASS, a lifecycle assessment (LCA) screening tool, which allows teams to quickly assess the sustainability of new design proposals compared with old packaging, understand the environmental impacts for a wide range of indicators, and quickly find ways to optimise the packaging.
By integrating these tools into the daily work of our packaging teams, we are able to make sustainability a key part of the way we do business, and make continued progress.
In addition, our materials strategy and technology team has spent several years investigating alternative plastic types made from renewable materials, rather than petroleum. The team worked to find solutions for many challenges including identifying materials that performed at least as well as the current ones, while also being cost-competitive, so that there would be no upcharge for consumers.
We are now pleased to have launched our first two packaging innovations using renewable materials: Pantene Nature Fusion's sugarcane-derived plastic, and the bulrush-bamboo packaging of Gillette Pro-Glide.
The making of … sugarcane-derived plastic
In 2011, we launched our first packaging made using bioplastics, including sugarcane-derived plastic: the new bottles of the Pantene Nature Fusion shampoo and conditioner collection. Crucially, sugarcane-derived plastic is a renewable material, which means that it is produced by natural processes at a rate at least as fast as its rate of use.
The renewable sugarcane-derived plastic is produced from Brazilian sugarcane. Once the sugarcane is harvested, it goes through a process of fermentation, distillation and dehydration to create ethylene, the building block of HDPE plastic. At that point, it is effectively chemically identical to the building block of traditional petroleum-based plastic, before it is polymerised into the final material for use in packaging.
The fact that the material is chemically identical to petroleum-derived plastic has several benefits, including making it easier to phase-in the new manufacturing process. It also means that the material has the same look and feel as traditional plastic, so for people buying and using Pantene, there is no difference at all.
"A new fibre material made of bamboo, sugarcane and bulrush stays strong under compression, sealing and opening forces."
As 70% of people want more environmentally friendly products, but without paying more money or compromising on performance, this was a key reason that we chose this material. Also, the material and the final bottle is still recyclable in existing municipal recycling facilities – just the same as our traditional bottles – which means no special waste processes are needed for disposing of the new packaging.
Beyond the renewability of the materials, there is another advantage: the facilities that produce ethanol (used to make ethylene) run almost exclusively on renewable energy derived from sugarcane by-products. In fact, they produce excess energy that is returned to the grid to power other steps in the manufacturing process. The sourcing is also sustainable: our renewable materials team worked with the WWF to evaluate a range of options and confirmed that the Brazilian-sourced, sugarcane-derived packaging was sustainably grown and harvested.
To confirm the environmental profile of this new material, we ran a peer-reviewed LCA, which looks at the total environmental footprint of a product from the raw materials through to transportation, manufacturing, consumer use and final disposal. The LCA compared this sugarcane-derived plastic with traditional petroleum-based plastic, and the results showed that the new material has significant sustainability benefits. Most significantly, it uses over 70% fewer fossil fuels and releases over 170% fewer greenhouse gas emissions than traditional HDPE (as it is, in fact, sequestering carbon dioxide from the atmosphere through the sugarcane growing process).
As a result of years of work between our multifunctional P&G teams and their partnership with our supplier Braskem, we now have a more sustainable Pantene bottle that meets our consumer needs: a true win-win.
A breakthrough material: bulrush-bamboo packaging
P&G partnered with BeGreen Packaging to develop another breakthrough package: this time for Fusion ProGlide, Gillette's newest high-performance razor.
Working together, the teams set themselves the challenge of making the biggest impact they could on the environmental footprint of the packaging. They identified that isolating an alternative to traditional plastics was the biggest opportunity and found that a new fibre material made of bamboo, sugarcane and bulrush could meet their design objectives. The design stretches the boundaries of what mouldable pulp can do: it stays strong under compression, sealing and opening forces, as well as distribution and transportation stresses, and still looks great on the shelf.
P&G engineers worked directly with the supplier at their factories and vendors, completing the packaging design project and optimising the manufacturing plant in China in just six months. The final packaging, which has launched in Western Europe, has reduced plastic by 75%, overall weight by 20% and eliminated 100% of PVC compared with a standard Fusion outer pack and razor tray. We plan to expand the distribution of this packaging to other regions in 2012.
Moving forward, we are continuing to explore options that enable us to reduce our petroleum-based plastic use, and achieve our long-term vision of 100% renewable or recycled materials. There are several challenges that have to be addressed – in particular, working together with suppliers to ensure the availability of a range of renewable materials, and reducing costs to make these materials more competitive with traditional plastics.
In future years, we expect the range of material feedstocks to continue expanding, including new uses of corn and sugar crops, and expanding into areas such as bacteria and algae. Given our historic commitment to sustainability and long-term vision, P&G is committed to working with partners to tackle these challenges and help move packaging into a new, more sustainable, era.