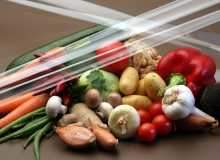 As consumer demand continues to shift towards the ready availability of fresh produce, the packaging industry is working to extend the shelf-life of fresh food with a range of innovative packaging concepts.
Here we explore some of the industry's most promising life-extending technologies, from outline concepts still deep in development stages to products on store shelves today.
CO gas-flushing for fresh-looking red meat
"By adding a small plaster-style strip at the bottom of strawberry punnets, the ethylene gets absorbed and the berries stay fresh."
Meat technologists and microbiologists have known for many years that gas mixtures containing carbon dioxide slow down bacteria such as pathogens, which could cause potential diseases, and pseudomonas, which are responsible for the development of slime and odours on meat stored in the fridge.
Modified atmosphere packaging (gas-flushing) has however increasingly been used to make meat look redder for longer to appeal to shoppers and consumers.
In the process, the amount of oxygen (O2) is lowered in the package from 20.9% to 0% to slow down the growth of aerobic organisms and the speed of oxidation reactions. The removed oxygen is then replaced with carbon monoxide (CO), which keeps the colour of the meat red.
Even though there was no risk found in the use of low levels of CO, some critics and consumer groups, as well as the European Food Information Council (EFIC), are concerned that it can hide visual evidence of spoilage, asking for special labels that indicate when red meat has been gas-flushed.
However, microbiologists widely recognise the process as a safe form to prolong the shelf life of red meat and make it more appealing for consumers.
Active packaging: antimicrobial film
The development of active packaging, which upgrades packaging from a passive barrier to a proactive method of protecting food and extending shelf-life, has been building momentum in the industry over the last decade.
Keeping organic foods fresh for longer has positive implications for both consumer safety and in ongoing efforts to reduce food waste. Given the potentially revolutionary effect of active packaging on the shelf-life of products like meat, fish, cheese and fresh vegetables, it's unsurprising that research in this area is receiving funding on a governmental level.
Indeed, the EU's 7th Framework Programme for Research and Technological Development has provided funding for one of the latest advances in active packaging.
The Fraunhofer Institute of Process Engineering and Packaging IVV has developed an antimicrobial film that releases an agent on to the surface of the food it is wrapped around to eliminate bacteria and other pathogens which accumulate over time.
"The surface is the primary point of attack for germs," said Fraunhofer IVV food chemist Carolin Hauser.
"Using only the smallest quantities of active agent, the packaging thus provides effective protection for food."
Fraunhofer chose sorbic acid for its active antimicrobial agent, as it is non-toxic and non-allergenic, as well as being neutral in taste and smell. In 2010 tests, the antimicrobial film destroyed around three quarters of the E. coli pathogens that had been injected into pork loin samples.
M&S breaks mould with ethylene absorber
Red, sweet and tasty – that is how consumers like their strawberries. But all too often the temptation turns into a rotten nightmare.
"This 'killer paper' has been shown to wipe out bacteria like E. coli and S. aureus in just three hours."
To blame is ethylene, the hormone that causes fruit to ripen and then turn mouldy. In order to slow down this process and extend the fresh look of strawberries, British supermarket giant Marks & Spencer (M&S) introduced a simple but ground-breaking new packaging in January 2012.
By adding a small plaster-style strip at the bottom of strawberry punnets, which contains a mixture of clay and other minerals, the ethylene gets absorbed and the berries stay fresh.
The 8cm x 4.5cm strip, manufactured by the British firm It's Fresh, prolongs the shelf life of strawberries of up to two days without affecting the recyclability of the packaging.
M&S agronomist Hugh Mowat said: "This new technology is a win-win for our customers – not only will their strawberries taste better for longer, but we really hope it will help them to reduce their food waste as they no longer need to worry about eating their strawberries as soon as they buy them."
The retailer claims that previously carried out trials have shown a minimum waste saving of 4%, equating to 40,000 packs or 800,000 strawberries a week during peak season. Should it prove successful, the retailer plans to introduce it for all its berries.
Heat-resistant chocolate packaging
In 2010, when Kraft Food started looking for a new hi-tech thin film for packaging its chocolate bars, the food giant marched out to tackle one of the biggest issues the confectionary industry still has: as tempting as chocolate bars are, they quickly become very unappealing when they start melting at temperatures of around 33°C and get a white 'bloom' discolouration when stored in direct sunlight.
No breakthrough has been reached so far, but the area of printed electronics is opening up attractive new potential. One idea is to provide energy from printed batteries or solar cells, which could trigger a cooling process once the packaging gets too warm.
Photovoltaic (PV) company Kornaka has already introduced solar cells, which use a wider spectrum of visible and invisible light sources to generate power. The photo-reactive materials can be printed or coated onto flexible substrates using roll-to-roll manufacturing, similar to how newspaper is printed.
Made from semi-conducting polymers and nano-engineered material, the printed active fabric is squeezed between printed electrodes, the substrate and the packaging material, and absorbs photons to trigger the release of electrons which are then transported to create electricity.
The finished material is only about 50µm-250µm thick and could therefore be just right for the use for chocolate packaging.
Nanotechnology: silver nanoparticles
"Modified atmosphere packaging (gas-flushing) has increasingly been used to make meat look redder for longer."
Nanotechnology might operate on the tiniest scale possible, but it has massive potential in a range of fields, not least that of packaging.
We've already looked at the implications of the 'nano-brick' concept being developed at Texas A&M University, which is claimed to be 100 times more oxygen-impermeable than standard plastic bottles by researchers.
Another nano-concept catching the packaging world's attention is the use of silver nanoparticles. The germicidal properties of silver compounds have been well known for centuries, but new research suggests that tiny silver nanoparticles, no wider than 1/50,000 the width of human hair strand, can be applied as an effective antimicrobial coating on to packaging materials like plastic and metal.
Researchers at Bar-Ilan University in Ramat Gan, Israel, reported to the journal of the American Chemical Society that they had used ultrasound techniques to attach silver nanoparticles to a paper surface.
This 'killer paper', as it has been dubbed, has been shown to wipe out bacteria like E. oli and S. aureus in just three hours. Using nanoparticles, the researchers have been able to extend antibacterial potency beyond what is achievable with larger silver particles.
The major challenge that remains for the academic world is to find a practical way of refining the technique so that it's a practical preservative packaging option for supermarkets and other food outlets around the world.
The sustainable germ killer
As well as improving consumer safety and food waste, another major priority for the development of intelligent food packaging is the reduction of packaging weight while maintaining recyclability.
To this end, a pan-European R&D project called Wheylayer has been developing a method of coating plastic film in a biomaterial made from natural whey protein rather than petrochemical-based polymers like ethylene vinyl alcohol (EVOH).
The latest results from this research have revealed this substance's potential as an efficient, sustainable and economically viable alternative to petrochemicals. The whey protein-based layer is completely biodegradable and forms an effective shield against water vapour and oxygen, while the correct concentrations of bio-based softeners and additives allow the whey proteins to survive the mechanical loads involved in the manufacturing process.
Perhaps most promising is the fact the Wheylayer researchers have developed an industrial-scale method of applying whey protein layers to film and combining them with other intelligent films to increase protection.
"We've managed to develop a whey protein formulation that can be used as the raw material for a film barrier layer," said Markus Schmid of Fraunhofer IVV, one of the partners working on Wheylayer. "We have also developed an economically viable process which can be used to produce the multifunctional films on an industrial scale." If the project's production method is as simple and effective as scientists believe, Wheylayer could be well placed to meet increasing European demand for sustainable composite films in the near future.
By Elisabeth Fischer and Chris Lo