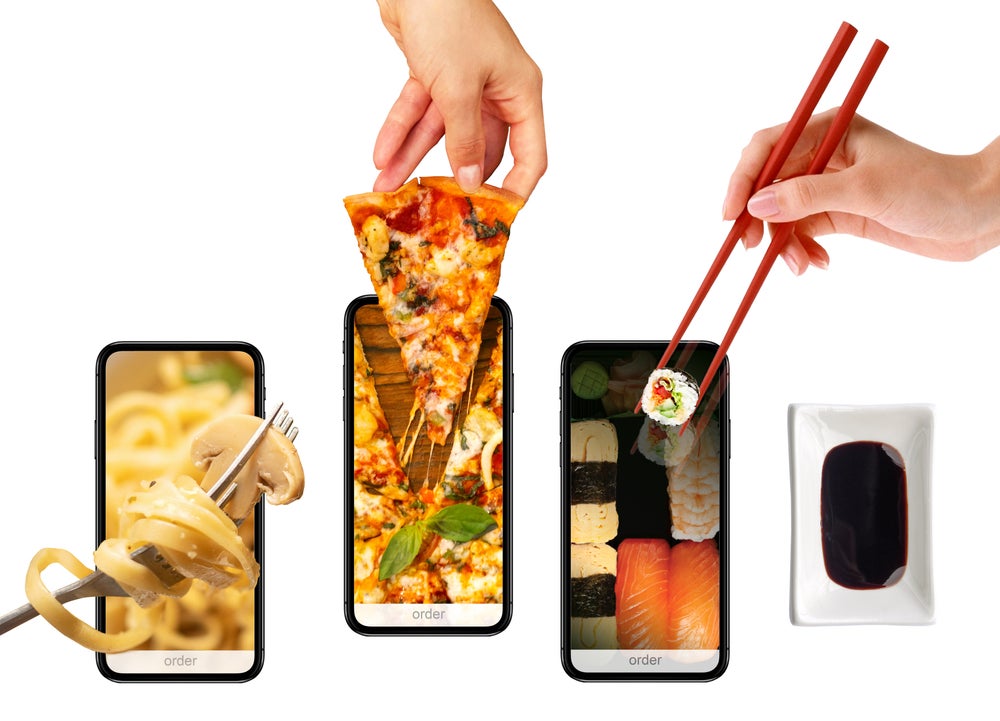 As we move forward from the global pandemic the packaging industry has evolved to adapt to consumers' new attitudes as well as new ways of doing business.
The packaging industry faces both new and ongoing challenges. Here, Packaging Gateway explores the key trends moulding the future of the industry in 2022 and beyond.
Packaging Gateway's parent company, GlobalData published a report on 31 March titled: 'Top themes in packaging 2022'. It lists the top ten themes shaping the future of the packaging industry, including: advanced materials, artificial intelligence (AI), COVID-19, demographics, direct-to-consumer (D2C), eCommerce, environmental social governance (ESG), health and wellness, online food delivery and robotics.
GlobalData analyst George Henry told Packaging Gateway exclusively that he believes COVID-19, online food deliveries, ESG and advanced materials are the most important of the ten themes listed within the report. He also argues that these themes have experienced the most significant changes over the past two years.
Packaging trend 1: COVID-19
The effects of the pandemic were experienced worldwide and prompted a shift in consumer attitudes towards shopping. Concerns over virus contamination led to a rise in contactless deliveries and the use of single-use items. As the pandemic subsides there are global calls from institutes such as the North London Waste Authority (NLWA) and non-profit ocean conservation organisation Oceana Canada to cut single-plastic use.
The report says that greater emphasis must be applied to wean consumers off "backsliding" towards single-use items, non-fillable and non-recyclables. The report also states that greater investment in the post-consumer recycling infrastructure will need to occur to meet demands for plastic reduction made at The UN Climate Change Conference (COP 26).
"Packaging providers must focus on upstreaming to "future proof" their solutions. These actions position towards greater sustainability through ethical changes in the supply chain. Upstreaming tackles a problem like excessive plastic at its root cause, rather than leaving consumers to deal with wasteful remnants," Henry tells Packaging Gateway.
He continues: "According to GlobalData's 2021 Q3 Consumer Survey, 75% of global consumers say "environmental issues" are quite/extremely important. Brands are therefore increasingly expected to prevent waste from being created in the first place."
Packaging trend 2: Online food delivery
The growth of online food deliveries, accelerated by the pandemic, has placed a greater focus on packaging and its waste. New regulations and environmental calls against single-use plastics are forcing businesses to rethink their packaging choices. The report states that foodservice operators must consider partnering with (business to business) B2B packaging providers that offer reusable alternatives.
The rapid growth of quick commerce (Q-commerce) has built an on-demand avenue for the prompt delivery of small quantities of food with some platforms like Getir promising to deliver orders within ten minutes. The growth of this model shows how convenience has become a commodity for time-poor consumers.
Henry points out: "Transit packaging must evolve to meet the huge acceleration of e-commerce, and ultimately become compatible with household recycling systems. Packaging providers must look to minimise non-recyclable secondary packaging since consumers do not want nor expect the burden of post-consumption disposal.
"At the start of the pandemic, Amazon India began to use paper cushions to replace plastic dunnage like air pillows and bubble wrap in all of its fulfilment centres. Such measures have enabled Amazon India to eliminate a significant use of plastic while continuing to protect customer orders."
Henry further explains that single-use compostable takeaway packaging is likely to gain more traction following the pandemic due to consumers' heightened concerns around waste.
Packaging trend 3: ESG
The report says many organisations are 'future-proofing' by acquiring circular economy-compatible companies to avoid falling behind their competitors. As governments and environmental agencies call for bans on single-use plastics, the report suggests packaging providers must deploy comprehensive sustainability plans beyond ESG targets.
Henry says that "in the wake of the pandemic, greater attention has been paid to matters around trust and accountability. According to GlobalData's 2022 Q2 consumer survey, 78% of global consumers actively look for "sustainable / environmentally-friendly" features when making a purchase. "Reuse and refill" schemes have grown in popularity as consumers make more proactive choices in their shopping habits.
"In Europe, regulation supports the growth of refill schemes as the 2021 Directive on Single-Use Plastics aims to encourage less wasteful behaviour."
Henry also states that the presence of global reuse platform, Terracycle's Loop, in multiple countries like the UK, Japan and Canada, suggests reusable packaging holds an appeal that transcends national attitudes and sentiments.
Packaging trend 4: Advanced materials
Advanced materials are highly advantageous to consumer goods brands, according to the report. Increasingly innovative materials beyond plastics and paperboard are opening up new potential applications in packaging. The report explains that in the UK, the National Graphene Institute has looked at several new ways to use graphene and other two-dimensional (2D) materials in an array of applications including food packaging.
3D printing is the construction of a three-dimensional object from a digital model that offers a role in on-demand packaging as well as advantages to rapid prototyping. This growing trend allows companies to create packaging at a greater speed and at a lower cost than ever before.
"Rot-reducing coatings, such as polysaccharide-based films, may also serve as an eco-friendly way to extend the shelf-life of fresh food. Advanced materials offer an alternative method to reduce waste as well as consider new resources. Rocketing inflation and the cost-of-living crisis has spiked raw material and energy costs, leaving packaging providers vulnerable so soon after the pandemic. The cheaper cost of 3D printers today offers manufacturers the flexibility to attempt new ways of working – especially when dealing with prototyping," Henry explains.
Packaging trend 5: eCommerce
The importance of packaging visuals has increased due to social commerce (S-Commerce) as eCommerce was impacted in many ways during the pandemic. COVID-19 saw consumers spending more time online than before. Nearly a quarter of consumers (24%) were spending more time browsing social media and 69% of consumers were avoiding going to large supermarkets, according to Week 11 of GlobalData's 2020 Coronavirus (COVID-19) Recovery Consumer Survey and Week 1-10 of COVID-19 Tracker Survey.
The combination of eCommerce and social media networks have brought about a seamless shopping experience. Social media now serves as a hugely important marketing platform across the consumer goods industry.
The report says that as online models become increasingly significant, companies will want to take this opportunity to develop a more digitalised supply chain management system to help service these and other channels. Packaging providers will therefore need to work in tandem with brands and retailers to ensure digitalisation works for all stakeholders from production to the end-consumer.
Packaging trend 6: Artificial intelligence
By implementing AI technologies such as machine learning (ML), companies are able to better standardise procedures and eliminate human error. A trending theme is the use of robots for the sorting of goods for recycling. US carton recycling industry organisation, the Carton Council of North America, and renewable energy semiconductor manufacturer AMP Robotics, have collaborated to create an AI-powered robot named Clarke. The robot is used to help with the sorting process of cartons, plastic bottles and containers.
AI has improved supply chain management since AI systems use predictive analytics. The report says "using predictive demand tools, these AI systems can balance supply and demand – resulting in optimisation for warehousing and inventory costs. Greater AI integration will support retailers and manufacturers to respond more quickly to future opportunities and threats."
Packaging trend 7: Demographics
The industry has seen brands and manufacturers seeking to improve label readability and packaging suitability for older consumers without stigmatising them. . For example, French bottled water company, Wattwiller, redesigned its bottle caps in a daisy flower shape to make its products easier to open.
In the years ahead, an intergenerational approach is crucial to creating successful product packaging that appeals to consumers across all age groups.
Packaging trend 8: D2C (direct to consumer)
Increased at-home consumption and remote working have already become entrenched behaviours because of the epidemic. According to GlobalData's 2021 Q3 survey, 22% of global millennials and Gen Z consumers purchase beauty and grooming products directly from brands online. Alongside clothing, personal care goods represent the largest consumer goods category to be purchased through D2C channels.
During the pandemic, Nestlé UK also adjusted to changing demands by collaborating with the Deliveroo Essentials platform, which allows consumers to purchase a range of grocery items online that are delivered directly to their homes.
This demonstrates how D2C channels enable brands to market additional goods to existing customers and boost the likelihood of repeat business.
D2C companies need to be digitally minded as they often lack a physical space to sell their products. This also means packaging is seen as vital to boost their brand awareness.
Packaging trend 9: Health and Wellness
According to GlobalData's 2021 Q1 consumer survey, three-quarters (75%) of global consumers say "information or claims on packaging about production method" are essential or nice to have.
Consumers are increasingly appreciative of transparency and want brands to clearly explain ingredient benefits on product packaging. The pandemic has prompted greater awareness around health. As a result, brands are being encouraged to describe ingredients such as probiotics, superfoods, CBD, and plant-based formulations that will entice health-conscious consumers.
Packaging trend 10: Robotics
The use of robots within factories became a tool for protecting the health of employees during the pandemic. Placing robots in every other position helped to ensure employees maintained an adequate distance to reduce the risk of contracting a virus. In the US, Costco's highly automated chicken packing plant in Nebraska reported just one COVID-19 case among 800 employees.

The use of collaborative robots (cobots) within factories are boosting efficiency, whilst helping to increase profits. Packaging and palletising collaborative cobots are leveraged in a range of industries to optimise fulfilment processes in a number of tasks. The report says that packaging robots can streamline production as they can lift more products at any one time, improving packaging capacity and resulting in reduced labour costs.