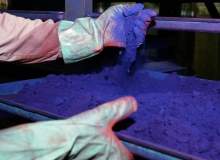 The real price of inks has fallen consistently since the 1980s, according to Pira International's report, 'The Future of Printing Inks, Plates and Consumables – Market Forecasts to 2016'.
"The initial consolidation of the industry allowed significant economies of scale and intense competition for market share allowed printers to play suppliers off against each other and keep their ink costs under control," explained Pira International consultant Sean Smyth.
"Research shows that a customer takes seven seconds to decide on a brand when faced with choices in a store, meaning product differentiation is increasing in importance for retailers."
"There were real reductions in many raw materials. For example, the bulk manufacture of pigments moved to China and India as Western suppliers transferred production to low-cost regions."
But as demand from emerging markets has grown and the economic crisis has led to reduced production capacities, the tables have really started to turn. Resources are becoming increasingly scarce and costs are escalating to astounding levels.
Indeed, ink giant Sun Chemical announced in November 2011 that it will raise prices on packaging inks for all printing methods and chemistries. Although the price increases vary depending on the product, the average cost increase will be approximately 6% for most products.
"In the first half of 2011, we saw a continuation of many of the raw materials supply issues and shortages that features so prominently in 2010," Felipe Mellado, chief marketing officer and board member at Sun Chemical, explains. "Rosin, solvents, acrylics, carbon black, titanium dioxide, nitrocellulose and Violet 23 pigments are just a few of the raw materials that are in various stages of tight to very short supply."
For converters, the overwhelming reaction to the industry-wide price hikes has been one of frustration, according to Neal Whipp, general manager of BPIF Cartons, an industry body that represents the interests of the carton sector to governments and associated agencies, and communicates the benefits of carton board to a wide audience.
Yet this disappointment has been overshadowed by the determination of the packaging industry as whole to overcome the challenges it is currently facing. With shortages set to continue into this year, 2012 – largely due to increased demand from developing markets, feedstock issues, supply limitations and environmental and regulatory constraints in India and China – it's a problem that simply cannot be ignored.
"It's required our customers to change the way they do business," Mellado went as far as to say.
Communication is key
Historically, communication between ink manufacturers and converters has always been absolutely essential. "The relationship is a very close one for a whole variety of reasons relating to quality, service and availability," Whipp remarked.
"Cost increases are by no means confined to the price of the inks themselves, there are also wide-ranging implications on converters' internal operating procedures."
But the importance of communication has undoubtedly increased as a result of the soaring prices of packaging inks.
"We aim to manage ink cost increases by communicating proactively to our customers so that they fully understand the issues," Mellado emphasised. In the main, the industry has been impressed with the efforts of manufacturers such as Sun Chemical.
"All ink manufacturers have been very informative and willing to contribute," Whipp acknowledged. "But there's no getting away from it – the inks are more expensive and converters have got to pass those costs on."
Communication across the entire supply chain has, therefore, become more important than ever. "Ink is not an insignificant part of converters' costs," Whipp noted.
"Although there is generally a close dialogue with customers, some of them do need to be reminded that you can't sacrifice the correct specifications for low prices. If it's a direct food contact pack, for example, particularly if it has any vulnerability to migration, it has to be manufactured with the correct materials."
While retailers are always in a strong bargaining position, they are equally concerned to make sure that the right materials are used for each pack.
"So, although it's a concern, and there are some retailers that resist it to an inappropriate level, with the majority a way forward can be found and the additional cost can be recovered," Whipp said.
Operational issues
Cost increases are by no means confined to the price of the inks themselves, there are also wide-ranging implications on converters' internal operating procedures, which now, more than ever, need to be as cost-efficient as possible.
In the carton board industry, this is further complicated by the necessity, when working with direct food contact packs, of using low migration inks in order to reduce the chance of harmful chemicals leaching into food products.
"For instance, smaller companies that produce a mix of food packaging and non-food packaging on the same press are increasingly using food contact inks on all of the packs they produce, whether it's food or not, in order to avoid the very considerable clean down process," Whipp said.
"Conversely, larger converters that have more than one press can dedicate one press to food and a different press to non-food. In terms of volume, that works better for them."
Whipp has also seen considerable investment in new printing machines: "Although this hasn't been specifically as a result of the concern about ink prices, machines are now being specified with the expectation of producing direct food contact materials and therefore needing these different inks."
Ink innovation
"Ink giant Sun Chemical announced in November 2011 it will raise prices on packaging inks for all printing methods and chemistries."
Not only are converters under pressure to deliver products at the right price, retailers simply won't accept a significant decline in innovation. It is, therefore, key for ink manufacturers to present options to their customers that are both inventive and cost-effective, something Sun Chemical has really taken onboard.
"We have been working with pigment supply partners to develop metal foil lamination with new high-end, lower cost metallic ink effects," Mellado remarked.
"With developments such as mirror-like VMP ink effects, there is no longer a need to use all over foil lamination to achieve a metallic effect, printers can pattern apply the mirror-like finishes achieving improved recyclability at a lower cost."
The world-renowned ink manufacturer has also introduced solutions to the challenge of over packaging. The company's functional coatings enable light-weighting of packs through replacement of the current technology, film or foil in laminate structures with the use of printer converted applied products.
These barrier coatings also provide a barrier to oxygen ingress in packs comparable in performance to laminated PET barrier-type structures.
Research has shown that a customer takes seven seconds to decide on a brand when faced with a shelf-full of choices in store, meaning product differentiation, if anything, is increasing in importance for retailers.
With the skyrocketing price of packaging inks showing no sign of letting up, communication across the entire supply chain, the creation of manufacturing efficiencies and industry-wide product innovation are the only ways the packaging sector will be able to begin the process of calming down its most volatile commodity.