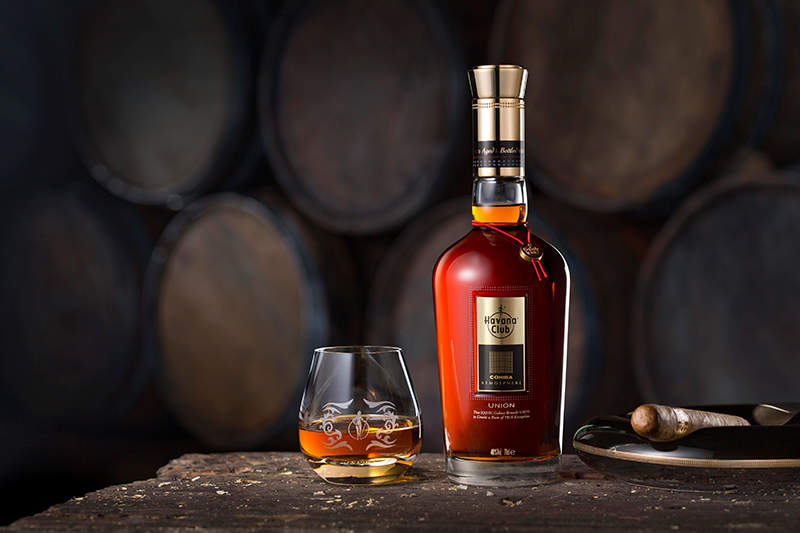 Image: The design for the Havana Club Union packaging features a collaboration between Havana Club and luxury cigar brand Cohiba. Image: courtesy of Nude Brand Creation
---
Millions of potential buyers pass through duty free retail areas each year. In fact, London Heathrow reported a record breaking 75 million passengers travelling through in 2015. This presents a unique opportunity for brands to reach a large and diverse consumer range in a localised location and with limited competition.
Global duty free sales are predicted to reach $73.6bn in 2019 as tourism levels continue to rise and the market is only going to grow with developing markets in China and South Korea leading the way. According to a 2015 Canadean report: "China's duty free sales reached $4.4 billion in 2014, growing at a CAGR of 21.9% during 2009–2014. China is also expected to surpass South Korea with total sales of US$12.1 billion in 2019. The market is expected to expand at a CAGR of 22.3% during 2014–2019 and will account for 16.4% of global duty free sales by 2019."
Travel retail offers brands a unique opportunity to build brand equity in a global environment, however, it is a complex and changing market, with a number of hurdles and aspects that brands need to consider before successfully attracting consumers. So what does make duty free packaging successful? We spoke to packaging design company Nude Brand Creation following its success at the Drinks International Travel Retail Awards to find out.
Conscious consumerism: attracting the attention of casual shoppers
"As many as 50% of travellers surveyed in airport retail were buying for gifting purposes."
Duty free shopping is a very different beast from other retail markets as, unlike standard shopping malls; duty free areas see a daily influx of internationally diverse travellers from a wide range of social, cultural and economic backgrounds. It doesn't break down into one large overarching market, rather forms a unique hub of merging markets, each with their own needs for packaging designers to answer.
Understanding this market heterogeneity in airports and maritime vessels forms a significant part of what makes successful packaging, as it presents a number of additional challenges for designers to overcome. One such challenge is the fact that consumers may not speak the language of the location they are travelling through. This makes the visual impact of the packaging even more important than traditional retail as it may be the only hook that draws the buyer in. Many travellers have long periods of time to browse the shelves before boarding, but have no intention of making purchases, so it is up to the packaging to convince the consumer to make the purchase.
In order for brands to adapt to the distinctive needs of the duty free consumer they first need  to consider the three major appeals of travel retail: gifting, buying for the trip, and treats to take home. In fact, according to the Global Travellers Retail Trends 2014/15 report conducted by Canadean, as many as 50% of travellers surveyed  in airport retail were buying for gifting purposes, closely followed by products bought for personal use. This is where standard packaging doesn't quite cut it and brands need to create an added level of appeal to entice consumers into making the final purchase.
Creating distinctive and high quality packaging that showcases the product is one method of tapping into the heightened sense of luxury and excitement, in which consumers make decisions that they might not necessarily make during the course of their normal shopping routines. 
Nude Brand Creation came up against this challenge when creating the packaging design for Havana Club Unión. Bernard Gormley, co-founder of Nude, explains: "When you look at a lot of packaging often it could be a box or a tube and it's difficult to display or glorify the actual product. So we designed this package so that rather than taking it out, you can merchandise it with the bottle on display inside the cabinet."
Tapping into the heightened state of the duty free shopper allows designers to narrow down the elements that will capture and maintain the consumer's attention. Access to exclusivity and superiority appears to be a common concept across the travel retail market. But what elements of packaging need to be address to break the pattern of auto pilot browsing?
Limited edition and travel retail packaging  
"It comes down to the materials that you use and where those materials are sourced."
Due to the gifting nature of travel retail packaging needs to be able to withstand exertions. If the consumer is travelling long distance the pack has to cope with an increased amount of external stress, including handling in the store, baggage searches, being bashed about in storage compartments, and the full length of transportation from purchase to destination, without noticeable damage.
A brand with limited edition packaging or special packaging that is exclusive to travel retail provides a combination of luxury and a unique personal brand experience that they will want to take away from the store. This trend appears across a variety of different product markets, for example, in 2015 cosmetics company NARS revealed it's the first ever travel retail exclusive collection: the NARSissist #Jetsetter collection. Similarly industry heavyweight in the beauty market, such as Christian Dior and Givenchy, have launched fragrances that are only available in duty free stores.
Creative collaborations bring new design opportunities
"If the consumer is travelling long distance the pack has to cope with and increased amount of external stress."
Products that bring together well known brands also provide a creative opportunity to entice consumers with a once-in-a-lifetime purchase experience that capitalises on the gifting nature of travel retail.
The Havana Club Union rum sees a partnership between Havana Club and luxury cigar brand Cohiba and is the first Cuban rum specifically designed to be paired with cigars. Nude Brand Creation was challenged with the concept of designing a luxury packaging that celebrates of the collaboration of two of Cuba's leading brands, while simulatiously targeting the successful rum and cigar market in China.
The cedar wood cabinet and glass bottle work symbiotically to create a high-quality and eye-catching platform for the rum, while also presenting an authentic representation of Cuban culture.
"It comes down to the materials that you use and where those materials are sourced," explains Gormley. "If you take, for example, the outer packaging, we have a combination of material: the sliding cabinet where the bottle is presented so it glorifies the bottle. The actual cabinet is made of traditional cedar wood which is reminiscent of the traditional humidors and the Cuban cigar wraps used to preserve the freshness of the cigar."
"The bottle is quite elegantly tapered and it's embellished with the embossed gold metal plaque that effortlessly and harmoniously conveys the partnership between Havana Club and Cohiba. Then on the cabinet we have this leatherette black finish on the right hand side that has a sense of tactility so that when you feel it in the hand it works really well."
Creating a memorable experience for the consumer helps to establish positive brand association and exclusive travel retail products give packaging companies a creative environment to produce out-of –the ordinary creations that would not necessarily work in traditional shopping environments. Companies that understand and address the different nature of travel retail stand a much greater chance of success, than those who do not. And with the market developing at a significant pace, the opportunities for brands to develop a strong global reputation in the sector is expanding.