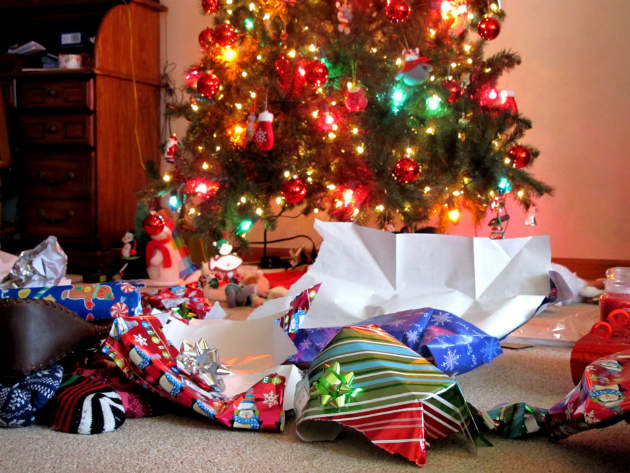 According to figures from the Waste and Resources Action Programme (WRAP), close to 300,000 tonnes of card packaging alone was used during this festive period in the UK, unsurprising when you consider the over 100 million parcels processed by Royal Mail each December. However, when you take into account that the amount of card recycled as a whole during the year was only around 1 million tonnes, a phenomenal spike in packaging waste emerges.
And it's not just cardboard boxes; back in 2011 the Telegraph reported on the almost 230,000 miles of wrapping paper thrown away each year, and as population levels steadily grow, that number is ever increasing.
It may be startling, then, to hear how difficult it can be for certain items to be recycled. WRAP's Recycle Now campaign released a short video via Twitter in December reminding individuals not to place plastic film wrapping 'paper' alongside standard generic paper in recycling bins, but plastic and glitter wrapping substitutes remain the biggest culprits preventing individuals from recycling packaging effectively post-Christmas.
Plastic problems and glitter grief
Plastic can often easily be removed when sorting through rubbish at recycling plants, but some modern wrapping papers combine plastic and paper in a single sheet, meaning neither can be reused effectively, and glitter can be an even more damaging addition to UK recycling bins, as it can clog up paper mill machinery, or make its way into any recycled paper, leading to the paper being rejected by purchasing companies, subsequently being destroyed. The problem is so significant that it has lead to some UK councils rejecting bins containing glitter altogether, deeming the entire load to be 'contaminated' and sending them to landfill or for incineration instead.
"The problem is so significant that it has lead to some UK councils rejecting bins containing glitter altogether."
This may be why some councils, such as Exeter City Council, have found themselves having to put out a statement asking residents to not place any wrapping paper in their recycling bins, as paper mills in the area have put out a blanket ban on any gift wrap, regardless of whether or not it is in fact recyclable. Instead residents must collect the packaging and take it to local recycling centres themselves; potentially a step too far for those who only reuse and recycle begrudgingly on occasion.
Fabric the way forward?
Several frustrated innovators have sought to find an alternative to traditional packaging offerings. Devon, UK-based company Wrag Wrap was set up to create a sustainable alternative to non-recyclable gift wrap packaging. The company took inspiration from the Japanese tradition of wrapping presents in fabric, resulting in a range of reusable bags and wrapping solutions that includes expandable elasticated 'stretch wrap', as well as 'crackle wrap', which mimics the sound of unwrapping a present packaged with paper.
US company Lilywrap has also had a similar idea, attempting to cut down on the country's gift-related waste. As the world's foremost generator of municipal solid waste, at around 2kg per person per day according to the EPA, America produces an exorbitant amount of packaging refuse during the holiday period. Lilywrap's solution was to design a stretch fabric designed to imitate the look of wrapping paper, using a pull-chord to secure the fabric while also functioning as a decorative bow.
Recycling habits of the big holiday businesses
However it seems as though the responsibility for finding a solution to the recycling woes that occur in December and January every year is being left to individual innovators, rather than necessary measures that need to be undertaken by larger corporations. Amazon's recent sponsorship of the Give Back Box campaign, meaning their empty boxes (alongside any other cardboard box) can be used for free shipping to Goodwill organizations in the US, is a step in the right direction. It means that the boxes are used and reused by customers, and then recycled by Goodwill.
Other big companies do their part to differing degrees. The largest greetings card organisation in the world, Hallmark, claim to use 100% recycled content for the cores of wrapping paper, however regarding cards sold, for North America the company can only claim that "many" of their cards contain "up to 20% recycled content", and explain how while they have experimented with novel recycled materials, results have been met with "limited consumer favour", so are seeking other avenues.
Europe's largest designer and producer of wrapping paper, IG Design Group also claims to use environmentally friendly suppliers wherever possible, with all gift wrap paper being sourced from European paper mills. However only around 20% of their total supply chain is recycled material.
One has to wonder though, whether the onus of care for recycling should be a matter for the private sector at all, or whether it should be local government that needs to intervene, with more stringent holiday waste packaging guidelines for the individual.