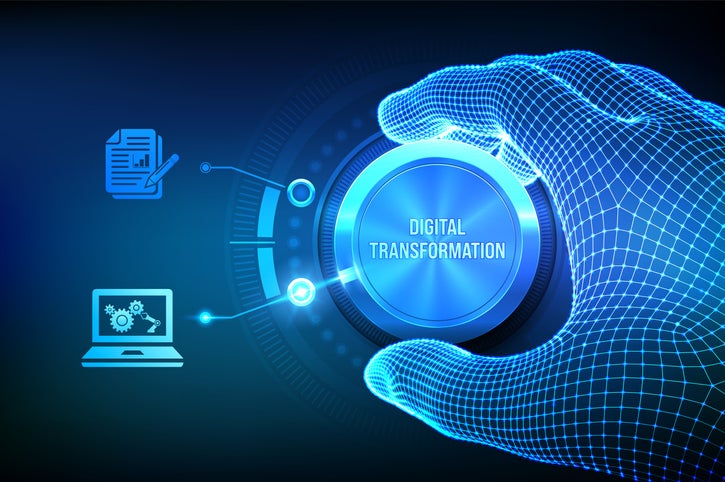 GlobalData's analysis of key themes in the packaging industry finds that digitalisation is key. The rate of digitalisation-related hiring within the packaging sector is accelerating, and analysts suggest that industry supply chains will be fully digitised and automated by 2035.
However, the spectre of digitalisation can be overwhelming for companies that don't know where to begin or whether the initial risks outweigh the long-term benefits.
To break down this industry theme, Packaging Gateway spoke to Dean Guida, founder of digital workplace platform Slingshot and Aaron Salko, regional manager of packaging company Stephen Gould.
What are the challenges of digitalisation in an industry such as packaging, which revolves around physical materials?
Guida: "For many packaging companies, manual processes have been deeply ingrained into their infrastructure for decades. The thought of digitalisation alone can seem daunting to teams that have used primarily paper-based manual systems to work.
One of the biggest challenges industries like packaging face during digitalisation is the onboarding of new technology itself. Teams will invest a lot of their time into integrating their content and data into a system, developing new skill sets to use the technology and understanding the ins and outs of the technology. This can cause gaps in workflow and low productivity.
However, there are tools that teams can quickly integrate and easily understand where the onboarding process is harmless to productivity."
Salko: "Transitioning from traditional practices to a digitalised system has its challenges, especially in the packaging industry. These are the key challenges in my view:
Cyber security and privacy. Many companies revolve around and depend upon systems that store personal information for the purposes of ordering from digital storefronts, drop shipping, and direct mail. This brings with it the increased risk of data breaches. Therefore, packaging companies must invest in robust cybersecurity systems, measures, and talent to protect sensitive business information and customer data.
Talent skill adaptation. Employees may need to acquire new skills to adapt to digital processes, which may include data analytics, machine learning and other digital tools. This necessitates investment in training and may also lead to resistance from employees uncomfortable with the change.
Software integration and upgrades. Packaging companies often work with many different software systems needed for different aspects of the business. These can be systems for design, production, project management, logistics and finance. With all of the systems required, the need for integration is necessary for optimal efficiency. This is a challenging and complex process.
Supply Chain Challenges. Managing someone's packaging requirements and supply chain is an intense job. So, if one part of the supply chain becomes digitised and the other parts are not, this leads to errors, delays and potential strain on the relationship between suppliers and their clients.
Regulatory and compliance challenges. With ESG compliance becoming the new buzzword for many clients seeking packaging vendors, it is challenging for many packaging companies to upgrade their systems. This is for traceability, accountability and reporting of not only their production facility but the origins of where their raw materials come from.
Despite these challenges, the potential benefits of digitalisation for companies in the packaging industry are significant and necessary to transition in order to perpetuate their future success trajectory."
How long can packaging companies with manual systems and processes last in today's world?
Guida: "Compared to other industries, packaging companies typically have a bigger network of internal and external teams – such as designers, vendors and engineers – that they need to manage. Managing communication and projects between this large of a network is hard enough with manual processes – but remote and hybrid workers add a whole new layer of complexity to this.
It's critical that if these companies want to scale and grow their business, they start to digitalise it. While in practice, digitalisation brings all of a company's content, data and communication from paper to the digital world, it's so much more than that. The accuracy it promotes, the productivity it drives and the resources it opens companies to is reason enough for companies to make the jump."
Salko: "In my personal opinion, if they have not begun transitioning today, they are far behind and risk either being passed over for new opportunities or being knocked out of the game entirely by their global competition."
Salko: "I believe coming out of the pandemic could have had an impact on the priorities and direction of many business owners. Also, companies must be provided with a "check-box" for digitalisation or have the proper experts on staff to recognise the trends and create language specific to digitalisation."
In what ways can packaging companies experiment with emerging digital technologies such as the metaverse?
Salko: "As we look towards emerging technologies, a few are targets for future strategic use. Blockchain technology, digital contracts and the metaverse are on our list.
I believe the metaverse poses the greatest potential for companies who wish to be performance leaders. This is because it is a system that our newest generations have grown up with and use daily. For our industry, we can use it to review and test packaging design and prototyping, run supply chain simulations, study consumer behaviour and conduct market research, as well as display our innovation and creativity in virtual showrooms."