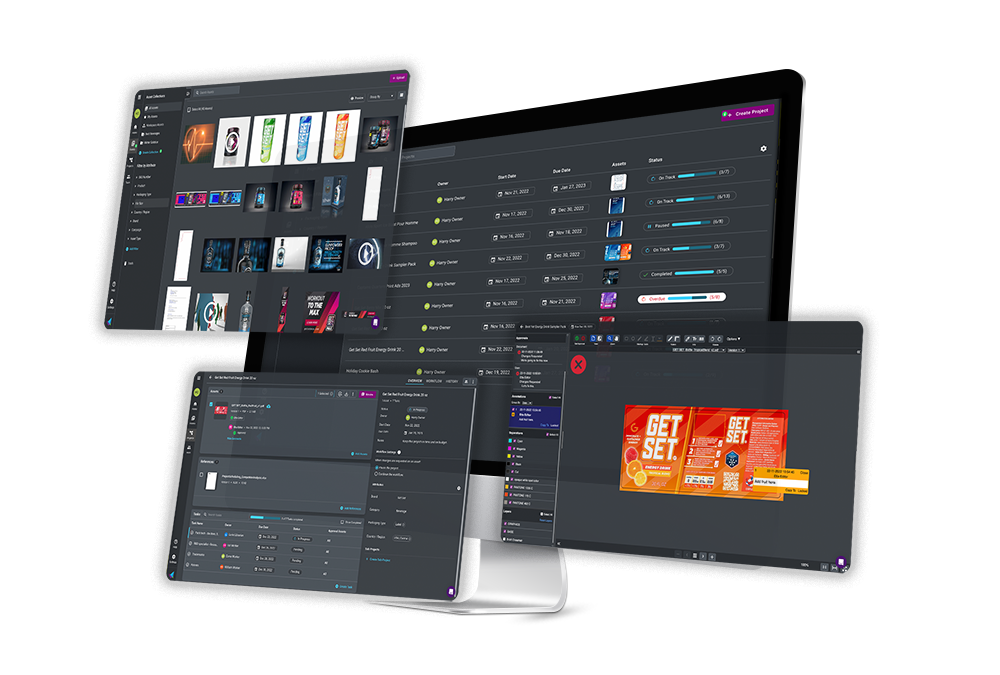 Earlier this year, integrated software and hardware solutions company Esko launched Mox, a cloud-based tool for product content that combines three tools in one.
The Belgian-based company designed Mox to help small and medium-sized businesses work more efficiently and deliver 'right first time' packaging and marketing content.
Vice president and general manager of SMB solutions at Esko, Adrian Fernandez says his company provides software for the packaging industry mostly at the prepress stage.
He explains the company has been providing tools to large enterprise brands with all the information necessary to develop artwork, packaging and other products since its conception in 2002.
"We know medium-sized brands and emerging brands also need to have great packaging and they need to be able to compete against bigger companies. We saw a gap in our offering, because the solutions we have were developed and designed for large enterprises.
"What we want to do with Mox is take that same high-end functionality, the same solutions and the same capabilities that we are offering to big brands and make them available to medium and smaller-sized brands at an affordable price."
Fernadez says that for small and medium-sized businesses the process of adopting Mox into their system is easy as it is a cloud-based solution, has a very easy sign-up process and has an intuitive user experience.
"Literally in 10 minutes, any of us, without the need for a credit card, can be on a 30-day trial and start adding the collaborators required for packaging development," he adds.
Fernandez also explains that Mox works through creative collaboration. It needs a minimum of three users to collaborate on a packaging project and it allows for easy reviewing and commenting.
Esko believes that the functionality and capabilities of its Mox product speaks for itself with Fernandez pointing out the idea is for it to grow through invitation.
He says: "We have people doing demos and a website that explains how it works. But the idea is to just try it and you'll get to see its value quickly."
Fernandez also points out that it took around two years to get Mox from the idea stage to the point of being ready for global rollout to its prospective customers.
He explains the process was not easy taking software with a relatively high configuration aspect and associated with a lot of training to a format that is simple and easy to consume so customers can see the value quickly.
He adds the package had to be constructed in a way that users could understand the process without the need for training. In other words, it has shifted from being a full-service model to a self-service model.
"I would argue the hardest part was creating a packaging functionality that took 10 years to create and in two years, we have packaged it up so it can be consumed by small and medium brands, without a lot training."
As Mox is designed for small and medium-sized businesses, Esko was keen to ensure the software was affordable with Fernandez highlighting that sometimes emerging brands cannot have multiple tools because of the complexity.
Fernandez says there are two things that medium and growing brands encounter when adopting new technology. One is they cannot have too many options as their systems have the capability to handle a certain number of systems and the second is affordability.
"That's why Mox is a three-in-one. We are doing these three things in one programme. We can help people do more than just a typical individual tool."
Plus, he says the price is transparent. A customer can go to the website and see that in the US it is $95 per user, per month and it's all-inclusive.
Fernandez believes that as it is a collaborative tool, Mox could be hugely beneficial to businesses as it offers them scope to improve efficiency whilst making the process of sharing information easier.
"It's all about speed to market. Mox helps people take a manual process that from beginning to end can take six weeks and cut it down to one week, because now everybody can see it and act immediately as opposed to waiting."
When asked if Mox was able to help packaging businesses improve their sustainability efforts, Fernandez was keen to point out Mox's efficiency benefits do translate into environmental benefits.
However, he concludes: "The biggest issue here is efficiency in terms of how many new SKU's that can be processed in any given time and the speed to get them to market, especially if a business is scaling up and trying to launch new versions of a product."