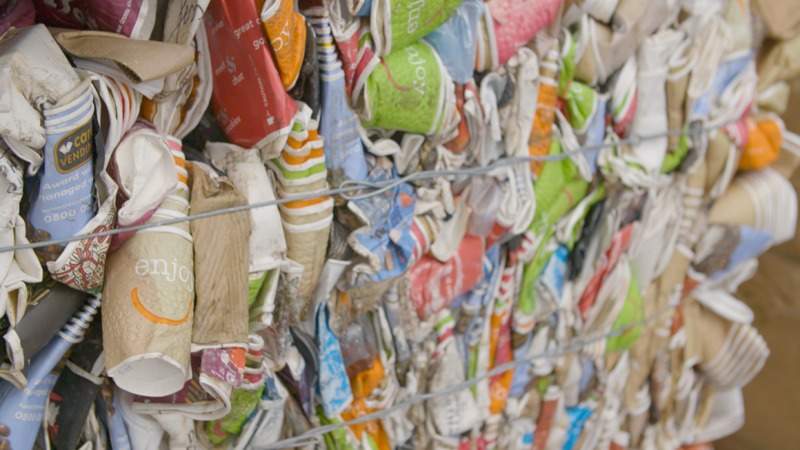 DS Smith pledged to recycle up to 2.5 billion cups a year using its paper mill in Kent, UK.
The company currently recycles only one in every 400 discarded coffee cups, as 1% of its customers bring their own reusable cups.
However, DS Smith now believes to have found a suitable solution to the problem.
---
Henkel teamed up with Waste Free Oceans to manufacture more than a million bottles sourced from plastic waste removed from oceans for the Lovables laundry brand.
The companies recovered plastic from rivers, lakes, seas and oceans to annually produce 100 metric tonnes of usable recycled material.
Established in 2011, Waste Free Oceans collaborates with businesses and other organisations to collect plastic from oceans and rivers to produce new items.
---
Cambridge Consultants developed a range of food packaging products sourced from Polyhydroxyalkanoates (PHA) bioplastics.
Bioplastics are bio-derived and/or biodegradable plastics that can be used as a technical alternative to conventional polymers.
PHAs are biodegradable, readily compostable thermoplastics that are developed from microbial fermentation of carbon-based feedstocks.
---
Aldi pledged to use only recyclable, reusable or compostable packaging for its own-label products by 2022, joining a growing list of supermarket retailers that declared war on plastics.
The move comes months after the UK Government announced its plan to abolish all avoidable plastic waste by 2042.
Within this framework, the retailer intends to stop selling its 5p bags in order to curb plastic packaging across its businesses.
---
Crown Europe announced its plans to invest in its UK-based Bevcan Graphics Studio facility, in a bid to enhance its customer service by focusing on beverage packaging innovations.
The company expects to use the investment to increase its products' shelf appeal, convenience and sustainability.
---
CCL Industries (CCL) agreed to acquire Treofan Americas and Trespaphan Mexico from their parent firm M&C for approximately $198.93 million.
CCL will acquire the Treofan Americas businesses located in the US, Latin America and Canada.
Upon completion of the deal, CCL's acquired business will operate under a new brand name called Innovia, as Treofan's name rights will be retained by M&C.
---
August Faller Group designed a prototype pharmaceutical packaging that makes taking medication easier for patients.
The solution will help the company meet demands for increased digitalisation on the e-health market, as well as interactive packaging solutions.
It features flat electronics with a microcontroller in the folding carton, a battery integrated into the packaging, and an e-paper display.
---
Sonoco agreed to acquire Highland Packaging Solutions for around $150 million.
Based in Plant City, Florida, US, Highland produces thermoformed plastic packaging for fresh produce and dairy products.
Last year, Highland's net sales stood at around $90 million. The company will operate as part of Sonoco's global plastics operations.
---
Al Mawrid Printing & Advertising is set to install a Heidelberg inline converting system (ICS) multi-process press in its Dubai facility in order to meet the growing market demand for highly finished packaging.
The installation will include modular units for cold-foiling, gravure printing, inline die-cutting and embossing in order to meet the growing market demand for highly finished packaging.
The company had already used the Heidelberg ICS in 2012.