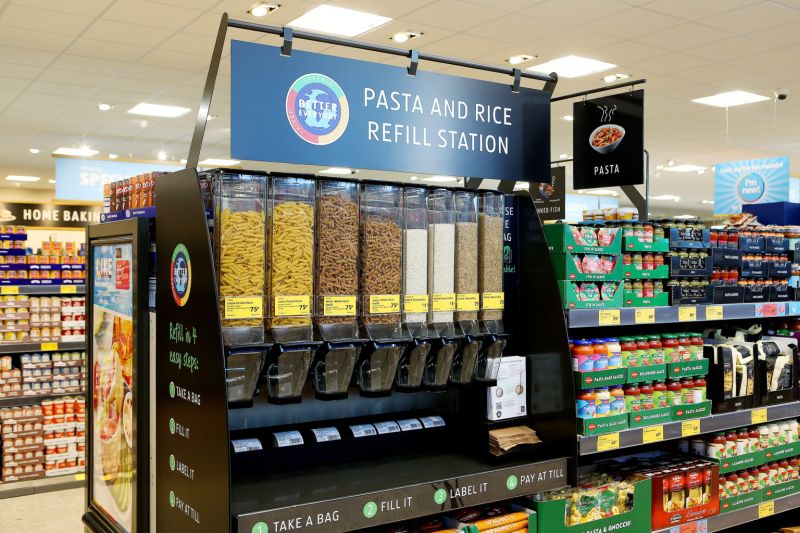 UK-based grocery retailer Aldi has started testing its first packaging-free products at a store in Cumbria, England.
The Ulverston store is selling loose basmati rice, brown rice, penne pasta and wholewheat fusilli, which are available by weight.
Customers can carry the household staples in fully recyclable paper bags provided by Aldi for free. The bags are made of material certified by the Forest Stewardship Council (FSC).
The initiative is expected to result in the elimination of more than 130t of plastic a year, or more than 21 million pieces of plastic from stores.
Depending on the results of the trial, Aldi will explore whether to introduce its refillable options in other stores.
Aldi plastic and packaging director Richard Gorman said: "Customers at our Ulverston store can now buy the same high-quality items they know and love while also cutting down on plastic packaging.
"We're always looking for new ways to reduce waste plastic and limit packaging, as many of our shoppers are increasingly conscious of the environment and their impact on it.
"We hope local customers embrace the trial and we will use their feedback to inform any future plans around refillable products."
The testing is in line with Aldi's commitment to cut its plastic packaging usage by 50% by 2025.
This pledge will allow Aldi to remove a total of 74,000t of plastic packaging from products in the next five years.
The supermarket achieved carbon neutral status in January 2019 and is on course to make all its own-label products recyclable, reusable or compostable by next year.
This month, Aldi announced plans to replace plastic straws for its own-label drinks cartons with fully recyclable straws made from FSC-certified cardboard.
With this move, the retailer will eliminate 70 million plastic straws from circulation, equivalent to more than 100t of non-recyclable plastic a year.