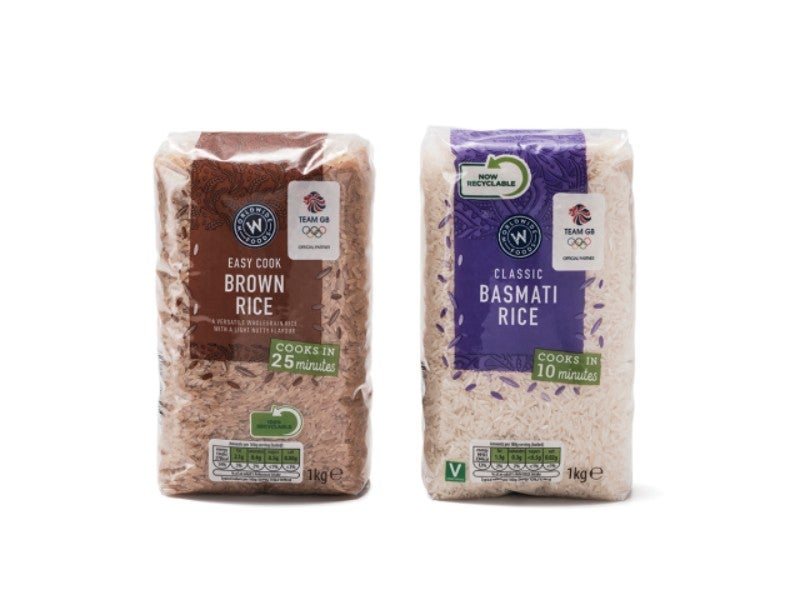 Austria-based sustainable packaging provider Coveris has partnered with British rice supplier Veetee to introduce fully recyclable rice packaging for supermarket chain Aldi.
Coveris' fully recyclable MonoFlexE monomaterial polyethylene (PE) to PE laminate packaging is being used to package Aldi's own-brand Worldwide Foods 1kg basmati rice and 1kg brown rice stock-keeping units.
The packaging was initially introduced for 50% of the two stock-keeping units and is due to be rolled out to the remaining 50% over this month and next month.
Aldi previously used non-recyclable oriented polypropylene to PE mixed laminate.
Through this initiative, the retailer expects to send around 30t of film to the soft plastic recycling stream every year.
The move is in line with Aldi's commitment to making all its own-label packaging reusable, recyclable or compostable by the end of this year.
Coveris UK flexibles technical director Mark Robinson said: "Aligned with Coveris' sustainability strategy, NO WASTE, we continue to use film science technology to advance our recyclable flexible films into new categories.
"The launch of MonoFlexE for Aldi rice following a successful, collaborative project with Veetee is a breakthrough for this market and we can be very proud to work with Aldi and Veetee to innovate packaging for improved recycling."
The MonoFlexE packaging for rice is the outcome of a two-year development project between Coveris and Veetee.
Coveris said the packaging offers comparable shelf-life properties and packing speeds as those of the mixed laminate substrate previously used for Aldi's rice products.
The MonoFlexE rice packaging is being offered in up to nine-colour high-definition flexo print and either gloss or matt varnish.
In November last year, Aldi eliminated plastic packaging from its entire wooden toy range as part of its sustainability efforts.
The retailer's wooden toy range was launched in 2016 and currently uses 93% recyclable materials in its packaging.