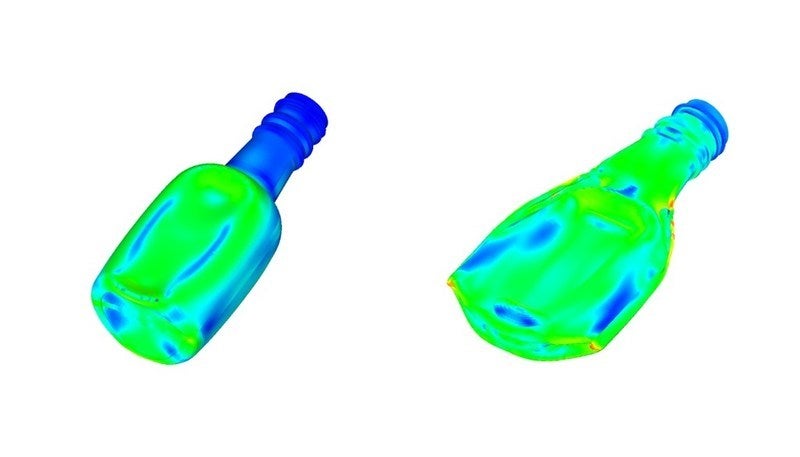 Multinational packaging company Amcor Rigid Packaging (ARP) has developed a container design to allow more small plastic bottles to be recycled.
The design is being used for recyclable 50ml spirit bottles made from polyethylene terephthalate (PET).
Despite being infinitely recyclable, these bottles currently face challenges in most US material recycling facilities as they often slip out during the sorting process.
The container has been designed to become more than 5cm wider when it is collapsed, preventing it from slipping through the cracks during the recycling process.
ARP Research and Development and Advanced Engineering vice-president Terry Patcheak said: "This discovery was made by the Amcor team when testing revealed that the bottles collapse in different ways.
"Our simulations demonstrated that when these tiny spirits bottles are designed to collapse in a specific way, fewer bottles actually fall through the cracks.
"The potential here is higher recyclability rates and more recycled content for multiple segments and materials."
Amcor's bottle design complies with guidelines set out by the Association of Plastic Recyclers.
The bottles are currently being subjected to Finite Element Analysis tests to determine their behavioural aspects during the recycling process.
In addition, ARP is drawing real-world data from recycling facilities to analyse the bottle's recyclability.
Patcheak added: "We look forward to seeing the data and continuing to use this kind of creative approach to look at all of our packaging.
"In partnering with the APR, we are looking at size, colour and material to increase the amount of recycled material that can be turned into more bottles.
"We look forward to partnering with our customers as we use a new lens to look at ways to meet our shared sustainability goals."
Last month, ARP developed a sustainable bottle for the Gourmet cooking oil brand from Colombian oil and fat producer Alianza Team.