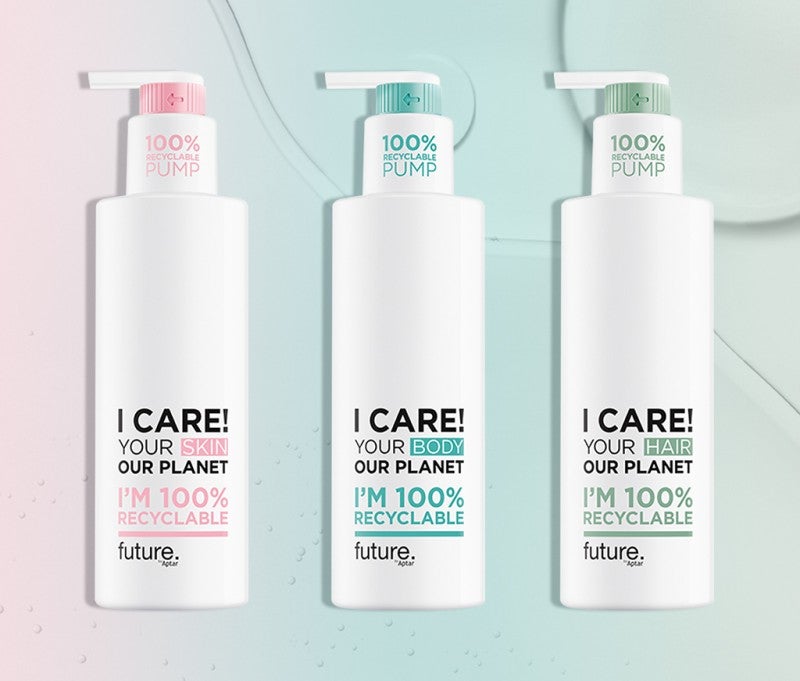 Global design and manufacturing company Aptar has introduced a fully recyclable pump, made purely from polyethylene (PE) mono-material, for the beauty and personal care sectors.
Marketed as Future, the dispensing solution features an incorporated on and off locking system and a 360° actuator.
The product is the result of more than two years of design, engineering and testing.
Aptar claims the use of PE-only material makes the product easier to recycle compared to traditional pumps, which mostly contain different materials and components.
Future is certified by cyclos-HTP, an authority on recyclability and product responsibility.
The packaging has also received 'A' recognition from RecyClass, a comprehensive cross-industry initiative, as well as compliance with the ISTA 6-Amazon protocol.
The Future pump is designed to endure transport and distribution-related risks and eliminate the need for safety carton and paper packaging.
Aptar said the product is also made using post-consumer resin (PCR) content.
Aptar product sustainability director Christophe Marie said: "The ideal situation for the complete value chain is to have mono-material packaging where the container, the closure or dispensing system is made from the same material family.
"This was the big challenge our innovation team overcame with the development of Future."
Aptar Beauty and Home global strategic marketing director Sabine Bouillet-Lubot said: "Our ultimate goal was to have the final consumer be able to take their body lotion, shampoo or shower gel and easily put the empty packaging in their recycling bin.
"In this way, it enters a circular lifecycle and can be turned into another product."
Aptar Beauty and Home's European production has also secured International Sustainability and Carbon Certification (ISCC).
Aptar provides drug delivery, consumer product dispensing and active material science solutions.
The company has committed to making all its dispensing solutions for the beauty, personal care, home care and food and beverage markets fully reusable, recyclable or compostable by 2025.
In February, Aptar partnered with Quidel Corporation to provide its Activ-Film technology for Quidel's diagnostic tool.