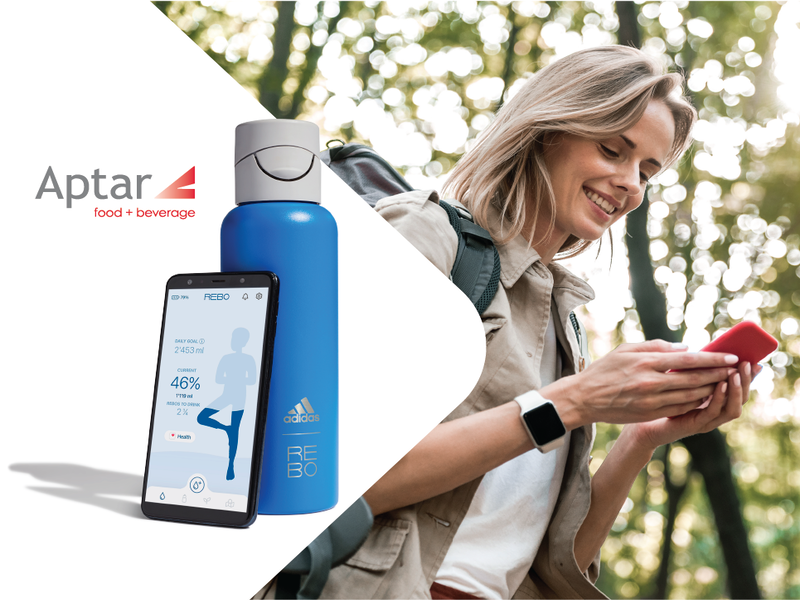 US-based dispensing solutions provider Aptar Food and Beverage has partnered with smart water bottle company REBO to introduce a smart reusable water bottle.
The bottle uses Bluetooth technology installed in the cap to help consumers keep track of the amount of water they consume.
When synchronised with a personalised hydration app available on iOS and Android operating systems, the tech can track consumers' health targets and remind them to stay hydrated.
The water bottle is also designed to alert users of their contribution to preventing plastic bottles from being sent to landfill.
Users can earn credits every time they refill the REBO bottle, which can be used to fund the collection of littered plastic bottles.
Aptar global marketing development president Jerome Magniet said: "Aptar is committed to contributing to a more circular economy that will help our customers and partners achieve their sustainability targets, while creating a positive impact on our people and the planet.
"This partnership with REBO allows us to advance our market knowledge for emerging trends and use our manufacturing, regulatory and innovation expertise."
As a signatory of the Ellen MacArthur Foundation, Aptar has committed to increasing the use of recycled materials across its products and enhancing the recyclability, reusability or composability of its products by 2025.
REBO also created a limited-edition bottle for Run for the Oceans as part of its fight against plastic waste.
Hosted by sports apparel retailer Adidas, Run for the Oceans is a virtual challenge that involves running, walking or travelling by wheelchair to support Parley's Global Cleanup Network.
For this year's challenge, REBO partnered with Adidas to create the bottle, which uses the company's Bluetooth tracking technology.
Last month, Aptar introduced a fully recyclable pump, made purely from polyethylene (PE) mono-material, for the beauty and personal care sectors.