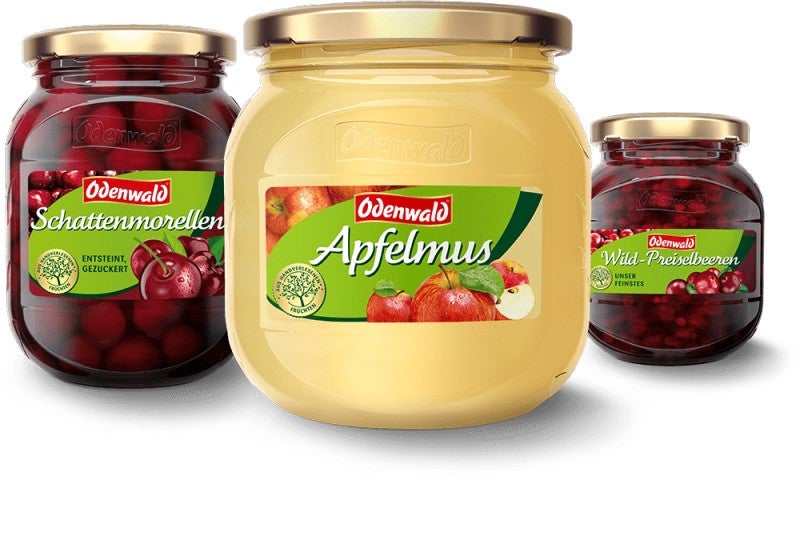 Glass and metal product manufacturer Ardagh Group has developed a 'bowl' design for Odenwald fruit sauce jars.
The jar design was created to address concerns raised by consumers and provide easier access to the product.
It features reduced height and a wider profile compared with the original design, with a larger opening and 'spoon-friendly' curves.
The rounded angles and wider aperture aim to make the product fully accessible, reducing the amount that is wasted, while the embossed floral leaf elements allow the glass to be grasped more easily.
The label and outer packaging, with the Odenwald brand debossed on the front and back, are made from certified recycled paper, making the jars more sustainable.
Ardagh Group product designer Katharina Chemnitz said: "One of the main design challenges was to work out the optimum position for leaf decoration on the sides of the jars.
"We decided to use both embossing and debossing to create the leaves within the glass, both to create the required grip and to avoid any glass-to-glass contact during transportation."
Before the design was finalised, Odenwald's brand owner Andros carried out research to understand customers' requirements.
Andros marketing head Mirco Bastiani said: "In our research, consumers chose this as the final design as they felt it was more than just a jar.
"It gives easy access to all our sauces and preserves, plus its friendly appearance makes it attractive for reusing and upcycling ideas."
In March, Ardagh Group's North American branch partnered with US-based food retailer Bragg Live Food Products to develop a 16oz glass bottle design.
The 16oz bottle was created by Ardagh for Bragg's new line of apple cider vinegar products. It is 7.03in tall and features a lug finish.
Manufactured in the US, the bottles are fully recyclable and can be recycled infinitely without compromising purity or quality.