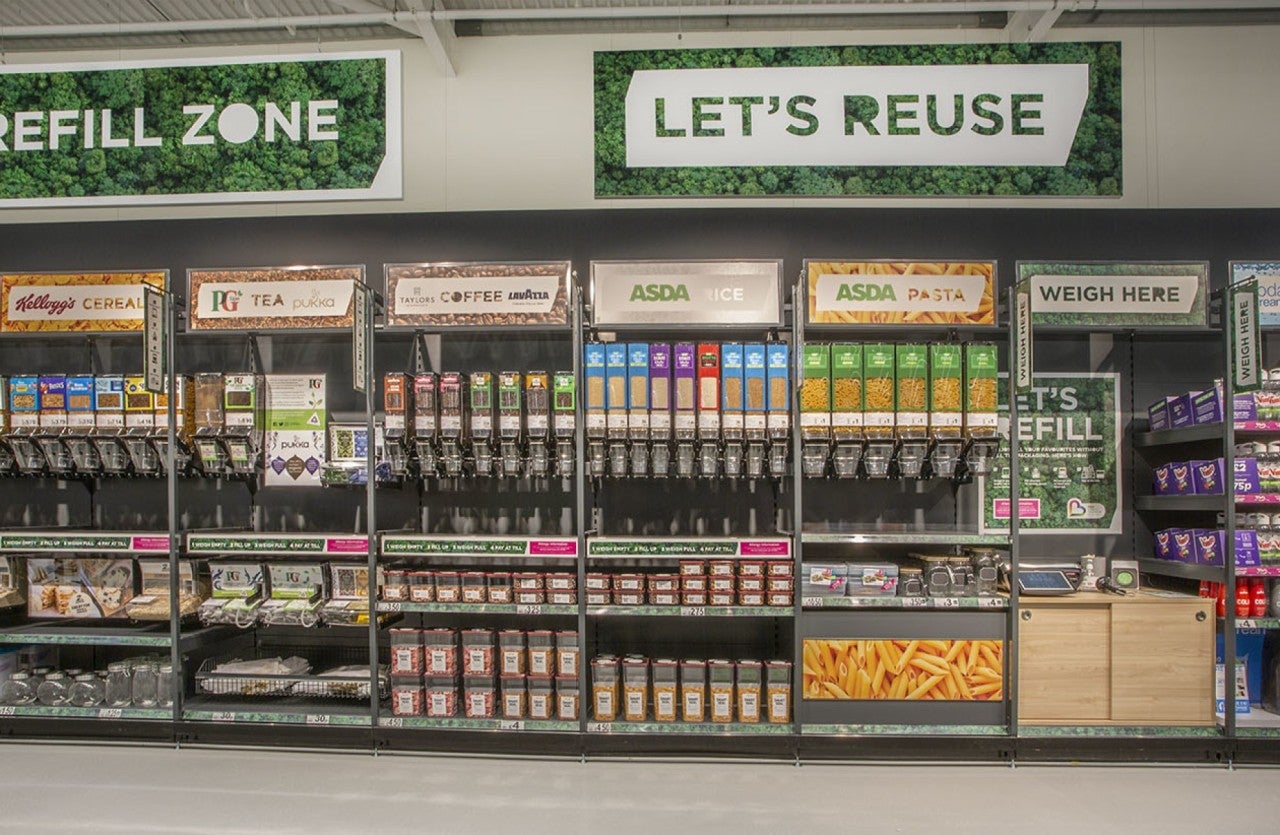 British supermarket chain Asda will extend its trial of plastic-free refill zones to more of its UK stores by the end of this year.
In October, the retailer will unveil its largest refill zone to date at its store in York.
The refill zone will have 18 standalone bays and offer more than 70 branded and own-label products in refillable formats.
In December, Asda will open a nine-bay standalone refill fixture at its Milton Keynes store. This will offer branded and own-label cereals, pasta and rice among other products.
In August, the retailer will open its first refill zone in Scotland at its store in Toryglen, Glasgow.
That month, Asda will also trial selling branded own-label tea, coffee, cereals, rice, pasta, laundry and toiletries at its store in Rugby.
The four stores will offer a larger range of core products and popular brands, including Yorkshire Tea, increased Kellogg's cereals range, Nestle cereals, Napolina pasta and Tilda rice.
The expansion follows the success of its first refill zone, which opened at its Middleton store last October. The zone features 15 refill stations offering more than 30 household staples.
The retailer plans to pilot different refill configurations with more household brands.
Asda commercial sustainability director Susan Thomas said: "Our ultimate goal is to make refill and reuse a part of every Asda shopping trip. To achieve this, we have to make it easy, accessible and affordable for all our customers to shop this way.
"Middleton was a great introduction to how customers engage with refill products and we are now looking to accelerate these learnings by trialling different refill options in more stores to understand which aspects can potentially be developed further."
In a partnership with Unilever, the four stores will offer Persil, Radox, Simple and Alberto Balsam products in stainless steel reusable bottles.
The Unilever products will be tested in refill-on-the-go and return-on-the-go formats. Customers can either use a machine in the store to refill their bottles or pick up pre-filled bottles and return them once used.
In April, UK-based grocery retailer Aldi started testing its first packaging-free products at its store in Cumbria.