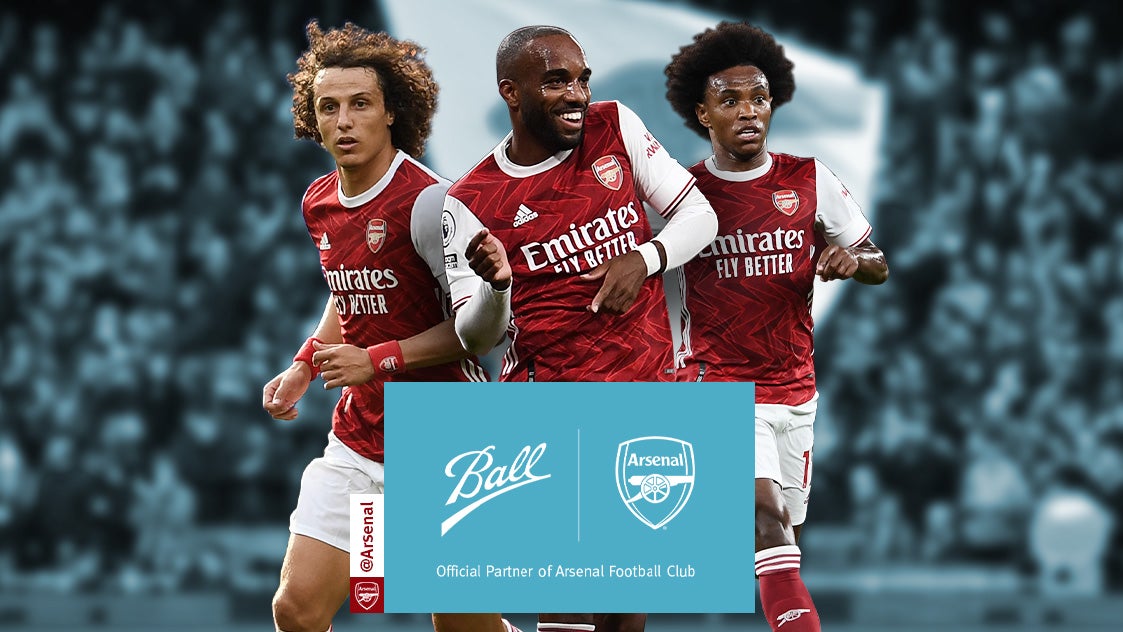 Global aluminium packaging company Ball Corporation has today launched an official partnership with London-based Arsenal Football Club, designed to help the club and its millions of fans around the world reduce their impact on the environment.
Arsenal and Ball Corporation will work together to look at how the club can use aluminium packaging to build on the sustainability practices it has already employed.
All parties involved will also use exclusive player access and digital communications in the stadium and beyond to promote the importance of recycling for Arsenal fans and their communities around the world.
In a 2019 study by the BBC and the United Nations-backed Sport Positive Summit, Arsenal topped the league table on sustainability among Premier League clubs.
Peter Silverstone, commercial director at Arsenal, said: "This is the start of an exciting journey between Arsenal and Ball Corporation. Underpinned by cutting-edge technology and a strong belief in the power of education, sustainability is a core pillar of Ball Corporation's business. Arsenal is committed to leading the way on sustainability among Premier League clubs.
"Purpose-led partnerships will become even more of a focus as we move forward and we're proud to have an incredible partner on board to help us inspire and empower our community across the world to take action to reduce our environmental impact and push each other towards a sustainable future."
The partnership is part of a wider global agreement between Arsenal's owners Kroenke Sports & Entertainment (KSE) and Ball Corporation, which has been established to advance sustainability in sports and entertainment, as well as raise awareness of sustainable beverage packaging at sports venues.
Arsenal joins a list of KSE teams to partner with Ball, which includes the NBA's Denver Nuggets, NHL's Colorado Avalanche, NLL's Colorado Mammoth and NFL's Los Angeles Rams.
John Hayes, Ball's CEO, said: "We're thrilled that our global partnership with KSE to advance sustainability in sports and entertainment includes teaming up with Arsenal.
"This is a unique opportunity to both bring aluminium beverage packaging into sports venues and partner with an iconic team that is already leading the way on sustainability. We look forward to working together to offer fans more sustainable in-venue options and raise awareness for the importance of aluminium recycling."
Arsenal announced the partnership on the club's official Twitter account with a video that also highlighted KSE's other sports teams.
We're proud to be starting an exciting sustainability journey with new partner @BallCorpHQ#TeamBall 🤝

— Arsenal (@Arsenal) October 22, 2020
The global partnership also includes naming rights for Ball Corporation and KSE's hometown arena in Denver (formerly Pepsi Center), home to the NBA's Denver Nuggets, NHL's Colorado Avalanche and NLL's Colorado Mammoth.
Ball Corporation is working with KSE to transition to infinitely recyclable aluminium beverage packaging – cans, bottles, and cups – for 100% of the Denver arena concessions, with the goal of supporting a more circular system by 2022.
Ball has also partnered with KSE's NFL team, the Los Angeles Rams, and their home stadium, SoFi Stadium, to implement in-venue aluminium beverage packaging and recycling programs.
The Ball Aluminum Cup™ will be available at all SoFi Stadium events, in addition to the LA Rams team training facilities and camps.
Arsenal was the first Premier League club to trial the reusable cup scheme during the 2018/19 season.
In partnership with London-based Camden Town Brewery, the scheme became fully integrated at the start of the 2019/20 season saving the use of approximately 20,000 single-use plastic cups per game when Emirates Stadium is full .
Ball Corporation previously introduced a recyclable aluminium cup at the 2020 Super Bowl, in a partnership with Bud Light.