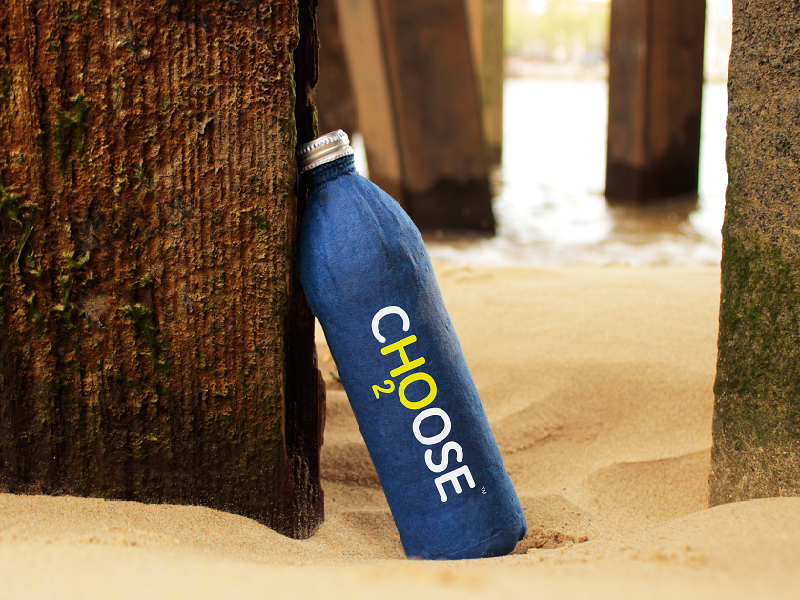 A British scientist has designed and launched a biodegradable water bottle that could reportedly help reduce the eight million tonnes of plastic that end up in the sea every year.
The product, called Choose Water, is sourced from 100% recycled paper pulp and can dissolve into compost, rather than requiring processing by a plastics recycling plant.
The paper bottle is vacuum-formed around a watertight liner that is made of biodegradable materials and binds to the paper casing, which creates a seal within the bottle. This prevents the water inside from reaching the paper part of the packaging and breaking it.
The creator of Choose Water is 27-year-old Durham University chemistry graduate James Longcroft, who explained that the biodegrading process starts 'within hours' of the bottle being thrown away, with his paper-based bottle taking approximately three weeks to fully decompose. The product's steel cap breaks down in a year. Longcroft said that this won't affect the product's shelf-life, which he believes will be the same as regular bottles.
Production costs of the bottle are 5p higher per unit than traditional single-use plastic products, but Longcroft is now looking to raise £25,000 of capital to commercialise the product. He also said that profits from the sale of the bottle will go to the charity Water for Africa.
"We are really excited to get our bottles into people's hands as soon as possible. I want to provide an alternative to plastic. Even if our bottle is only half a percent of all the bottles used, that is still millions of bottles," Longcroft said. "Changing an industry will be a massive uphill battle, but with the public's support we will change the way we look at bottled water."
The move comes a week after more than 40 businesses in the UK joined the UK Plastics Pact in a joint effort to phase out plastic waste in the coming years.
The UK Government has also recently committed to reducing the national consumption of plastic and is considering a ban on plastic straws and cotton buds.
Last week, the London commercial district Canary Wharf announced it will trial the country's first bottle deposit return scheme as part of a 12-month 'one-use plastics' reduction, as well as a behavioural campaign which, if successful, could be extended to the rest of the UK.