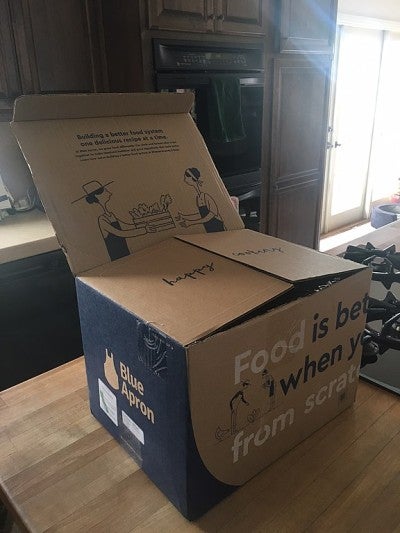 US-based meal kit company Blue Apron has announced new sustainability packaging targets for its meal kit boxes.
By the end of 2025, the company aims to make its meal kit boxes fully recyclable, reusable or compostable.
Blue Apron has also committed to using 75% post-consumer recycled content, by weight, in its meal kit boxes by the end of 2025.
Blue Apron president and CEO Linda Findley Kozlowski said: "With these new goals, we are building on our history of sustainability through food waste reduction, packaging improvements and ingredient standards.
"We estimate that our meal kit packaging is currently 85% recyclable by weight, and we are the first major meal kit company in the United States to use only drain-safe frozen gel packs in all our boxes.
"While we've made significant progress, we recognise that our next big opportunity is further improvements in packaging across our business.
"We are working to reduce the environmental impact of the full production and waste process in our operations to minimise our impact right from the start of the cycle."
By setting these goals, Blue Apron has become the US's first meal kit company to announce specified deadlines for achieving packaging targets.
The targets are part of the company's corporate social and environmental impact programme, Aprons for All.
To achieve these targets, Blue Apron will optimise its packaging by using its own technology and identify packaging opportunities through its packaging engineering lab.
It will also continue to partner with third parties that can support its goals, including How2Recycle and the Sustainable Packaging Coalition.
The company joined the How2Recycle labelling system last March to make it easier for customers to recycle packaging materials.
The How2Recycle programme is available in the US and Canada and there are currently more than 200 brand owners and retailers signed up to it.