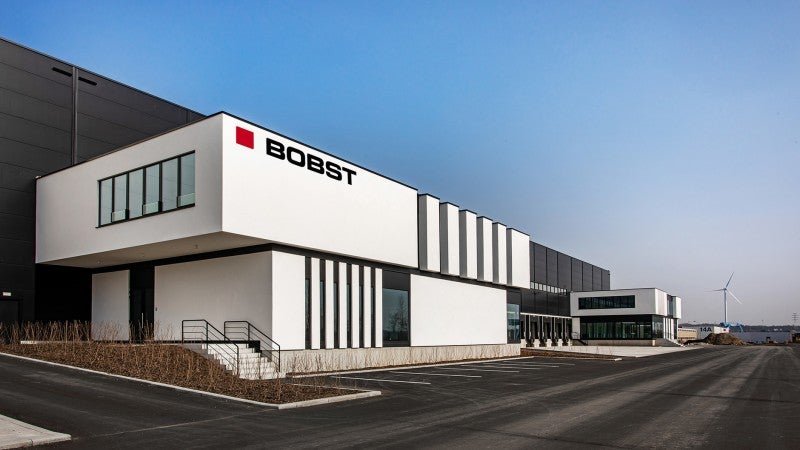 Swiss packaging machinery provider Bobst has established a warehouse in Genk, Belgium, as part of a 'transformation' of its supply chain network.
The company developed the logistics hub for the Europe, Middle East and Africa (EMEA) region to improve speed, reliability and efficiency in the component-ordering process.
The warehouse integrates the logistical capabilities of seven of its smaller component warehouses.
It offers digitalisation and automation capabilities that aim to allow Bobst to serve customers with speed and efficiency at all times.
The added site will also enable Bobst to ensure next-day shipments for orders placed before 9pm.
In addition, the facility will enhance transparency by letting customers trace their orders throughout the delivery process, from acknowledgement to arrival.
To improve sustainability, the Genk plant features solar and wind power generation systems, a water recuperation system and green areas.
In the first phase of its transformation process, Bobst will move 52,000 part numbers from Switzerland to Belgium.
The transfer will take 11 weeks and require a fleet of 160 trucks.
Bobst said that the change in its supply chain represents a 'radical transformation' for the company and a 'leap forward' in its automation and digitalisation.
The company believes that introducing a modern component and product delivery process will help its customers.
Based near Lausanne, Bobst supplies machines for manufacturing packaging and its derivatives from solid board, corrugated board and flexible materials.
Earlier this year, the company announced a strategic partnership to recycle polyethylene terephthalate (PET) based multilayer laminates used for thermoformed food trays.
The partnership involves working with barrier film consultant Evertis and BASF to support recycling company Sulayr.
Last month, Swiss investment firm JBF Finance launched a public tender offer for all of Bobst's shares for Sfr78 ($80.91) a share.
Jbf already owns around 53% of the company's shares and voting rights.