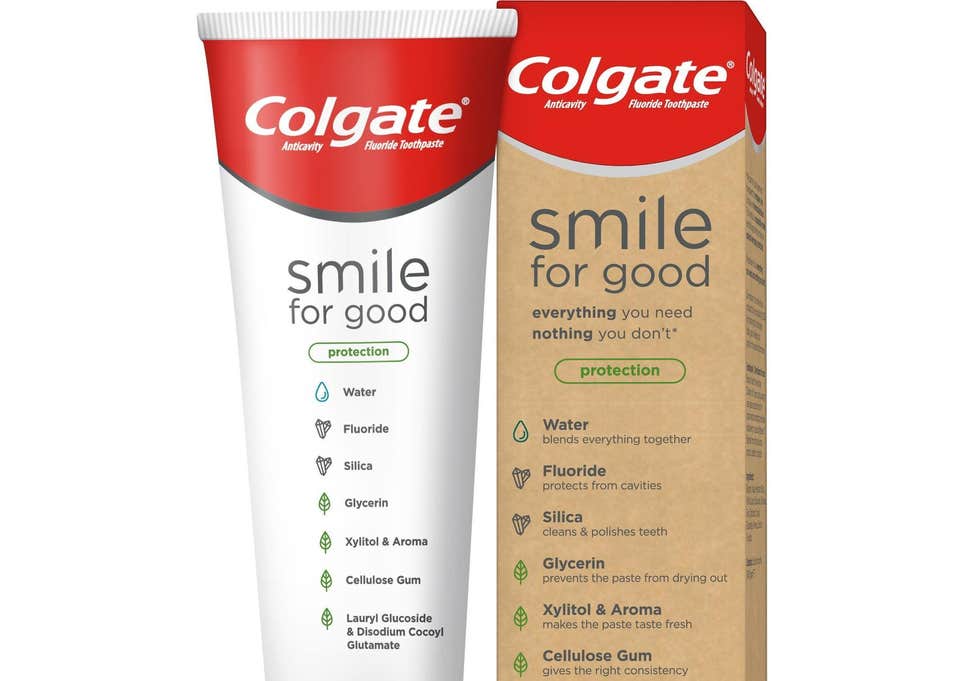 Colgate has launched 'Smile For Good', a vegan toothpaste in a fully-recyclable tube made from a high-density polyethylene material, the same recyclable plastic used for milk cartons, in the UK.
Toothpaste tubes are hard to recycle as they are made from a mixture of plastic and aluminium. According to recycling campaign for England Recycle Now, this also applies to other squeezable tubes that contain products like hand cream, sun cream, and moisturising lotions. Colgate plans to share the new recyclable packaging technology with rivals.
Colgate-Palmolive chief executive Noel Wallace said in The Guardian: "Colgate wants to make tubes a part of the circular economy by keeping this plastic productive and eliminating waste. If we can standardise recyclable tubes among all companies, we all win. We can align on the common standards for tubes and still compete with what's inside of them."
Colgate-Palmolive's website sets out the company's targets regarding sustainability, saying: "Colgate is committed to improving the recyclability of our packaging in personal care, home care, and pet nutrition by 2020, and 100% recyclable packaging for all categories, to include breakthrough innovation in oral care packaging by 2025."
Colgate-Palmolive VP of sustainability Ann Tracy told Packaging Gateway: "In terms of recycling, Smile For Good is the first recyclable toothpaste tube; however, our plan is to extend the entire toothpaste portfolio over time. By 2025 all of our toothpaste tubes will be recyclable."
"As well as Smile For Good, we have our ongoing Colgate Oral Care Recycling Programme with Terracycle in the UK, which was launched back in 2018 to recycle products that are not able to be recycled by local councils. This includes standard toothpaste tubes and toothbrushes.
"Finally, we also launched our first bamboo toothbrush, which is made with a 100% biodegradable bamboo handle and is free from plastic packaging."
The Vegan Society spokesperson Sam Calvert told Packaging Gateway: "Colgate's 'Smile for Good' vegan toothpaste is registered with The Vegan Society. This means that our expert team has confirmed that the product meets our standards and contains no animal ingredients and is not tested on animals by Colgate or by any company over whom Colgate has effective control.
"We are pleased that consumers have the option to buy a readily available vegan toothpaste. Although The Vegan Trademark does not consider packaging as part of the process, most vegans are also concerned about the climate emergency and are keen to buy products in recyclable packaging or in minimal packaging."
Calvert says The Vegan Society categorises toothpaste as non-vegan if it may contain glycerine, which is made from animal fat, or could have been tested on animals. Either of those would make it unsuitable for vegans.