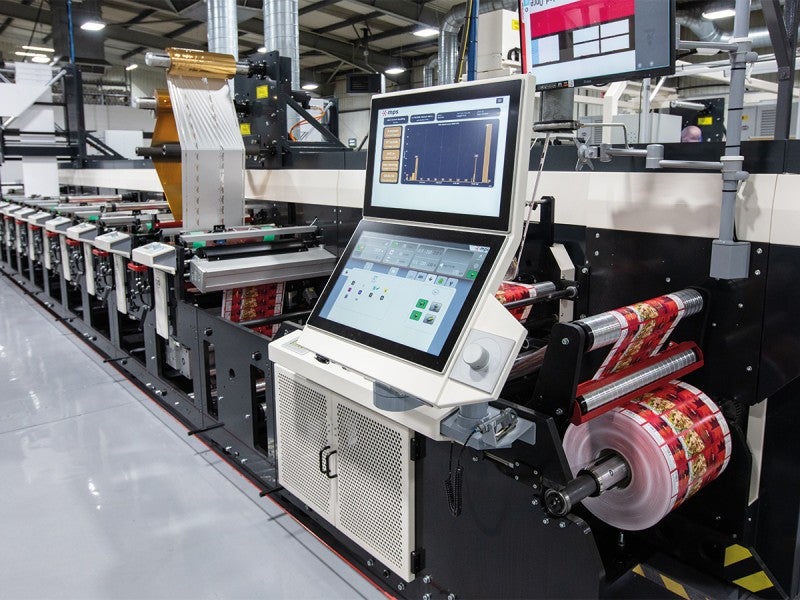 European sustainable packaging provider Coveris has invested more than £1.5m ($1.86m) in its linerless label manufacturing capabilities.
The company has purchased two flexographic wide web presses, featuring the latest print technologies and site infrastructure improvements, for its dedicated linerless label facility in Spalding, UK.
The new MPS flexographic presses can print Coveris' core linerless formats Slidewrap and c-wrap, as well as envelopes, labels for produce punnets and contour-fitted formats for skinpack solutions.
They also enable ten-colour flexographic printing, including decorative cold foil embellishment.
Coveris said that the 'energy-efficient' MPS presses will improve quality, colour management and consistency while reducing production waste.
The presses became operational in September and November this year respectively.
Coveris BU Paper sales director Nigel Hewitt said: "The addition of unique wide web capabilities in our world-leading, dedicated linerless labels facility is a significant investment.
"We aim to stay at the forefront of linerless technologies, innovation and quality alongside a sustainable operational model.
"With this investment, our customers benefit from improved linerless capacity and the newest print technologies, while we are also targeting accelerated growth outside of our core meat, fish, poultry and convenience markets."
Coveris' Spalding facility can produce more than one billion linerless labels each year for fast-moving consumer goods companies in the UK and Europe.
The latest investment will increase the plant's production and support its growth plans in existing and diversified markets.
Linerless labels are a sustainable solution that feature no carrier backing paper and reduce reel weight by up to 40% compared with self-adhesive alternatives.
Earlier this month, Coveris launched ReCover, a new business segment that aims to 'keep plastic circular'.
The ReCover business unit will provide 'quality' recyclates for the company's sites and those of other interested third-party customers.
It will operate as a separate entity and bring Coveris' waste-sourcing, processing and recycling efforts together.